I was bored - no not really, both of my front windows have moderate fogging up around the edges and I thought now would be a good time to check while we're on this thread.
I've been on the phone with several glass places this morning trying to get a quote to have both front glass windows replaced. Man, they're all over the chart on quotes. From a high of $950 to a low of $360 - for both!
The first question asked is always "what kind of vehicle do you have?" In most cases honesty is the best policy... but not with the glass guys. For me to get past the words "we don't work on rv's" you have to fib to them. They don't want to do the extra lookup work.
Typical conversation goes something like this.
> Hello, BS glass repair how can I help you?
- I need the windows for a 1988 GMC Astro 95 or GMC tilt cab: part number DW730 & DW731.
> Oh, you have the part number?
- Yes, I do. The DW 730 is the passengers side and the DW 731 is the drivers side.
> Yes, we have (or can get) those windows.
- I'm calling for a price quote, installed.
At this point your wait time will vary - I've found that by letting them know up front that you're calling around and you have a clue (window info) the price seems to go down.
> The price is xxx.xx installed.
- How long is that quote good for?
> For a week
- Thank you, I'll be getting back in touch with you.
At no time did I tell them that I was the owner of a repair shop.
The D stands for Domestic. If they ask if it's a FW730 they are trying to check your knowledge. The F stands for Foreign and is a different window.
If you decide to go with someone then you still have one more option to consider. The option is green tinted or clear and that's for the entire window - top to bottom.
---
Here is a quote from Safelites website. Copied and pasted for your preview
Safelite Regular Price: $308.10
Turkey Time Trimmings: 43% Off
Your Price: $174.98 (not including taxes)
This quote includes a national warranty that is good for as long as you own or lease your vehicle. The quoted price is good for the schedule options listed below.
Pricing provided is for consumer, non-insurance claim transactions only. Not valid for commercial or fleet customers.
---
That was for one windshield only. Search parameters were zip code 12589 - GMC - 1988 - Tilt cab. I'm sure the prices vary based upon location.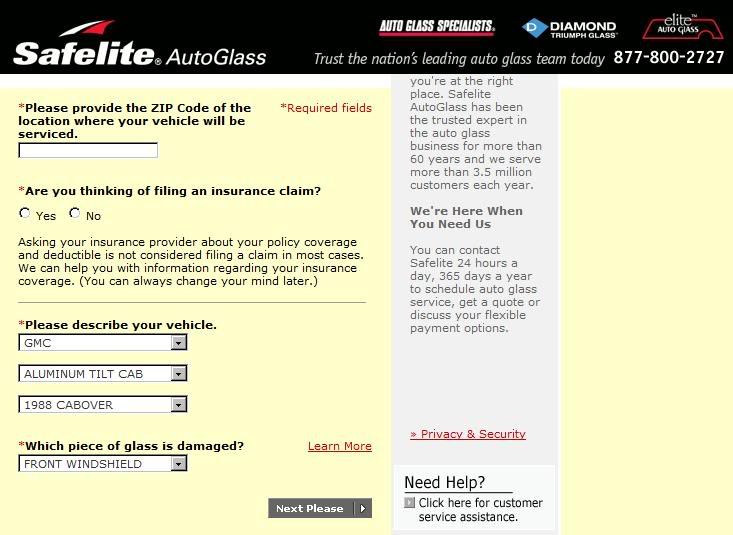 Bill N.Y.