I found 2 more old and new pictures. They are of opposite sides but shows the before and after look. I had to replaced the rear quarter panels because the previous owners (NYS Health Dept) decided that backing up was done by feel. What has got me baffled was they never struck the bumpers!
And yes that is a drivers side door. There are no tag axles on this 33' long Custom Coach as they made these on tractor trailer chassis and are very beefy. There's not much difference in this chassis comparred to a diesel pusher.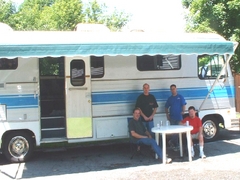 This is part of my group of friends. some of them have gone with me to the races. I am the one sitting down closest to the side entrance door. All of them helped me in some fashion with the makeover.
There is more diamond plating on the side entrance door. The awning was added from a blown apart camper (cost: free) that had a gas leak. It took 2 guys 3 hours to put the awning on. The easiest way to do this is to park it next to a dock door or along a high wall.
The Barth was going to be scrapped (as in crushed) and I was offered it for free. I insisted upon giving a donation for it and everyone walked away happy. My first thought when seeing this non running vehicle was to strip it of good vital (2 generators, 2 AC units, tanks, etc...) parts for another type of conversion.
I stumbled onto this site through a Google search and after checking out Barthmobile decided that this wreck was worth keeping. I spent less then 2 hours getting parts and getting it to run. I drove it out of the dealership parking lot that couldn't get it running or keep it on the road. I figured with the airplane type construction and only 24,000 miles on a good running non oil burning motor this would be the Coach to do!
That my friends is the story of the $500.00 Barth.
------------------
1991 Barth Regal
460 EFI C6 Transmission
33' Oshkosh/John Deere Chassis
http://www.truckroadservice.com/
[This message has been edited by Bill (edited December 18, 2005).]