I've had several instances of people questioning the PMs feature and how it is supposed to work.
If you have a NEW PM, one that is waiting for you to read, you will see this icon and it will show up on every forum page.

- or -

If you do not see this, then you only have OLD PMs that you have already read.

To read your new PM you would need to click on the above picture of the multicolored Barth RV. Once there you will be presented with a few PM choices.
If you see this icon.

That tells you that you have a NEW, UNREAD message that you would need to read.
If you see this icon.

This means that you have already read this PM.
PMs that have and have not been read.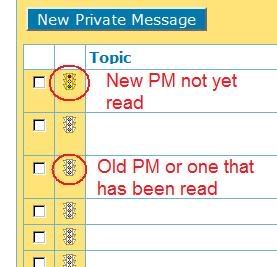 Keep in mind that the PM feature is not a personal storage space, because of system resource issues your PMs will be deleted within 91 days of the last time any activity took place.
Lets say I sent you a PM and you read it and waited 10 weeks to respond back to me. Then I responded and sent it back to you 3 weeks later. After 91 days from the
last time
there was activity, it would be deleted. As long as there is activity, it will stick around.
I recommend that you set your personal preference to forward the PMs to your emails account. But, this is where the problems start if you're not familiar with the features of the PM.
If the email is forwarded to you from Barthmobile, and you only read the email, that will not get rid of the new icons you see above.
Please note, if you read your email, you will notice that the sender is bill_ny

barthmobile

If you just click, "Reply To This Email" and type back your response as an email reply, I will get it instead of the person who sent you the PM in the first place.
I can not read anyone's PMs, what is said there is PRIVATE - if you click "Reply To This Email" it will wind up in my email box and not to who you intended and then I can read it. Not private anymore.
So, read the emails - reply back to the person within the PM on the barthmobile.com site and not as a reply to the email.
This forum has a lot of neat features, some are easily understood, some are not. If you have any issues with the PM feature, let me know and I will help you with it.
˙ʎ˙u ןןıq- "ǝןƃuɐ ʇuǝɹǝɟɟıp ɐ ɯoɹɟ pןɹoʍ ǝɥʇ ʇɐ ʞooן ɐ ƃuıʞɐʇ sı ǝɟıן oʇ ʇǝɹɔǝs ǝɥʇ"

---

---

1990 Barth Regis Widebody
8908 0128 40RDS-C1
L-10 Cummins
Allison MT647 Transmission
Spartan Chassis
1991 Medical Lab Conversion
9102 3709 33S-12
Ford 460 MPFI
C6 Transmission
Oshkosh Chassis

---

---

---

Quick Link: Members Only Link To Send Me A Private Message