For several years now I've been trying to get a topic going on the "Barth Data Tag Build Numbers"
For some reason, it seems, the thread dies with only 2-3 responses. I am trying to get a feel for decoding the "Data Tag" info. I'll try it again... All are encouraged to participate. Let's try to decode these.
We recently had a discussion on another coach that had stickers on it
claiming to be a Regency
when it really was a Breakaway. Maybe, with your help, we will be able to better determine "what is what" in the future.
Ok, I'll start. My coach build number and tag info is. UNIT ID:9102 3709 33S-12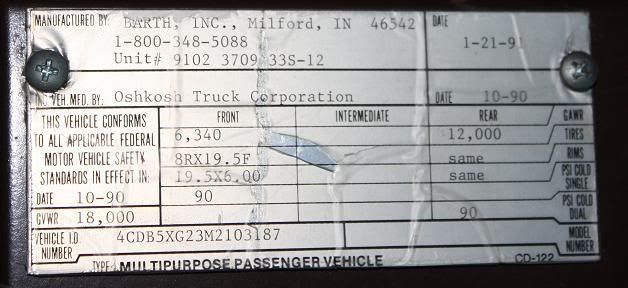 91 -- 1991
02 -- February Completion Date
3709 -- Sequential Coach Build Number
33 -- 33 Foot/Single Axle
S-12 -- Floor Plan, Commercial?
It's a 460 Ford MPFI Gaso Puller - Regal - Commercial unit with a Oshkosh/John Deere Chassis and no tag axle.
Only the items in
Bold
is what I "really think to be true". I will also post some more "Unit Id #'s" from others who have shared in the past.
---
---
quote:

Originally posted by JMF:
I bought my 1987 unit it in March the serial # is 8702/3408/22S30
87 -- 1987
02 -- February completion date?
3408 -- number sequentially produced
22 -- I don't know
s30 -- Single Axle/30 Foot
---
---
quote:

Originally posted by Sniboy:
9101 3710 28BS-1B.
91 -- 1991
01 -- January completion date?
3710 -- number sequentially produced - looks like this one was next to mine in production
28BS -- 28 Foot/Breakaway/Single Axle?
-1B -- Floor Plan?
---
---
quote:

Originally posted by birddog (Rick):
8503/3203/32TFP2
85 -- 1985
03 -- March completion date?
3203 -- number sequentially produced
32T -- 32 Foot/Tag Axle
FP2 -- Floor Plan 2?
---
---
quote:

Originally posted by bill h:
My 83 30 footer with a tag axle has a Barth Builder Plate number of 8405-3087-30TS23
My take is on this...
84 -- 1984
05 -- May completion date?
3087 -- number sequentially produced
30T -- 30 Foot/Tag Axle
s23 -- Floor Plan s23?
My theory on the 3rd and forth number is the month of completion. There is one that was sequentially built after mine and has a lower 4th number. This would seem odd unless Barth did a completion month as opposed to a starting month.
The second group of numbers seem to suggest the sequential number produced... It could also be the contract number if it was a special order coach. When I pulled the walls off of my coach and took out all of the destroyed cabinets, "every piece" of trim and wall and hardware had the number 3709 written on it in magic marker.
We also had an incomplete discussion at this thread about the
meaning of the Data Tag
. There is interest in this. We just need some more information and complete Data Tags.
The "Barth Tag Id Number" is usually located a foot or two above the drivers seat. My build tag was on the wall behind the drivers seat before I took the wall down. Some are inside an overhead cabinet, some are over the drivers side window, and some Breakaways have the tag inside an engine door.
This number is not your VIN Number. It can not be used to register the vehicle. It has no value to anyone with a criminal intent unless it's to deceive someone into purchasing a Breakaway with a Regency decal. With your help, maybe we can decode the truth behind this tag to prevent fraud and deception with future sales of Barth's...
˙ʎ˙u ןןıq- "ǝןƃuɐ ʇuǝɹǝɟɟıp ɐ ɯoɹɟ pןɹoʍ ǝɥʇ ʇɐ ʞooן ɐ ƃuıʞɐʇ sı ǝɟıן oʇ ʇǝɹɔǝs ǝɥʇ"

---

---

1990 Barth Regis Widebody
8908 0128 40RDS-C1
L-10 Cummins
Allison MT647 Transmission
Spartan Chassis
1991 Medical Lab Conversion
9102 3709 33S-12
Ford 460 MPFI
C6 Transmission
Oshkosh Chassis

---

---

---

Quick Link: Members Only Link To Send Me A Private Message