The food was great Saturday night, when we had the potlatch. Surprisingly, everyone there was an excellent chef, men and women alike. Here Ed concocts something (I think he was finishing the stuffed peppers).
Here's what you missed by not coming (and everything was, BTW, homemade):
Dill Dip (Rusty)
Stuffed Jalapenos (Deb & Ed)
French Onion Soup (Rusty)
Garlic Beer Bread (Rusty)
Seafood Chowder (Jim & Patty)
Bacon-wrapped Shrimp on the Barbee (Danny)
Pork Loin Mojo (Deb & Ed)
Potato Salad (Suzie - IIRC)
Frizzled Green Beans (Suzie & Rusty)
Sunday morning, we re-pigged, this time on Danny and Suzie's terrific biscuits and homemade- sausage gravy.
Good food, ample beverages, and great, interesting, company. Couldn't have asked for more...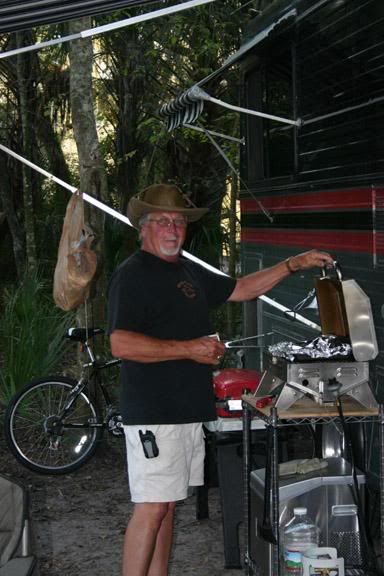 Rusty
---

"StaRV II"
'94 28' Breakaway: MilSpec AMG 6.5L TD 230HP
Nelson and Chester, not-spoiled Golden Retrievers
Sometimes I think we're alone in the universe, and sometimes I think we're not.
In either case the idea is quite staggering.
- Arthur C. Clarke
It was a woman who drove me to drink, and I've been searching thirty years to find her and thank her
- W. C. Fields