Barthmobile Portal
Barth Data Tag Information - help wanted
08-26-2007, 08:53 PM
Bill N.Y.
Barth Data Tag Information - help wanted
For several years now I've been trying to get a topic going on the "Barth Data Tag Build Numbers"
For some reason, it seems, the thread dies with only 2-3 responses. I am trying to get a feel for decoding the "Data Tag" info. I'll try it again... All are encouraged to participate. Let's try to decode these.
We recently had a discussion on another coach that had stickers on it
claiming to be a Regency
when it really was a Breakaway. Maybe, with your help, we will be able to better determine "what is what" in the future.
Ok, I'll start. My coach build number and tag info is. UNIT ID:9102 3709 33S-12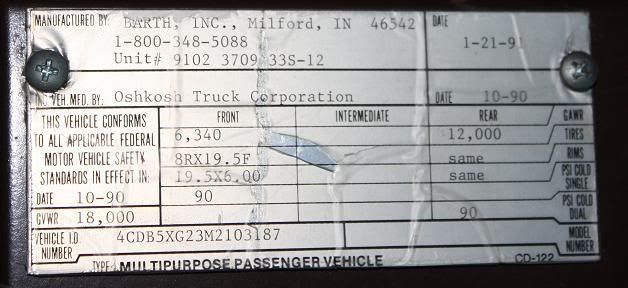 91 -- 1991
02 -- February Completion Date
3709 -- Sequential Coach Build Number
33 -- 33 Foot/Single Axle
S-12 -- Floor Plan, Commercial?
It's a 460 Ford MPFI Gaso Puller - Regal - Commercial unit with a Oshkosh/John Deere Chassis and no tag axle.
Only the items in
Bold
is what I "really think to be true". I will also post some more "Unit Id #'s" from others who have shared in the past.
---
---
quote:

Originally posted by JMF:
I bought my 1987 unit it in March the serial # is 8702/3408/22S30
87 -- 1987
02 -- February completion date?
3408 -- number sequentially produced
22 -- I don't know
s30 -- Single Axle/30 Foot
---
---
quote:

Originally posted by Sniboy:
9101 3710 28BS-1B.
91 -- 1991
01 -- January completion date?
3710 -- number sequentially produced - looks like this one was next to mine in production
28BS -- 28 Foot/Breakaway/Single Axle?
-1B -- Floor Plan?
---
---
quote:

Originally posted by birddog (Rick):
8503/3203/32TFP2
85 -- 1985
03 -- March completion date?
3203 -- number sequentially produced
32T -- 32 Foot/Tag Axle
FP2 -- Floor Plan 2?
---
---
quote:

Originally posted by bill h:
My 83 30 footer with a tag axle has a Barth Builder Plate number of 8405-3087-30TS23
My take is on this...
84 -- 1984
05 -- May completion date?
3087 -- number sequentially produced
30T -- 30 Foot/Tag Axle
s23 -- Floor Plan s23?
My theory on the 3rd and forth number is the month of completion. There is one that was sequentially built after mine and has a lower 4th number. This would seem odd unless Barth did a completion month as opposed to a starting month.
The second group of numbers seem to suggest the sequential number produced... It could also be the contract number if it was a special order coach. When I pulled the walls off of my coach and took out all of the destroyed cabinets, "every piece" of trim and wall and hardware had the number 3709 written on it in magic marker.
We also had an incomplete discussion at this thread about the
meaning of the Data Tag
. There is interest in this. We just need some more information and complete Data Tags.
The "Barth Tag Id Number" is usually located a foot or two above the drivers seat. My build tag was on the wall behind the drivers seat before I took the wall down. Some are inside an overhead cabinet, some are over the drivers side window, and some Breakaways have the tag inside an engine door.
This number is not your VIN Number. It can not be used to register the vehicle. It has no value to anyone with a criminal intent unless it's to deceive someone into purchasing a Breakaway with a Regency decal. With your help, maybe we can decode the truth behind this tag to prevent fraud and deception with future sales of Barth's...
˙ʎ˙u ןןıq- "ǝןƃuɐ ʇuǝɹǝɟɟıp ɐ ɯoɹɟ pןɹoʍ ǝɥʇ ʇɐ ʞooן ɐ ƃuıʞɐʇ sı ǝɟıן oʇ ʇǝɹɔǝs ǝɥʇ"

---

---

1990 Barth Regis Widebody
8908 0128 40RDS-C1
L-10 Cummins
Allison MT647 Transmission
Spartan Chassis
1991 Medical Lab Conversion
9102 3709 33S-12
Ford 460 MPFI
C6 Transmission
Oshkosh Chassis

---

---

---

Quick Link: Members Only Link To Send Me A Private Message
08-26-2007, 09:20 PM
Rusty
I went back through the paperwork, and it appears the chassis was built in mid '92. Another tag shows the "build" date at Barth was 2/93, but some of the paperwork (diagrams) also shows dates later in '93, but that may have been when it was scheduled, but actually completed earlier (mine is the prototype for the '94 28' Breakaway).
9302-3852-28LE1
93
--Year
coach
was built
02
--Month
coach
was built
Info from Spartan shows the chassis was built in '92; I thought I remembered where that info was tagged, but can't now find it, (which showed the month).
3852
--Project Number (Also on the erection diagram)
28
--28 Feet
LE--(Trim version? We still don't know what that means...)
1--Floor plan? I do know for sure mine's the prototype for the '94 and later 28' Breakaways, but the floor plan is the same as the two other (pre-'94) 28s I've seen, so maybe there's only one floor plan for the 28 Breakaways.
Rusty
---

"StaRV II"
'94 28' Breakaway: MilSpec AMG 6.5L TD 230HP
Nelson and Chester, not-spoiled Golden Retrievers
Sometimes I think we're alone in the universe, and sometimes I think we're not.
In either case the idea is quite staggering.
- Arthur C. Clarke
It was a woman who drove me to drink, and I've been searching thirty years to find her and thank her
- W. C. Fields
08-27-2007, 12:08 AM
olroy
My build plate - 8906-3617-33C-C1
89 - obviously chassis model year
06 - probably month coach completed in 1990
3617 - number sequentially produced
33 - coach length
C - type of floor plan - deduced from the fact that the brochure for 1990 Regals shows "A" & "B" plans for each length coach, but no "C" plan, & mine is neither plan "A" nor "B".
C1 - anyone's guess - Does it distinguish the "SE" from the plain Regal? Is it the first "C" plan produced? Is it the first copy of the first "C" produced? Or what?
From the origional invoice:
1990 Barth Motorhome - Model Regency 32RDG-B1
Serial No. 8910-0135-32RDG-B1
89 - year of chassis and build year of coach
10 - month of coach build date
0135 - number sequentially produced.
32 - Coach length.
RDG - Rear Diesel, Gillig Chassis, or Regency Diesel?
B1 - floor plan.
The origional invoice was for a B2 floorplan, but on 10/02/89, a correction noticed was issued from Barth changing it from B2 to a B1 floor plan with "switch 13" tv to front overhead and 13" tv to bedroom, add mirrored sliding closet doors, delete carpet in bath and add tile in bath".
This is a center isle floorplan, widebody. $5000.00 was charged for the widebody option.
Happy motoring. Sky


1990 Barth Regency
32RDGB1 Wide Body
3208 Cat 250 HP
Gillig Chassis
Center aisle
08-27-2007, 09:18 AM
Raymag
My Barth number is : 9011-3699-30BS-1B
90
: Model Year
11
: month Built. All my blueprints have an october date as the date that the blueprints were drawn. This would indicate that the lead time between order and construction was quite short.
3699
: Up untill this summer Barth Northeast reunion I always thought that it was the order of construction of all the Barths and that I had the 3699th Barth built. But this summer I saw some newer Barths that had quite smaller numbers. So this may not be a lifetime sequence number after all.
30
: I have a 30feet coach.
BS
: I have a Breakaway built on a Spartan frame.
1B
: The floor plan. When I look at the original publicity brochure that was still in the Barth binder , it lists all the floor plans available that year. Among them , the 1B is indeed exactly the same as mine. As a side note, my blueprints mention that they are also valid for a 2B floor plan.
Real
---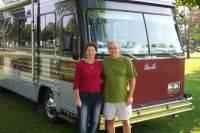 1991 Breakaway 30Ft
5.9L Cummins Diesel
Spartan Frame
4 Speed Allison Model 542
Front Entrance
Firestone Ride-Rite Suspension
08-27-2007, 10:17 AM
Don in Niagara
Ours is: 9005-0140-34RDS-C3 This is on a metal plate behind and above the driver's seat and it also has the vin, axle weights etc. And a separate section titled (Date-4 90) The plate is attached with 2 Robertson-head scews??
Right below it is a larger Spartan metal plate.
90 - Year
05 - Ours was delivered by Texas RV to Chester and Evelyn Baggs of Carlsbad New Mexico on 5-18-90. It was ordered on 12-12-89.
The Barth data plate date says 4 - 90 - maybe the build date?
0140 - production number
34 - length
RDS - Regency, Diesel, Spartan.
C3 - Floor Plan?
Our Regency must be low line because it has single pane Hehr windows. The floor is all carpet. The countertop doen't look like corion but the 2 sink covers and stove cover are very heavy white corion with an overlay of a formica-like material??
The 90 Regency Texas RV sales brochure Dave sent us shows a similar all carpet interior doesn't it?
Also the "Spartan Motors Notice of Delivery and Warranty Registration" shows 2182 miles on the odometer. Guess it was driver to Waco and then maybe to Carlsbad??
Interesting stuff!
Don


1990 Regency 34'
Cummins 6CTA 8.3 240hp
Spartan Chassis,
4 speed Allison MT643
10-15-2007, 09:49 PM
Nick Cagle
To Hawk-57
My 93 Regency Data 9207-0160-32RG-2C
Your 93 Regency Data 9210-0164-32RG-3C
Same length, same chassis, same engine, same transmission, mine side door, yours front door.
Yours build 3 months and 4 Regencys' after mine??
Nick
10-15-2007, 10:32 PM
Nick Cagle
This is a repeat and recap of all my post at the other thread.
If we can gather all the info possible, I will build an Excel spread sheet to see if we can make any assumptions from the numbers. We really need everything you can tell us about the coach that would make it different.
1. Data Tag Date
2. Data Tag number
3. Year model (many coach are one year newer than tag no.
4. Model ie. Regency, Breakaway, Regal, etc
5. Chassis mfg.
6. Engine mfg
7. Length
8. Tag Axle
9. Floor Plan, ie wide body, front or side door
I currently have about a dozen data numbers although I don't have all the above info for each one.
There seems to be some inconsistency in the last two sets of numbers. They all start of 9999-9999- but then the 3rd set seems to be 2 numbers and 2 or more letters. The last set can be 2 numbers, a letter and a number, or a number and a letter.
The first set of four seems to be the year and month, the coach was placed into production. I say this because most of the numbers in the June, July time frame are titled as the next year model.
Although, this is an awful small sample so far, and it is not safe to make to many assumptions, the second set of 4 numbers have all began with 3 or 0. I have five Regency so far and they all began with 0. They also appear to be sequential.
Example of info so far:
8905 0121 36RDG C1
8910 0135 32RDG B1
9005 0140 34RDS C3
9207 0160 32RG 2C (My Coach)
9210 0164 32RG 3C
All are Regency, the length per the owners is the first 2 digits of the 3rd set, all G's are Gillig chassis, the S is a Spartan. I have not determined what the D is, Some have CATs, Some Cummins, Maybe it was Diesel and they stopped using it since all Regency are diesel?
The last two coaches are identical per Hawk-57 and my tags except his has a front door and mine has a side door. Same length, same chassis, same engine, same transmission, both wide body.
Please keep the info coming and I will keep everyone posted on my findings.
Thanks,
Nick
10-15-2007, 10:34 PM
Tom and Julie
Here is my info for the "project"
1993 Regency 32ft wide body with Cat 3208T (Turbo), 300 HP, Allison MT 647 Four Speed transmission, 198" wheel base, Front Entry Door. Gillig Chassis MHA 3208T. The Chassis Manual refers to three option overhangs, (105.5, 119.25, and 122.75 inches.) Based on my coach that has the 122.75 inch overhang I suspect the 3C means the overhang. This number and letter do not appear on the chassis manual blueprints so I suspect it was added by Barth when the coach was built. It has a center aisle, queen bed, 4 burner stove, insulated compartments, dual pane glass, and 1/4" Aluminum diamond plate over the entire roof. My original drawings have 32RG3CCB in the title block which could also mean center bath.
9210-0164-32RG-3C
Date of Retail Sale 10/20/92
Hawk-57, otherwise known as Tom Knickerbocker, Houston Texas


1993 32' Regency Wide Body, 4 speed Allison Trans, Front Entry door, Diamond Plate aluminum roof &
1981 Euro 22' w Chevy 350 engine and TH 400 tranny
10-16-2007, 12:05 AM
Nick Cagle
Are Barths rarer than we thought?
As I start to analyze the data tags, I find that the 2nd set of numbers is sequentially numbered higher if you sort the numbers based on the year and month in the 1st set.
8405-3087-30TS-23
9302-3852-28LE1
Was there only 765 non Regency coaches built in 8 years and 9 months? All the non Regency coaches I have info on are between 3087 and 3852.
Regency numbers
8905-0121-36RDG-C1
9210-0164-32RG-3C
Was there only 43 Regency built in 3 years and five months?
Nick
10-16-2007, 12:24 PM
MWrench
My Breakaway has the following numbers:
9305 3864 30BS6B
Chassis (Spartan) build date is 3/93, Coach build date is 5/20/93.
It is titled as a '94 BUT clearly it was built mid '93 and even my insurance company does not recognize it as a '94 and has said there were no '94 Breakaways' built according to their data base.
Mine is a 30', side entry, 5.9 230 HP Cummins, 6 speed Allison, 171 inch WB, side entry
70 gals fuel,
40 gals fresh water
26 gals black tank,
40 gal gray tank,
44 gal propane.
Will be interesting to subdivide by model and year.


Ed
94 30' Breakaway #3864
30-BS-6B side entry
230 Cummins, Allison 6 speed
Spartan chassis
K9DVC
10-16-2007, 02:00 PM
Bill & Sonja
Our 1988 Barth 33" SE Tag axel,454 P30/2? rear queen,cherry cabinets, has the following numbers.
Serial number from engine compartment -1GBKP37W6H3335505
Numbers from cover of the "Coach Book"- 8709/3474/33/C/A
I have not been able to find a build plate anywhere on the coach. The Plans, all show the specific numbers for the coach but the actual numbers plate is no where to be found.. YET.
This Barth is up to par and ready to go anywhere. I continue to put off action on the peeling paint issue.
Coach was found via a post by Dave and transplanted from Forest Lake, MN to Calgary, Alberta. It is on page 8 of the Gallery. Thanks to Dave AGAIN.


1987 Newell ~ 40ft Widebody
2x f/o's: 1988 Barth - 33 Ft. SE tag axle & 1976 Barth - 24 Ft.
10-18-2007, 12:36 AM
Nick Cagle
To Everyone;
Please look closely at the following data numbers and give me your input
Date Number Tag Date Year Model Chassis Engine Lgth
8905 0121 36RDG C1 05/08/89 90 REGENCY GILLIG CAT 250 36
8910 0135 32RDG B1 90 REGENCY GILLIG CAT 250 32 WIDE BODY
9005 0140 34RDS C3 04/01/90 90 REGENCY SPARTAN CUMMINS 34
9207 0160 32RG 2C 07/14/92 93 REGENCY GILLIG CAT 300 32 WIDE BODY
9210 0164 32RG 3C 93 REGENCY GILLIG CAT 300 32 WIDE BODY
It looks like to me that sometime between 05/90 and 07/92 Barth simply dropped the D. My thinking is if all Regencies were diesel then having the D in the data tag was simply redundant. At the same time they reversed the last two characters. I'm thinking the letter is floor plan and the number is some major option ie twin beds instead of queen.
What are your thoughts?
It does look like there were only a couple of hundred Regencies built. We have to keep in mind that the last few years they probably didn't build many. They didn't go out of business from too much demand.
Please Respond
Thanks, Nick
10-18-2007, 02:17 PM
Nick Cagle
This is a picture of the build tag that was used on my coach. It is mounted above and behind the Drivers Seat. I think there is another type tag used sometime before 1984.
Nick
10-18-2007, 03:13 PM
bill h
quote:

Originally posted by Nick Cagle:
I think there is another type tag used sometime before 1984.
Nick
Ours is 3" X 3 3/4".
Here is our 84 plate. It is not as white as the picture, as the yellow was removed for clarity in Photoshop. Those are not bullet holes, but screw holes.
FWIW...........my data tag/build plate is a piece of aluminum with paper or card glued to it. The information appears to have been typed on the paper/card and then glued, then maybe varnished. It is sort of a tan or gold color, which could come from the card stock used or from the layer of old varnish.
The form looks as if it could have been supplied by the RVIA. I find it curious that there is no mention of the tag axle or its effect on the GVW or whatever. I suspect the RVIA hadn't geared up for tag axle RVs in those days. Later Barths with tags have it so noted in the weight information on the data tag. Mine is mounted to the sidewall behind the driver's ear by two round-head wood screws.
Here are some details which may or may not be useful: The coach is 30 feet, 3 inches long on a GM gas chassis with a Neway tag axle added by Barth.
Living room had a dinette on the driver side that made a bed. Pass side had two free swivel chairs. Kitchen is on pass side after mid entry door, then fridge. Driver side has a closet, then bath with tub/shower, then another closet.
Rear bedroom had twins, with a little storage bin behind the rear of each bed. It is a basement model, with the floor one step higher than non-tag models. As a result, the outside bins are one step higher than non-tag models. It has the raised roof starting just behind the cockpit. Interior trim is raised panel cherry, like the Barth-bodied MCC chassis coaches. Counters are Formica. Floors are carpet in LR and BR, with vinyl in kitchen, hall and bath. Walls were varnished Luan. Windows are single panel Hehr. Awnings all round were A&E 9500.
Roof has an tubular aluminum rack over the rear bedroom. No backup camera, roof horns or roof spotlight. It has two roof airs with heat strips and had two Suburban furnaces. It has three roof vents, with the cabin ones having Kool A Matic power suckers. The bath had the standard little buzzer fan. Kitchen had eye level micro/convection oven.
It has a battery drawer just behind the right front wheel well that holds four golf-cart batteries. A Kohler 7.5 gas genset is at the left rear, also on a slide out drawer. I have seen one other coach like it, an 89, which was for sale on this site a while back. It was very much like mine, but had a standard or queen bed and the conventional couch and two swivel chairs in front.
I had previously guessed that my 8405 number meant the fifth coach built in 84, following Douglas and Boeing aircraft and Baldwin and Lima steam locomotive logic. I am now rethinking that to agree with those who think the 05 is the build month, on account of my coach's build month being stated as 05 on the tag. It seems obvious, now that I look at the tag with a fresh mind.


.

84 30T PeeThirty-Something, 502 powered