Well, The rain stopped and the third annual Barth GTG was another "Great time was had by all" event. After a good wet-down on Friday, the skies cleared and by Saturday morning we had nothing but blue skies.
A couple of special guests also attended. Jack White a veteran Barthmobiler drove down from Stafford NH, for a visit on Saturday afternoon. His Barth is temporary out of commission. Deborah, a friend of Corey and Cheri's came with her vintage 1955 Barthstream "bubble" trailer. She is a member of the vintage Airstream club and is closing in on a complete restoration of her trailer, much of it done by her personally. It was sure looking good.
Attending this year were Rusty (Rusty) from Brooker, FL in his '94', 28 foot Breakaway, Richard and Nancy Muise (Richard_Muise) from Springfield, MA in their '94' 33 foot Breakaway, Corey and Cheri (Noble97Monarch) from Spring Hill, FL & Bradford, NH in their '97' 34 foot Monarch, Don and Patty (Don in Niagara) from Niagara Falls, Canada in their '90' 34 foot Regency, Bill and Georgene Goodwin (Bill G) from West Springfield, MA in their '92' 36 foot Regency, as well as Deborah from Bradford, NH in her shinny '55' 12 foot Barthstream "Bubble".
We didn't starve, were never thirsty, learned much about each other, toured the Barths numerous times and learned a little about the stars.
The requests were strong to continue with another GTG for next year. I have already set up the New England GTG for August 6,7,& 8, 2010 at the Oak Haven campground. For those who need to plan well ahead of time, mark your calendars. There will be four full hook-up sites for long distance travelers who may be staying for a few more days. I will provide reminders and more info as this date draws closer.
Following are pictures of the festivities:
Line-up ???
Happy Hour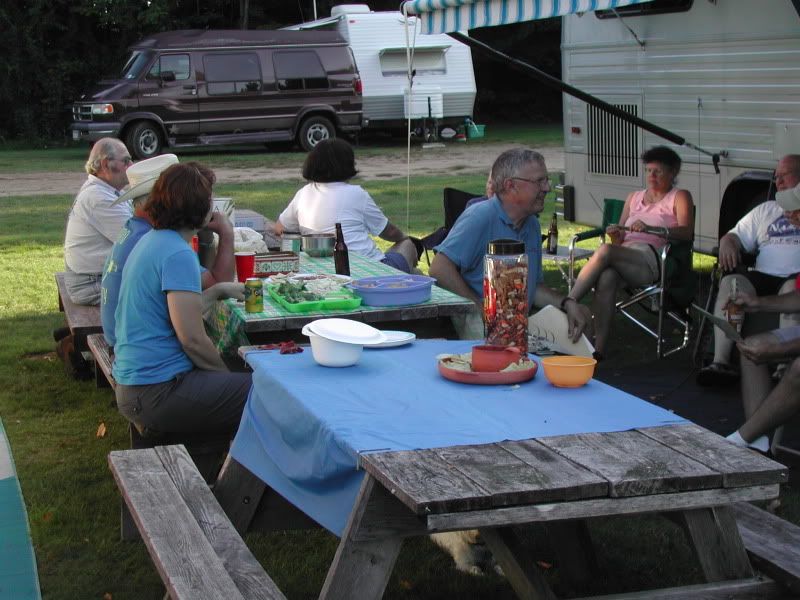 Patty and Deborah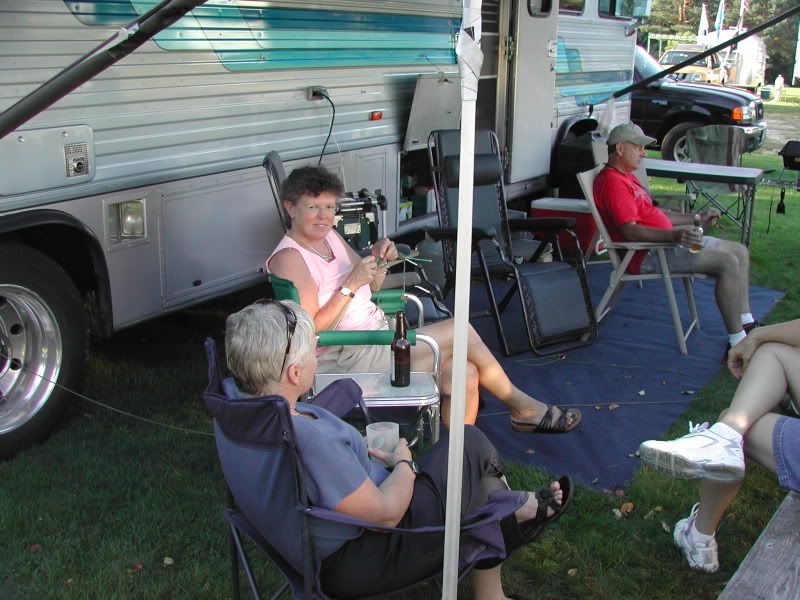 Corey and Georgene relaxing
Don and Patty
Richard and Nancy
Corey,Cheri and Domonic
Corey's toys
Rusty
Jack White
Bill and Georgene
Deborah and her Barth-Stream Bubble
Bill G