Don might have a problem answering you. He has WebTV and our site is not equipped to work with the older platform of a WebTV.
Here is a memory jog from a few months ago.
WebTV Testing
On our site, a WebTV member has to use this page to post.
http://barthmobile.com/webtv.shtml
I believe that every link (in the image below)
1-2-3-4-5-6
is dead to him.
It's great to have members who want to post, so I am doing everything in my power to help. Unfortunately, there is a limit to what I can do as our site has more dynamic content than what a WebTV platform can handle.
Unless he has upgraded, He'll only be able to respond by typing up a new post.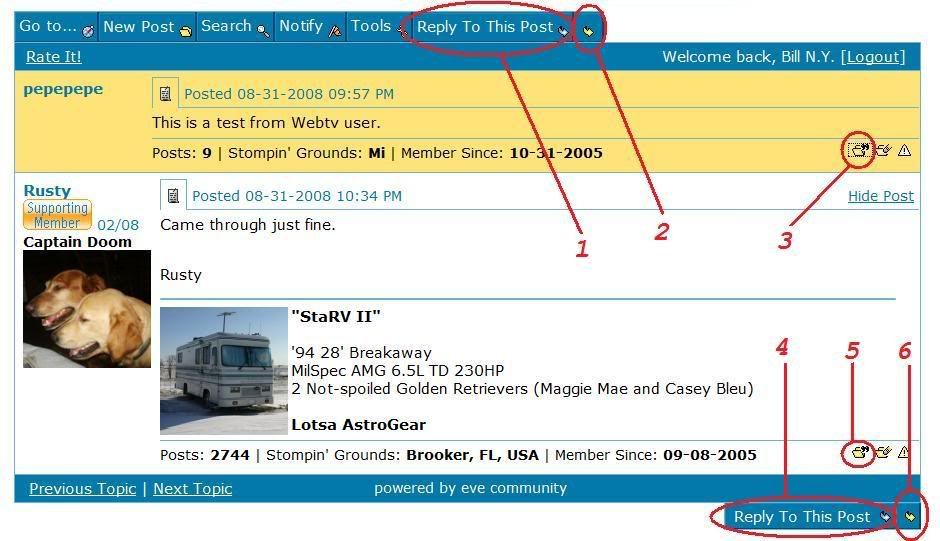 I have no way of knowing if he got your PM. I've sent you his Email address so you can contact him directly.
˙ʎ˙u ןןıq- "ǝןƃuɐ ʇuǝɹǝɟɟıp ɐ ɯoɹɟ pןɹoʍ ǝɥʇ ʇɐ ʞooן ɐ ƃuıʞɐʇ sı ǝɟıן oʇ ʇǝɹɔǝs ǝɥʇ"

---

---

1990 Barth Regis Widebody
8908 0128 40RDS-C1
L-10 Cummins
Allison MT647 Transmission
Spartan Chassis
1991 Medical Lab Conversion
9102 3709 33S-12
Ford 460 MPFI
C6 Transmission
Oshkosh Chassis

---

---

---

Quick Link: Members Only Link To Send Me A Private Message