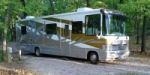 | | |
| --- | --- |
| | posted |
Edited July 1, 2014

Price reduced to $7,000. Must sell, see current post at the end of thread.

I am asking $10,000 (cash only) for the 1987 Barth Regal SE, 33 ft., Tag axle, P30 chassis, 454, 80,000 mi. It is located in zipcode 46349 in NW Indiana. 75 miles from Chicago, 3 mi. from I-65 at exit 230. Delivery is possible. E-mail is mjhdad@yahoo.com. Phone is 630-210-1801. ( I would consider a trade for real estate where I could park and hookup a motorhome, Chicago area or south, east or west)

I acquired the Barth Sept. 1, 2013. PO said they had purchased from an estate. It was driven from Fla. to Ill. When they bought it, it needed engine work. They said that due to faulty plug wires, it ran poorly and ran hot through that trip and blew a freeze plug or something. They said they had the top half of motor rebuilt, valves, heads etc. They also replaced the coach and chassis batteries and starter and some other repairs. I have their receipts and many from original owner, along with the Barth binder and many original documents, including blueprints. I acquired it in trade for a mobile home and moved into it, at the campground where I stay full time, believing it was roadworthy if I wanted to go mobile. I moved into a newer, bigger RV,so the Barth is empty and prepped for sale. I intend to describe it as best as I can so a buyer will know what they will see. Being in a rural area, it's not easy to just stop by and look at it and probably a narrow market of vintage enthusiasts, so I want the best description out there. The original quality remains but it is 27 years old. I think it was custom built for a single or retired gentleman, based on the decor.

When I first inspected it, it started and ran fine, but I noticed an exhaust leak near the headers. They told me everything was checked out and working except there might be a leak in the propane system. They had it inspected and repaired a leak at the refrigerator and there was still an indication of a minor leak somewhere in the system and they chose to leave system as
it was because they wouldn't need it for their purposes. After starting it a few times, I noticed the starter grinding and got worse each time started. My friend is a heavy truck mechanic and he and I have completed the starter repair. We have replaced the starter with the newer style, smaller starter and replaced the ring gear.
I have made 2 short road trips. My first time on the road with anything that big. It runs, brakes and handles well. My biggest annoyance was the the exhaust leak. Mechanic agreed on power and handling. I noticed a "knock" in the engine. Mechanic agrees, it is probably a rod bearing. No plans for further action on this, mechanic suggested it wasn't likely to be urgent. I replaced gaskets in exhaust at the joint between headers and pipe. That is fixed but now exposes a leak in the header collector somewhere that isn't visible yet. Also another small leak at the pipe to muffler connection. I think it can be patched
or clamped, should be easy repair.

The air bags have been inflated and waiting on a test drive. It has original bags on tag axle and aftermarket bags on front and drive axle. My rating on the tires is that they are at least half the tread left and in good condition. However, they are 11 yrs old. I am not worried about replacing any rear tires. I would replace the front tires. I would do that before it's delivered for sale or discount the sale price. There is a spare tire, brand new Goodyear, that matches the rears. I would recommend mounting the spare in place of a lone Michelin on the drive axle. Tow hitch installed. Leveling jacks work. It has been parked, untouched, on shore power since Dec. I just installed a new chassis battery, it started right away. With weather improving, I am getting more things checked out or fixed. I will edit and add updates.

EXTERIOR
Roof is solid. 2 A/C units. Ladder, luggage rack/rail. I repaired a leak in the rear AC unit, patched a hole in the bottom frame. I put an elastomeric coating on the whole roof. A/C covers are brittle, should be replaced. I replaced original Winegard antenna with a new Jack antenna.
Original owner had a custom paint job with a mural done. He flew choppers for offshore oil rigs. There are some spots that have been repainted. I have noticed a small hole in aluminum skin, needs to be repaired. There is some paint bubbling from rust underneath. Along the trim where siding meets basement and some along the brow over the windshield.
All exterior lighting is working. Including roof mounted spotlight over the cab but the joystick is broken off the remote switch. 2 pairs of fog/driving lights. 1 set is not connected, the other pair has one working and one bad bulb, I think.
All awnings are metal covered. Large patio awning and 3 others.
Basement compartment doors are a bit annoying. Some have a key cylinder, with key, some are slotted and require a screwdriver to operate, some require the original key/handle. But they all work.
NOTE: There are air horns on the roof over the cab. Found a compressor that is not working.

SYSTEMS
The black tank (94 gal) is empty. Gray water tank (40 gal) is empty. Fresh water tank (INCA #146) is empty. Gasoline (60 gal) and propane (30 gal) are full.
Water pump and city hookup work. 12 volt converter works.
2 rooftop AC units work. 50 amp service. 2 coach batteries new, spring 2013, by PO (12v deep cycle) and 1 new chassis battery 3-22-14

New Jack TV antenna, has original cable and phone jacks exterior, near shore power hookup.
Auxiliary heater in kitchen area (from radiator) has been disconnected. (wiring and switches)
Furnaces still needs to be checked. We are troubleshooting thermostat wiring.
3 - 16k btu units. Tstat behind driver, near frig, inside bedrm wall.
Water heater needs some repair, it was working with HotRodd electric element. One day it started overheating and discovered thermostat was not installed properly. If my memory is correct, we did get it to light on propane, before winter storage. Thermostat for Hotrodd needs to be installed on tank. (It was clamped to the relief valve)

CAB
CB radio (Midland)turns on and has volume, no channel display, haven't searched any channels yet. 2 antennas on roof, I believe CB and AM/FM.
Upgraded stereo system, Kenwood equalizer, amp, 6 speakers, 2 in cab ceiling, 2 in kitchen, 2 in bedroom overhead cabinets.
Dash air has not been checked yet and heat hasn't been checked. 2 original dash fans for defrost and cooling.
TV overhead is Dynex 19"flat screen with remote, new 2013 by PO.
Flexsteel leather capt's chairs. Leather headliner throughout.

LIVING ROOM
Carpet (original?)
Grasscloth wallpaper, valances and curtains are original
Blinds on all windows
Lots of lighting everywhere
2 barrel chairs (would like to keep one, if possible)
Fold-out table/cabinet with cupholders
Flexsteel sofa/bed
KITCHEN
Real wood parquet flooring
Moen single handle faucet
Oak cabinets
Formica counter, built-in blender base works, no pitcher.
Mirror backsplash 2 sides of stovetop.
BATHROOM (All in one room with door, all closet on other side of hallway)
Real wood parquet flooring
Moen single handle faucet
Everpure filter system under sink with spigot at sink.
BEDROOM
Carpet (original?)
Glass panels in oak cabinets overhead
Nightstands
Queen size mattress
Insignia 21" flat screen with remote, new 2013 by PO.