I AM MOTIVATED TO SELL THIS COACH
I have decided to sell my 28 foot Regal. It is my intent to move up to a 30 or 33 foot Breakaway.
This coach is nice, not as nice as Eddie's coach right after this one.
It has a new crate 454 with 10K on it,
new tires less than 100 miles, except for the inboard dual on the rear. The outsides are new.
200 miles on new brake job
New Wheel bearings front
Bilsteins on front
5.5 Onan
Safe-Wide wheels. These are cool, baby drives like a cad. Front tires are only 55 psi.
Helper springs on rear,
Everything works, including new TV, dash air.
Coach is wired so that just a flick of a switch goes from cable hookup on outside of coach to antenna.
Wired for phone jack inside.
Only negative, one Air, It could really use two air conditioners. And paint on front above windshield is chipping, plus it is 22 years old
Motor Aid water heat and two motoraid furnaces.
Center Twin, Large rear bath with fantastic fan and new lighting.. Pretty cool coach. Not as nice as Eddie's or Olroys's but pretty nice all the same...Everything works, new kitchen faucet..
Click Picture for Slide Show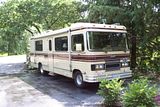 Picture living room back
some more pictures, cool awning material