Barthmobile Portal
1991 Barth Regal 22 ft. for sale
01-14-2017, 05:57 PM
Dale & Jennifer Wilson
1991 Barth Regal 22 ft. for sale
Just love this Barth but I needed a bigger motor home. it's in great condition. Has the Chev. 454 eng. i'm not good on computers. I had to get one with a full bed for this barth only had a table and couch. Live in Pensacola Fl. can anyone help on what to do.
01-14-2017, 08:45 PM
Kevin
Dale here is your data tag
---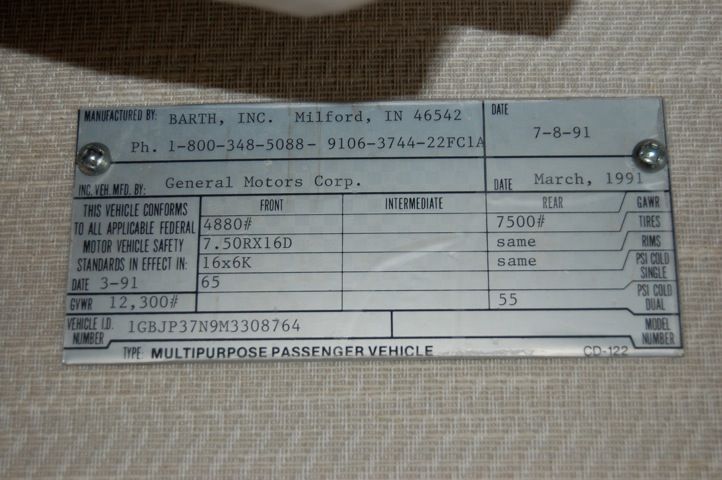 01-14-2017, 08:48 PM
Rusty
Welcome to the forums! It's a requirement to post the data tag info with any for-sale Barth. The data tag is typically on the bulkhead behind the driver's seat, as in the image from Kevin. The vital info would have a format like this in the image: 9106-3744-22FC1A - please confirm this is your tag number.
It's also advisable to list price, mileage, and the current status of appliances, repairs, upgrades, etc.
PhotoShop is used for pix, and Kevin is our expert tutor on posting and linking those.
Rusty
---

"StaRV II"
'94 28' Breakaway: MilSpec AMG 6.5L TD 230HP
Nelson and Chester, not-spoiled Golden Retrievers
Sometimes I think we're alone in the universe, and sometimes I think we're not.
In either case the idea is quite staggering.
- Arthur C. Clarke
It was a woman who drove me to drink, and I've been searching thirty years to find her and thank her
- W. C. Fields
01-14-2017, 08:51 PM
Kevin
Some
pictures
from 2010 are here also.
---
---
Someone is going to get a nice toaster when Dale sells this RIG.



2002 Toyhauler w/7.3 diesel
Former owner 1989 Barth Regal 25'



01-15-2017, 01:05 PM
Mary Ray
Good Memories!


Mary

Don't mess with us old folks, we don't get old by being stupid!
1968 Barth trailer, 1975 Barth Motorhome and 1985 Barth Motorhome


01-15-2017, 04:22 PM
StinkyDaddy
That Milford GTG was a good time. We also were in the site beside Marvin and Doris with that coach at Hillboro the same year. It is a nice Barth.
01-21-2017, 11:58 PM
Scott
We've been conversing with Dale & Jennifer on this Barth and are very interested. Before we make the trip to Pensacola (from Oregon), we wondered if there were any Barth experts in the vicinity that might be willing to take a first-hand look at this unit? Pics and descriptions provided so far look/sound great, but no substitute for visiting in person, and a second opinion would be very helpful. Many thanks. Scott
01-22-2017, 09:32 AM
Jim and Tere
Good idea. Oregon to Florida is a long way.



1985 Regal
29' Chevy 454 P32
8411 3172 29FP3B
Gear Vendor 6 Speed Tranny
01-22-2017, 09:17 PM
Steve VW
If things go as planned, we will be going through Pensacola some time late next week. When we get to Texas I will try to see if we can arrange with Dale and Jennifer to get a look at this baby on our way through.



9708-M0037-37MM-01
"98" Monarch 37
Spartan MM, 6 spd Allison
Cummins 8.3 300 hp
01-22-2017, 09:33 PM
Tom and Julie
If you want it checked out get it to Billy T in Lousiana. He"ll know more than anyone else what it needs, if anything.


1993 32' Regency Wide Body, 4 speed Allison Trans, Front Entry door, Diamond Plate aluminum roof &
1981 Euro 22' w Chevy 350 engine and TH 400 tranny
01-23-2017, 09:56 PM
Dale & Jennifer Wilson
Thanks Kevin for posting the data plate of my 22' Barth. as you can see I am not on computers much at all. Yes that is my data number. I can not download any pictures from my camera to my computer at this time. I have been sending them from my phone to there phone. Then I e-mail answers that they ask. All I can say is that I can not stop anywhere without someone coming up and asking about this Barth. They just love it. All major items work very well. Price is $9500 FIRM.
Time for me to go for now.
Dale
01-26-2017, 08:22 PM
Steve VW
Dale:
Liz and I will going through your area later next week. Depending on location and timing I could maybe meet up with you and get some pictures, etc.
I am towing a car so I can't do too much off main roads but we could perhaps meet somewhere near the coach? I know Scott is very interested and there may be others.
I will call/email in a couple days to see if we can make it a go.
SteveVW


9708-M0037-37MM-01
"98" Monarch 37
Spartan MM, 6 spd Allison
Cummins 8.3 300 hp
01-27-2017, 08:34 PM
Dale & Jennifer Wilson
Steve,
I am leaving in the morning (01-28-17) for a few weeks, so I will not be around to show you the Barth. Let me know by Phone and I will try and set it up so my son-n-law can show you my Barth. They live just off I-10 exit 5 about 7 miles and easy to turn around.
Safe Travels
Dale
03-14-2017, 05:14 PM
shtym
Hi Dale,
Considering downsizing. Wondering if this nice Barth is still available?
Thanks,
Lloyd