Greg Watson
(816)-419-9288
(816)-716-2733
E-Mail p_brasel@sbcglobal.net
For Sale Buy Owner;
Due to my wifes promotion, we moved from Kansas City to West Des Moines Iowa. Unfortunately I had to leave my baby Barth stored in the caves back in Kansas City 1600 N. State Route 291, Suite 410
Independence, MO 64058-2822
Phone: 816-257-5252 | Fax: 816-257-5444
Hours: 8-5 Monday-Friday, 9-12 Saturday. I am since unemployed And don't see much of a future with my beloved Barth. Asking 16,000$ firm. My loss is hopefully your gain.
Here are the details:
Barth - Gasoline Puller, 29' length
49000 + miles
GM 454
Kohler generator with Remote Start
Chevy Chassis
Allison Transmission
Air Ride Suspension
EXTERIOR FEATURES

All steel frame
Outside all fiberglass surface, including roof
Alcoa polished Aluminum wheels
10,000 lb towing hitch
Roof rack and ladder
DBL. Electric entry steps with lights
Screened entry door Huge Zip Dee Awning
COACH FEATURES

1 skylight in shower
wired for telephone
wired for cable TV
closet with automatic light
All seating has overhead light arrangement and fluorescent lights
Window shades throughout
Separate Grey/Black water tanks
2 roof vents and fans with Kool-O-Matic
Hydro Flame LPG Furnaces
6 gallon hot water heater
carpeted flooring
Birch cabinetry
COCKPIT AREA
2 Chrome fans for driver and passenger
2 Flexsteel grey leather seats with swivel
2 Remote power mirrors
Panasonic am/fm with cassette,
Multiple CD Changer
Tilt steering wheel
Big Foot Hydraulic leveling system with indicator lights
Cruise Control
Driver and Passenger drink holders
CB Radio
TV antenna and booster
GALLEY

Full Pantry in galley
4 burner recessed gas range
Sharp Carousel II Micro
Dometic refrig/freezer
LIVING ROOM, BEDROOM, BATH, ETC

folding table in Living Room
couch which converts to bed in Living Room
Bath has large shower unit with skylight in shower
Shower unit also has light
Aisle Lights
Queen size bed
MISC

All owners/operating manuals
All factory diagrams
Full compliment of power hook-up cords, Factory photos of this units manufacturing progress.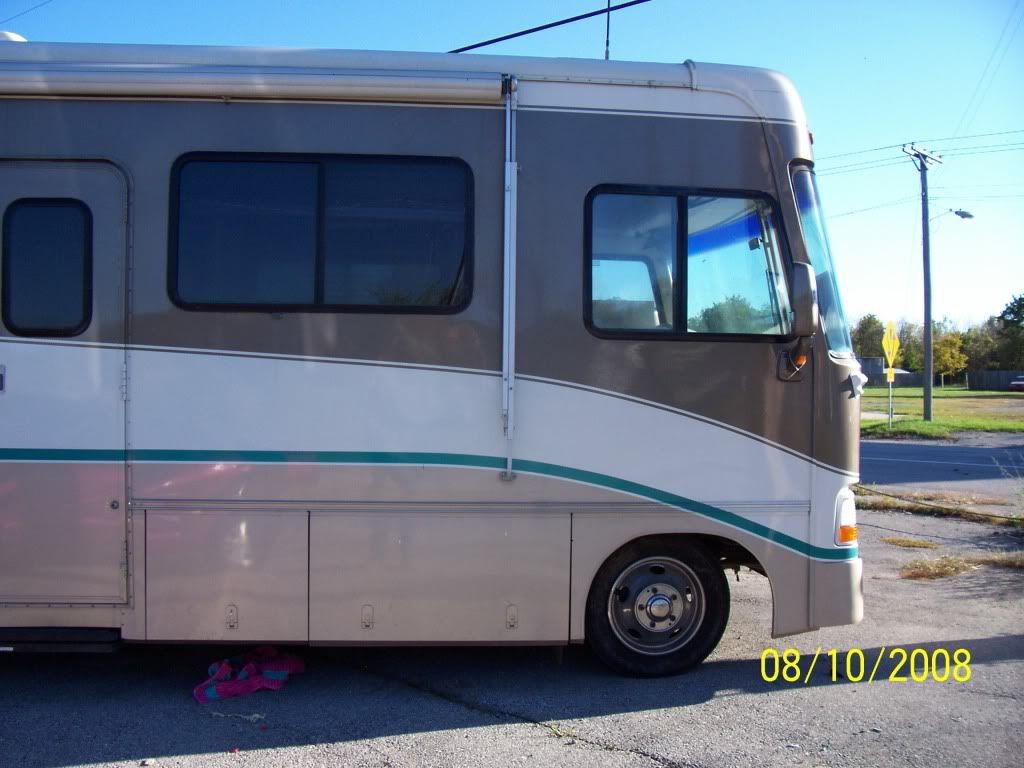 Edited by Bill NY to add in additional photos


1998 29' widebody
454 Chevy chassis