Guys, It has been a while since I last posted here, and even longer since I worked on the coach. I am seriously parting with my coach.
It has current state inspections, good license and registration, and a clear, lien free title in my name. 1987 Chevrolet 454 with 11,000 actual miles on it.
It has air bag suspension, Thorley ceramic coated headers, and six 19.5 tires that were new in January with about 1000 miles on them.
I have over 10 grand (wife says 12) 'invested' (squandered?) into this project and am not making progress.
I would like to offer the coach on here for 4,000 dollars. I'll include all parts that I have collected for it (toilet, taillights, 400dollars worth of locks, wipers, hardware, etc, etc).
My wife needs the driveway space and I need the peace.
I am in St Louis, MO and will gladly pick anybody up from the airport to come look at it and drive it around (and hopefully drive it home!)
It is unfinished on the inside and needs a spot in the floor repaired, and then it will need you to add the things that make it a home (bed, shower, etc. think 'blank canvas').
You can see posts about it by searching for my username. I will add pictures tomorrow. FIRE SALE. Come look at it and make me an offer.
Thread from when I bought it. CLICK HERE.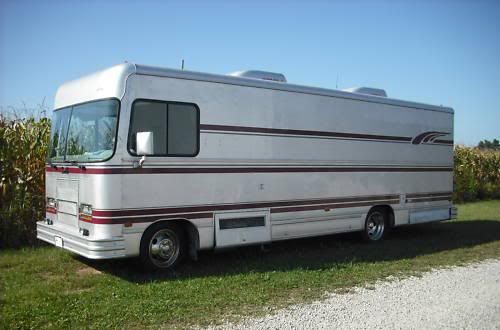 Data Tag#
8707-3452-28S-31