The first two are the same camper, located in Connecticut--that is now mine. The other one in Portland looks nice but is a bit too far from me. I was not interested in a fuel hog military pickup/camper combo. BTW his fuel Economy could not be better than 15 and probably worse.
I bought a 1000 lb jack and it was a mistake. I needed the bigger one, and I'm still looking for an old style square crank type.
So, mine is the one with the bent up ladder--I plan to take that off and see if I can straighten it out some.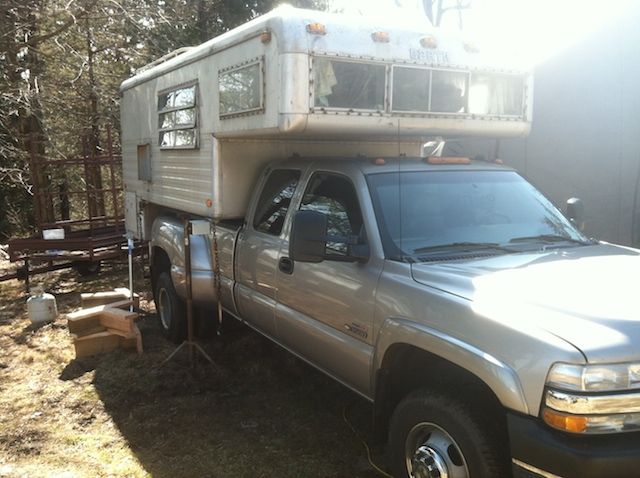 I unloaded it today. Tomorrow, I'm buying some concrete blocks and lowering it onto a firmer base so I can start working. I'd actually like to get it down close to the ground, which might be difficult.
Questions:
Does anyone know what sort of insulation is in these things? I found some foam sheets on the wall where the battery and propane tanks sit.
I would like to clean it up and see if I can start using it in a few weeks to visit a friend in Canada, and I'll need heat, so insulation is important to me as it will still be cold up there.
I am wondering how hard it would be to take this thing completely apart, and if I'd ruin the cabinets in the process. I have never taken one of these apart. I have more experience with boat repair than camper repair.
While much of it seems in good shape, I'd like it to be cosy inside for me and the dog, and perhaps one other person.
I traded a laptop for a couple of solar panels recently and now I can pick up a whole trailer which is being junked, for $500. It has a brand new $1600 two way fridge, the stove looks like all stainless steel but it will take some scrubbing to find out, an air conditioner, good toilet, a good 4kW generator, nice stainless steel range hood, and a bulky but nice surface mount non-vented propane heater which requires no electricity (I like this, but am not sure where I can put it except over the dinette.
I need to measure to see if this huge fridge will fit in the hanging locker. Some of this stuff will not fit, and some will. I also found some sort of new part for either the water heater of the furnace. I have a hunch the camper will clean up good except for the back which needs some surgery. Two of the cabinets have veneer peeling and broken. It might be easy enough to put new veneer on all of them. One cabinet door is missing and one cover adjacent to the batter looks like a poor quality replacement panel.
I am going to try it out as is with a porty potti. For the long term I'm debating putting a cargo platform under the back of the camper mounted on the hitch to carry black and gray water tanks, possibly generator, and optionally more water. There is no head in the camper and there is a discharge under the back left corner of the camper, so I don't think there is any holding tank. A folding staircase would mount there nice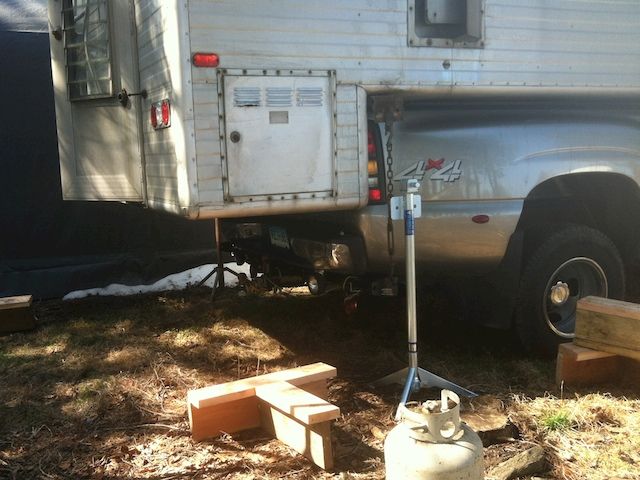 My goal is 3-4 weeks of hang time while boondocking.