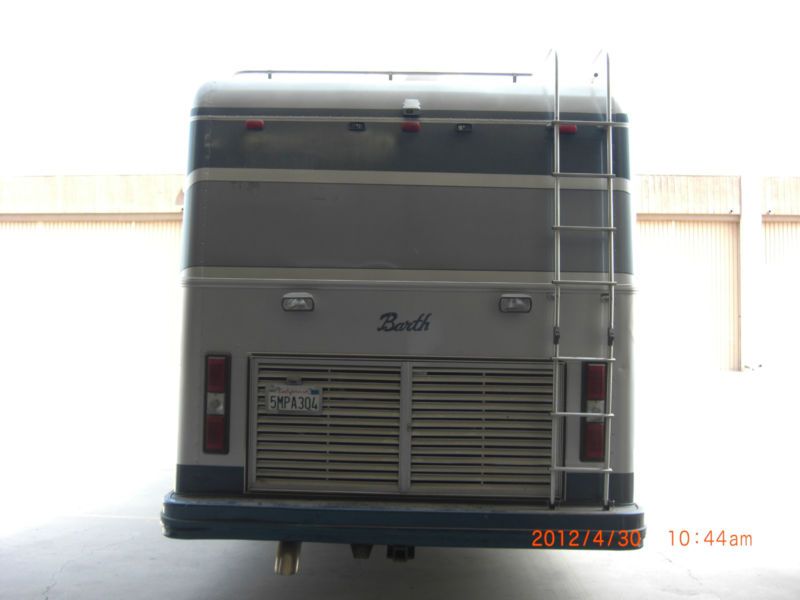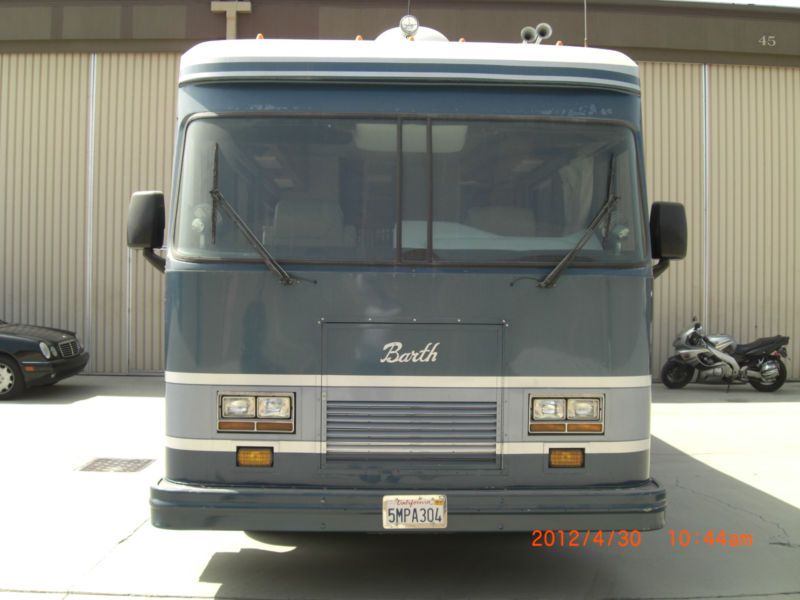 1994 BARTH, 34 foot WIDE BODY (102 inches), 44,000 mile, CLASS A, 300 HP DIESEL, all aluminum MOTOR COACH.
This coach has only 44,000 (forty four thousand miles) and is a true live aboard world traveler.
Engine hours: 464
Generator hours: 453
This is the perfect top of the line, up scale, live aboard, touring motor home. The super strong single rear bus axel will cost you far less in expensive toll road fees then the costly double axels on other motorhomes. Travel the country or just park it at your vacation destination and have a fabulous condo. To duplicate this motor home in todays dollars would cost you hundreds of thousands, but you can be the proud owner at a very low reserve that is no where near what this motor home is really worth.
This is a two owner coach that is top of the line by today's standards. This coach originally sold for $243,000 Dollars 44k miles ago. It is one of just a few top tier RV BUS CHASSIS, that can boast of all aluminum body construction. It is a fully self contained Gillig Bus Chassis, with a Kohler diesel powered generator. It is also equipped with the best RV transmission ever made, the Allison MD3060 World automatic with a 2010 upgrade. The engine is an 8.3 liter 6CT 300 horse power, BANKS PERFORMANCE Equipped, Turbo Charged 6 cylinder, that will do 75mph all day long. This engine can be found on many big rigs and is capable of going around the earth many times over.The market value of the engine and transmission alone far exceed what this coach will cost you the buyer. It is filled with Cheery Wood, Tile, and Corian, and has the capacity to dry camp for months at a time. I have every book and all the build schematics that originally came with the coach when picked up at the factory. This fantastic, top of the line coach is what Barth called "A low profile road handler coach". It handles the road and wind extremely well since it does not stand as tall as say the Prevoust, but does have the same tall inside headroom. The interior and running systems are in outstanding condition. I just replaced all the coach batteries, (over $500) with the best I could find.
I bought this BARTH wide body motor home, thinking that I would travel the US, but luck having its way at 75, health said a big no. This is your opportunity to own one of the best Motor Home Coaches ever made and the lowest mileage and systems use hours anywhere. The coach is stored in a hanger in California, and all travel systems are started several times a week and given a run down the runway apron. It drives and operates like a dream. Could you travel tomorrow? You bet. Would I drive it cross country? You bet. Just about every part that went into the construction of this coach is available on the end user market, which makes this coach a wise purchase say over other highline coaches that used proprietary build items and have since closed down there parts depts.
email or call Matthew melbik@aol.com or cell: 714-349-0040
The coach is equipped with a long list of items that traditionally come with every coach of this caliber, see below:
This unit has been garaged when not in use. Non smoker no pets.
All maintenance by authorized service. Must sell due to health reasons. Seller provides documents from previous owner, Barth Owner's manual, Gillig Chassis manual, Allison Transmission manual, equipment and appliance manuals, blueprints, wiring diagrams, cabinetry plans and engine manuals. Etc. etc.
Chassis and power
Gillig Chassis 218" wb
Cummins 6CTA 6 cylinder turbo charged 300 hp diesel pusher
Allison MD 3060 World automatic transmission w/retarder
Extra large Hayden transmission cooler
Electric engine heater.
44K+ miles
Body
Wide body 102"
Sidewall metal of .040" aircraft aluminum over patented Barth construction featuring interlocking aircraft riveted .062" aluminum extrusions. Roof and belly pan metal one piece .032" aircraft aluminum. Fully insulated floor, ceiling, and walls (Dbl insulation in walls and ceiling). Sky light & Four awnings. Alloy wheels
Capacities
Fuel Capacity: 147 gallons
LPG: 165 lb (approx 42 gal) permanently mounted. Gauge in cabin.
Potable water: approx 80 gallons in enclosed heated compartment
Black water: approx 60 gallons
Gray water: approx 40 gallons
Electrical
50 amp shore power, w/ 35' cord
New EMS shore power cord option(Electrical Management System) for shore power protection
Heavy Duty domestic over size four battery system equivalent to 6 reg. house batteries and 4 starting batteries.
Oversize 12 volt and 110 volt wiring harness protected by shielding and partition grommets.
75 amp converted with battery charger & Solar roof charger.
7.5 KW water cooled Kohler diesel powered generator in front.
Two roof air conditioners (13,500 BTU@) with heat strips. Remote power switches in cockpit.
Roof vents with fans.
Forced air heating.
Two 110 volt exterior duplex outlets.
One 110 volt duplex outlet in engine compartment.
LPG leak detector alarm with safety cut off.
Complete systems monitor panel with clock and controls.
Recessed lighting in main cabin.
Isle lights.
Roof mounted TV antenna with booster &Cable & King Dome Satellite antenna.
Aircraft style docking lights.
Indoor/outdoor electric thermometer
New AM/FM/CD player.
Vehicle Systems
Panographic air powered windshield wipers with washer
Wrap around padded dash w/full instrumentation and warning system.
Dash mounted cruise control.
Leather steering wheel with tilt adjustment.
30,000 BTU cab air and heater
Forced air cabin heat.
Dual exterior mirrors remote controlled.
Heavy duty fog lamps.
Automatic extra large back up lights and back up alarm.
Dash mounted emergency start switch.
Lighted exterior grab handle.
Door bell.
Porch light and utility light.
Lighted exterior storage compartments with rubber sealed doors, connected to security system.
Dual roof mounted air horn trumpets.
Remote control roof mounted spotlight.
Receiver type trailer hitch with wiring harness.
Hydraulic HWH leveling system.
Automatic electric step.
Closed circuit rear view TV system.
Hour meters for engine and for generator
Plumbing
Large Corian double sink
Purified drinking water system
6 gal LPG water heater w/ engine heat exchange and auto lighting
City water hook-up with remote control auto fill
Multiple low point water drains
Exterior water faucet behind locked door.
Furniture and Fixtures
Built in Color TV
DVD player with connection to both TV's
10 cubic foot Refrigerator w/ top freezer and ice maker. 110v, 12v, LPG
Double burner drop in gas stove.
Corian range and sink covers
Pantry with locking slide-out drawers
Spacious wood galley drawers and cabinets
Spacious closets and wardrobes with automatic lighting
Two six way pilot chairs in cockpit.
Cherry cabinetry, trim and doors. Overhead cherry cabinets with tilted mirrors inside.
Folding dining table with extension leaves.
Hide-a-bed couch. .
Corian countertop.
Pocket door between kitchen and bath and between bath and bedroom.
Corner glass walled shower w/ skylight.
Hardwood floor in kitchen and tile floor in bath.
Walk-around isles to rear of coach.
Queen size bed.
For sale by owner
Please do not bid if you do not intend to pay for the item. Do not bid if you are unwilling to pay shipping. Bid with confidence as you can count on factual information as personally possible, and receive clear accurate photographs which are not "edited" to deceive. Please take the time to enlarge all of the photographs for the clearest largest images. Photographs often disclose condition far better than verbiage as many people have different ideas on what terms may mean. If an identifying mark, inclusion or defect is visible in the images it is considered disclosed to the buyer. I give my full effort to describe the item to the best of my ability but being only human mistakes can be made without intent to defraud. The buyer has the sole responsibility to do all in their power as to due-diligence required for this auction. You are entering into a contract with me, EBay, and PayPal, when you bid, you are agreeing to all the terms and conditions that encompass this auction. Failure to uphold the contract will result in costs to you associated with this listing. Item is sold as is, where is, there are no warranties, or guaranties, expressed or implied as to condition, operation, or origin. PayPal deposit or total price option must be completed within 24 hours from the close of auction. Other payment methods must be communicated to seller within 12 hours from close of auction. Local pickup is possible under certain circumstances. All checks & or other forms of payment must clear my bank before the release of the item won, no exceptions. International buyers must clear the purchase bid with me before bidding. Ask for a shipping quote before bidding. Any questions; Email or phone me and I will gladly attend to your inquiry ASAP. Thank you for your inquirys and bidding. Matthew melbik@aol.com or 714-349-0040