Barthmobile Portal
KY ~ 1980 Maroon/silver 24
02-17-2010, 11:59 PM
onehorse
KY ~ 1980 Maroon/silver 24
45,000 Original miles, 454
I bought it with the intent to refurbish and use it at our farm but hard times are everywhere.
Tires,new,
maintenace done regular, but now it has set and the dirt dobbers need swept out of the AC and the Onan to get it back up to running speed.
Great running condition. And we have CAREFULLY taken out leak/water damaged carpet,and some panel, and floor is down to subfloor(sorry the 80's shag had to go!) have traveled in it as it and had a blast all the way to Mt. Washington Maine. But it could be gutted and made into a fun new unit as well.
Most all, fridge, stove, toilet, shower,original and all the original undamaged cherry cabinetry is intact.
Don't expect a new unit, but this is not a moldy mess either. I can give you a wish list of what could be fixed, but you can request pics and see its fun as is....Selling because its become a storage unit! :-) and someone needs to be enjoying it.
We have had folks stop us on the road, and ask to come aboard and see it. Its just plain cute!
Not sure how to do images here yet, but can email separate.
Price $7500
the Unit is located at Kentucky, 42727
Contact (770)715-4444 but email is best because we have poor service at the farm.
We sometimes drive it back to Marietta, Ga.
And Price is OBO, she deserves a great home. My grand daughter has the diary of the Barth travels, she may let it go with it.
02-18-2010, 07:30 AM
Bill N.Y.
Just sent a letter requesting pictures. Will post if/when I receive them. Have also requested the data tag info/picture. It is linked to the For Sale Map.
˙ʎ˙u ןןıq- "ǝןƃuɐ ʇuǝɹǝɟɟıp ɐ ɯoɹɟ pןɹoʍ ǝɥʇ ʇɐ ʞooן ɐ ƃuıʞɐʇ sı ǝɟıן oʇ ʇǝɹɔǝs ǝɥʇ"

---

---

1990 Barth Regis Widebody
8908 0128 40RDS-C1
L-10 Cummins
Allison MT647 Transmission
Spartan Chassis
1991 Medical Lab Conversion
9102 3709 33S-12
Ford 460 MPFI
C6 Transmission
Oshkosh Chassis

---

---

---

Quick Link: Members Only Link To Send Me A Private Message
03-12-2010, 04:30 PM
onehorse
Chevy Chasis
VIN CPS3793315349
Coach # S79102670MC24FP2
Chasis # CPS3793315349
It has ALL ORIGINAL BOOKS, OWNERS MANUAL AND RECORDS AND BARTH BINDER. Really cool set of vintage books on it!
Cherry Cabinets are original and beautiful.
The tires were ALL new in 2008.
Brakes, seals, all rebuilt and repaired 2008.
The doghouse was sound proofed and fireproof insulated when the carburator was serviced at same time.
Engine is strong, no smoking, all original miles.
Glass is good, windows are great. All windows need new screen sliders.
Onan serviced regular and was running smooth when parked.
But Dirt dobbers have gotten in and stopped it from turning over, its needs blown out, ditto on the AC unit fan. ( a lesson learned not to park it at a farm barn)
Wish List,
what it does need:
Reupholster the driver and passenger seat.
Choose a floor covering.
Professional tint and new shades.
I did remove all the shag carpet. The subfloor is sound.
The holding tank and all that system is in fine shape, drains well, toilet works great. Fresh water tank is disconnected at the moment and needs the water pump and new lines reattached because someone did not winterize it correct. All parts there but swelled some of the connection and elbows.
The water heater tank should be replaced for same reason.
There is corrosion in the generator system, and it just needs all the connections cleaned and checked. It drained the batteries last time I left it parked for a month plus one of the kids left a light on inside a closet.
The airhorn wiring needs redone and the system guages were detached by previous owner so thats an "as is" systems that probably just needs a rewire. The TV antena of course needs to be redone with a sat system or HD- its currently an oldie OEM antenna!
The furnace and gas stove/oven I have never used and i make no warranty they are safe without a propane specialist checking out for leaks, seals and etc. of just old age from sitting.
We had planned to remove them and go all electric including heat and microwave, but thats buyers option now.
Refridge works like a champ. Clean and shiney inside, all OEM parts, racks, and vintage ice trays.
Paint or take it back to its nice shiney alum finish. Its vintage worn right now, we like the colors but someone else may want it to "look new"-
OBO on price.
It is not tagged or insured at this time.
email for pics kyquarterhorse@aol.com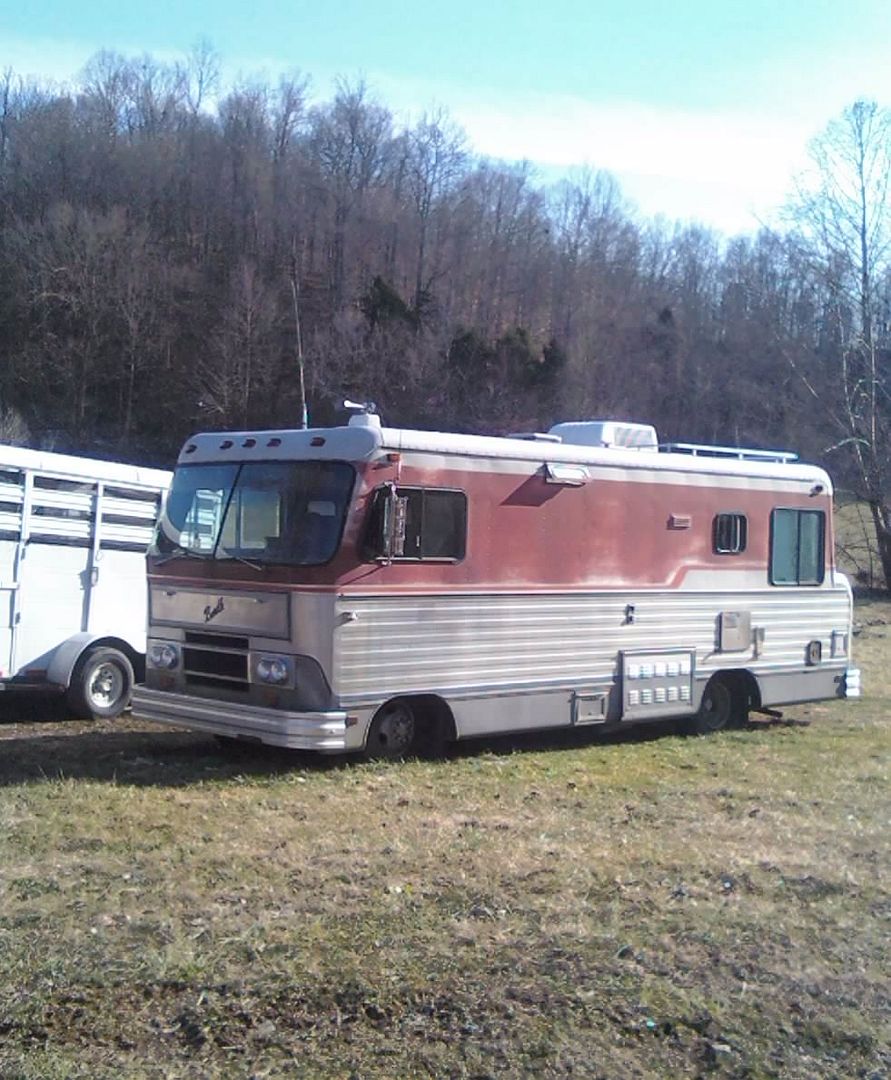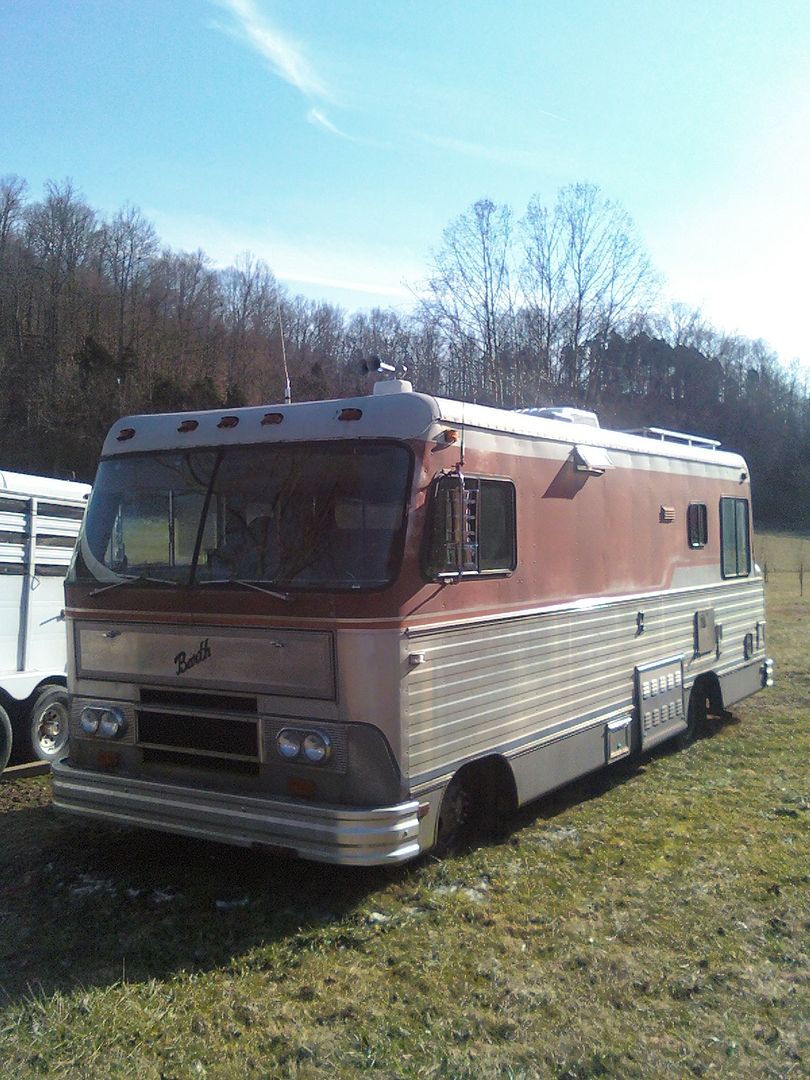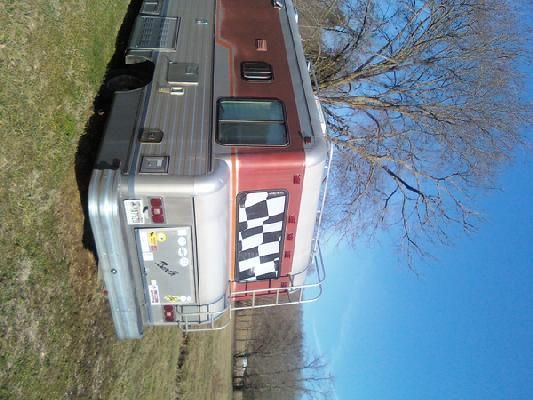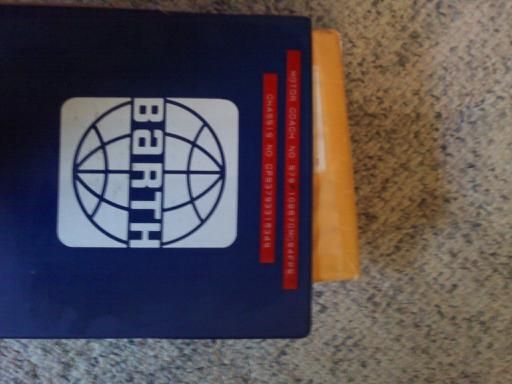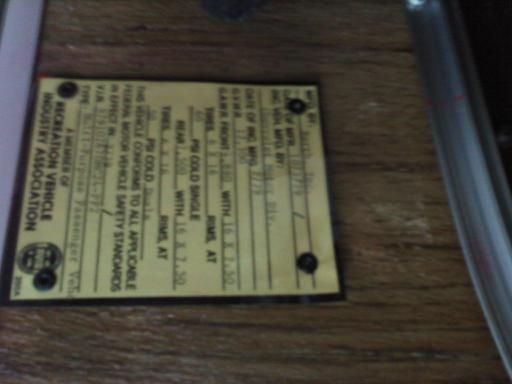 07-04-2013, 04:48 AM
marmaduke
Interested. Live in GA. Please send pictures if this unit is available. Thanks. // al
09-14-2013, 08:15 PM
onehorse
quote:

Originally posted by marmaduke:
Interested. Live in GA. Please send pictures if this unit is available. Thanks. // al
Sorry I don't check in often!
I have the Barth for sale. I just had it serviced at RV dealer, all fluids and old gas drained, Onan serviced, AC serviced, new batteries, inverter and wires checked and cleaned up, some new plumbing, checked for leaks and holding pressure well, and I took out the old appliances to get it back to shape to put in 4 bunks. All total spent $1100 to clean it up.
It still has the pulldown bunk over driver/pass in front. Has full operational 1- bath and sink with all new water lines, toilet in fine shape, dump tanks great shape, and most of original cherry cabinets.
It needs a full set of tires they dry rotted sitting too long and its had all ready to put in bunks, microwave, floor cover and update inside. An easy handyman fix or the RV guy can let you pick your finishes and customize it at any price point, in Bowling Green Ky where its parked right now, before you bring it home. Price a little negotiable but all the mechanical stuff is checked and done and clean in the last 90 days. can drive it off as is with new set tires.
Last trip we did in this was to Maine.
Its a steady eddy 454 with low low original miles.Low hours on Onan.
kyquarterhorse@aol.com or phone me 859-552-0193
03-10-2016, 11:46 AM
onehorse
Update: 2016
We started gutting the interior for renovation. It was gone over, Onan was gone over by RV specialist.
Appliances removed because they were original and gas lines and connectors and technology of 1970s mfg are not compliant with modern safety. ie: removed gas refridge, gas furnace, gas water heater, gas stove and stove top.
AC on roof is maintained.
Onan was checked over, but no doubt need plug and start up service when time is appropriate. Original hours on it, in vgc
Engine, carburetor was checked and maintained.
Tires: Needs full set/dry rot from sitting on the current tires.
Needs all 3 batteries to start and move.
Water system was renewed for one/original bath and sink and toilet. Waste Tanks OK.
Water was removed from kitchen location. It needs replumb for a new kitchen, or set up for microwave, and electric appliance strip for a simple dry galley.
Floor is stripped back to deck, for new floor.
Walls are original Barth installed panels. Ready for an imaginative transformation, use the panels for templates to cut new wall material.
Dash is original Barth installed, with Doghouse for maintain engine from inside. It needs updates.
Original captain chairs, and steering wheel.
Roof vents are original crank, Barth installed.
Exterior paint is faded, but the workmanship and aluminum of the original Barth awaits taking an acid wash and taking it back to OEM color scheme.
Ready for a top notch repurpose. A total fun size to drive on a classic 454 Chevy GMC Chassis.
PRICE VERY NEGOTIABLE> very low four figures, OBO. Lets chat and strike a deal!
Location 42717 USA
kyquarterhorse@aol.com
770 715-4444