Barthmobile Portal
1990 Regency 34' Wide Body $25,500
10-23-2017, 03:14 PM
L78steve
1990 Regency 34' Wide Body $25,500
We are putting our 1990 34' Regency up for sale.
Here are some of the particulars.
*57,786 Total miles
*Diesel Generator Kohler 8kw 416 hrs.
*New tires 2 years ago
*New batteries (All)
*New air bags
*New brake chambers and lines
*New(2)flat screen TV's
*New battery isolator
*New Anvil roof coating(4 coats).
*New Leece Neville alternator
*New rear Monroe shocks
*New Kwikee steps
*Both Dometic AC units updated with new relay start controls
*Full service
*Front end alignment by Kenworth
*3 Way refrigerator by Norcold
*Corian counters
*Tile floors
*3208 Caterpiller TA 300HP
*Allison Transmission
*Center aisle
*Queen bed
*Electric motor to open the couch
*Leather captains chairs Flexsteel full power
*Novi alarm system
*Cedar closets
*Lots of storage
*Mid entry
*Washer/Dryer (not installed but included)
*Energenius 3200 inverter/charger
*Indirect lighting
*Original blueprints and wiring diagrams.
We purchased this coach 2 years ago from Carol and enjoyed it immensely.
We made the trip from CA to NC without a problem.
On that trip we averaged 9.06 MPG. Not bad for 30k pounds.
Since then we used it regularly and took care of any needs.
It is a clean turn key coach.
Offered at $25,500.
828-606-2547
sgpowerequip@cytechusa.com


1990 34 Regency WB
3208 300HP

1993 34 Regency WB
8.3 Cummins 300HP
10-23-2017, 03:17 PM
L78steve
Pictures coming.


1990 34 Regency WB
3208 300HP

1993 34 Regency WB
8.3 Cummins 300HP
10-23-2017, 04:08 PM
Kevin
This is a Barth Purveyor's dream come true. You will find some
conversation
on this Barth form 2015. I have seen this Barth personally. Remember there were only about 175 Regencies ever built. A few were built with Caterpillar engines and Gillig a Chassis. This Barth has full air ride, air throttle and air shifter. Compare the postings and see what Steve has done to this RIG!
---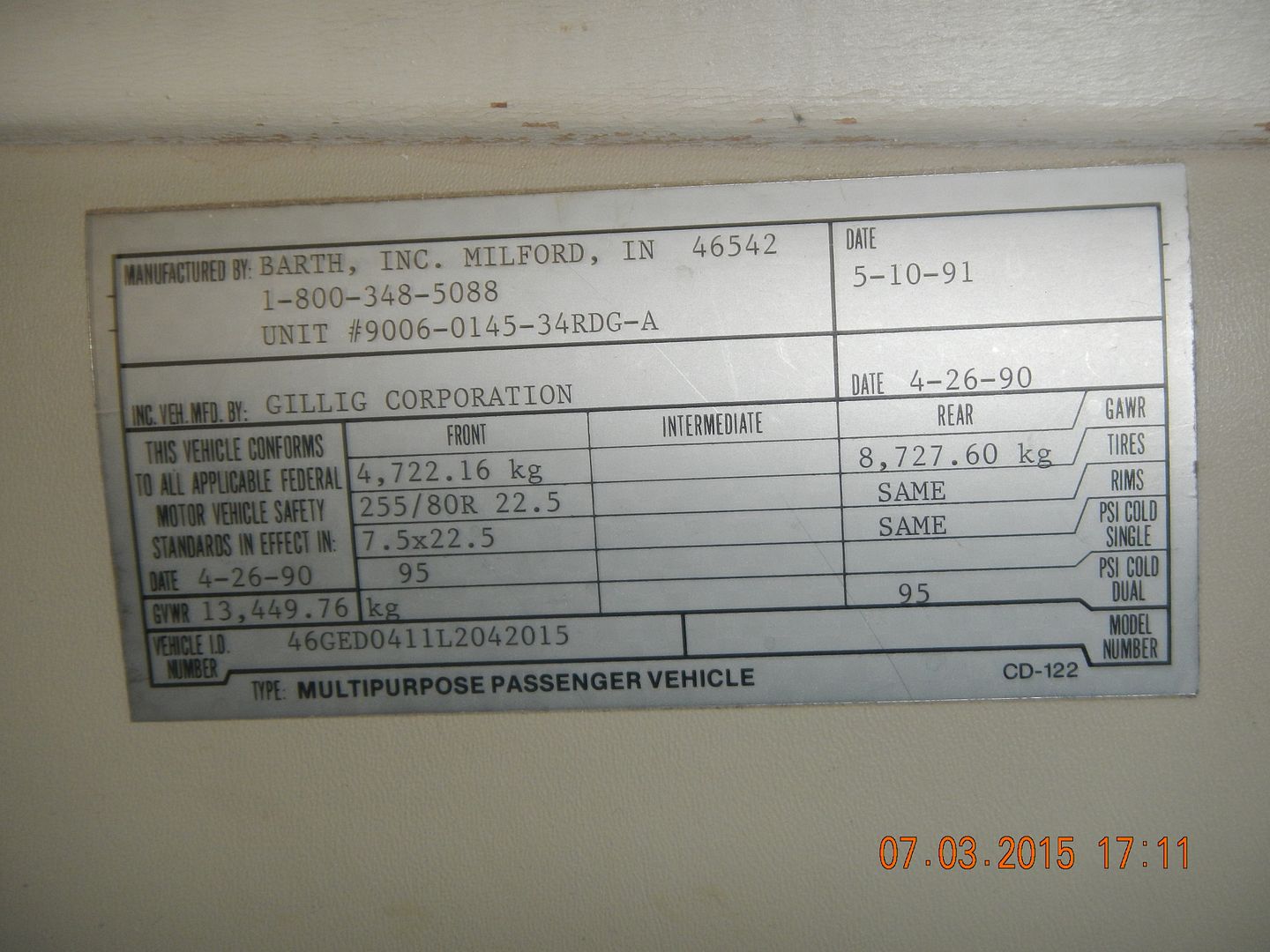 ---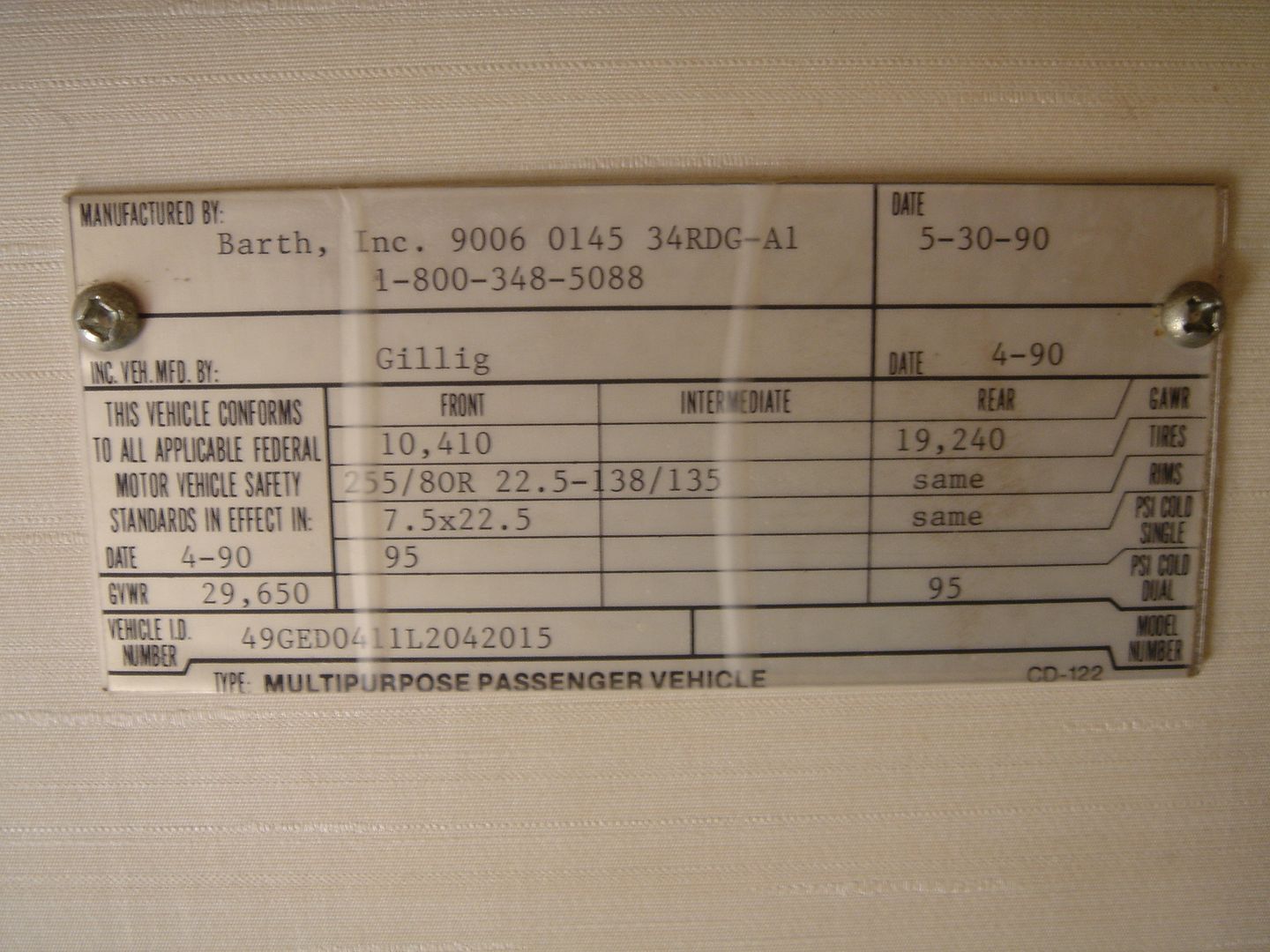 10-23-2017, 06:32 PM
Kevin
Steve, your folder
IS
ready.
Please send your photos to:
barth_upload.61972@uploads.photobucket.com
from an ordinary email and put "0145" in the subject line exactly as you see it without the quotes.
Do not add anything the email letter body. Send no more than 5 photos.
---
---
10-23-2017, 08:21 PM
Steve VW
Interesting. Nice coach indeed.
Do the Gilligs usually have weights in kg or is this rare? The others are in pounds... maybe for export?


8607-3346-33TFPOB------9708-M0037-37MM-01
86 Regal SE 33 Tag axle--"98" Monarch 37
Chev P3(7) 454TBI--------Cummins 8.3 300 hp
400 hp fuel injected-------6 spd Allison, Spartan MM
10-23-2017, 11:01 PM
Kevin
I did not see it but Steve78 tells me there is another tag in pounds. If you can Steve78, Please post the data tag that is in pounds for us.
10-23-2017, 11:57 PM
ccctimtation
Just to maximize ambivalence tire pressures are in lbs. Not really ready for total conversion.


I was taught to respect my elders but it is getting harder to find them!
10-24-2017, 01:28 PM
Kevin
---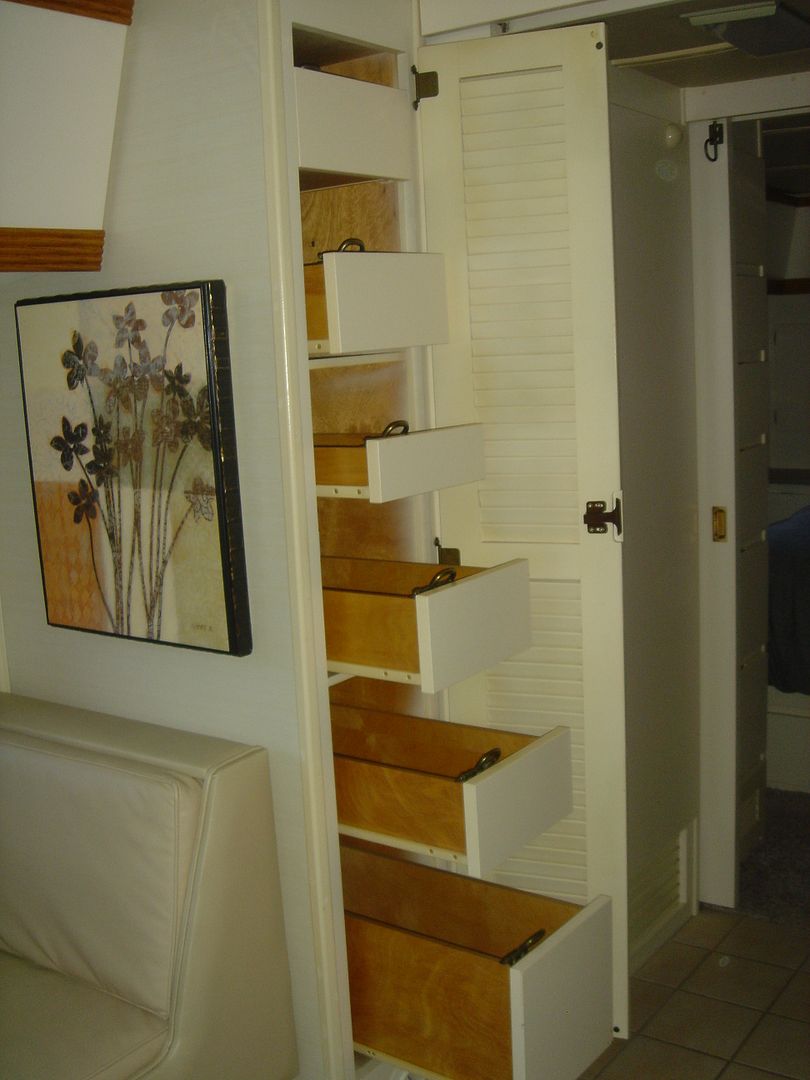 ---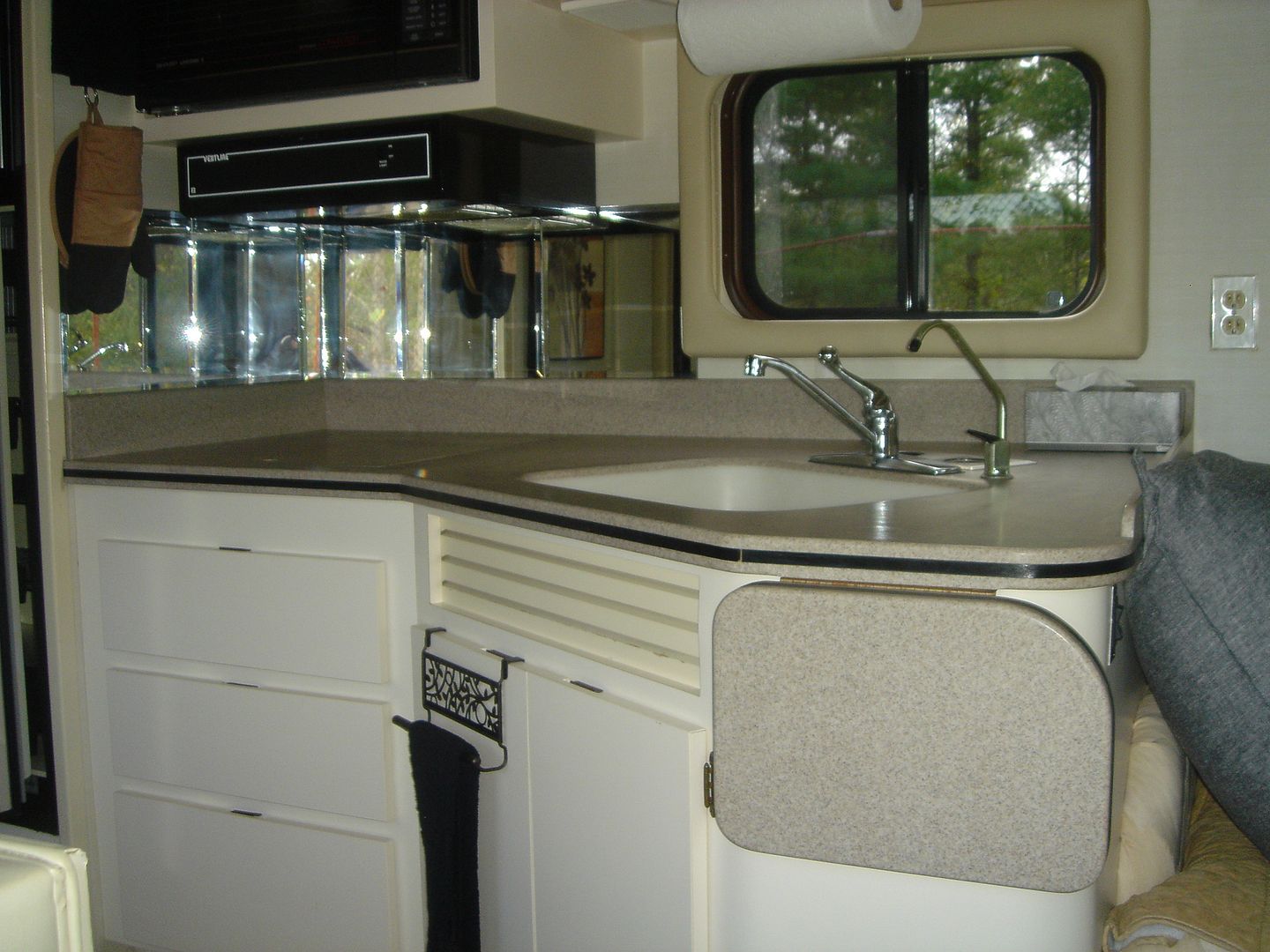 ---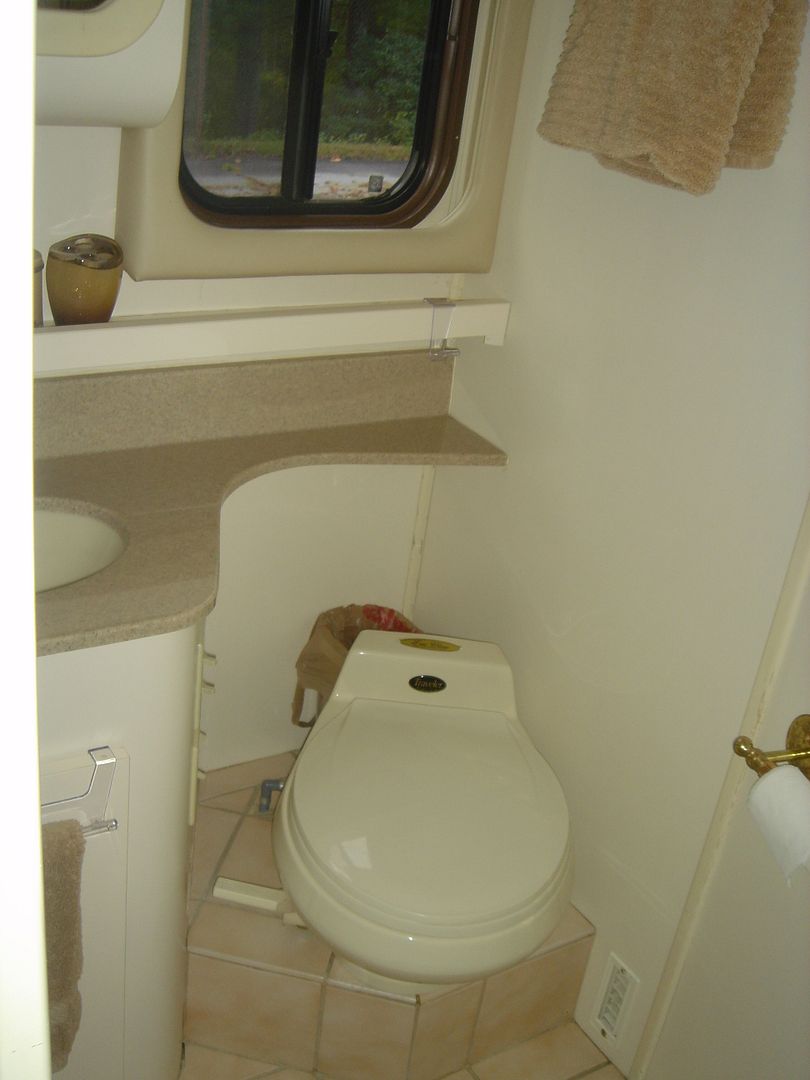 ---
---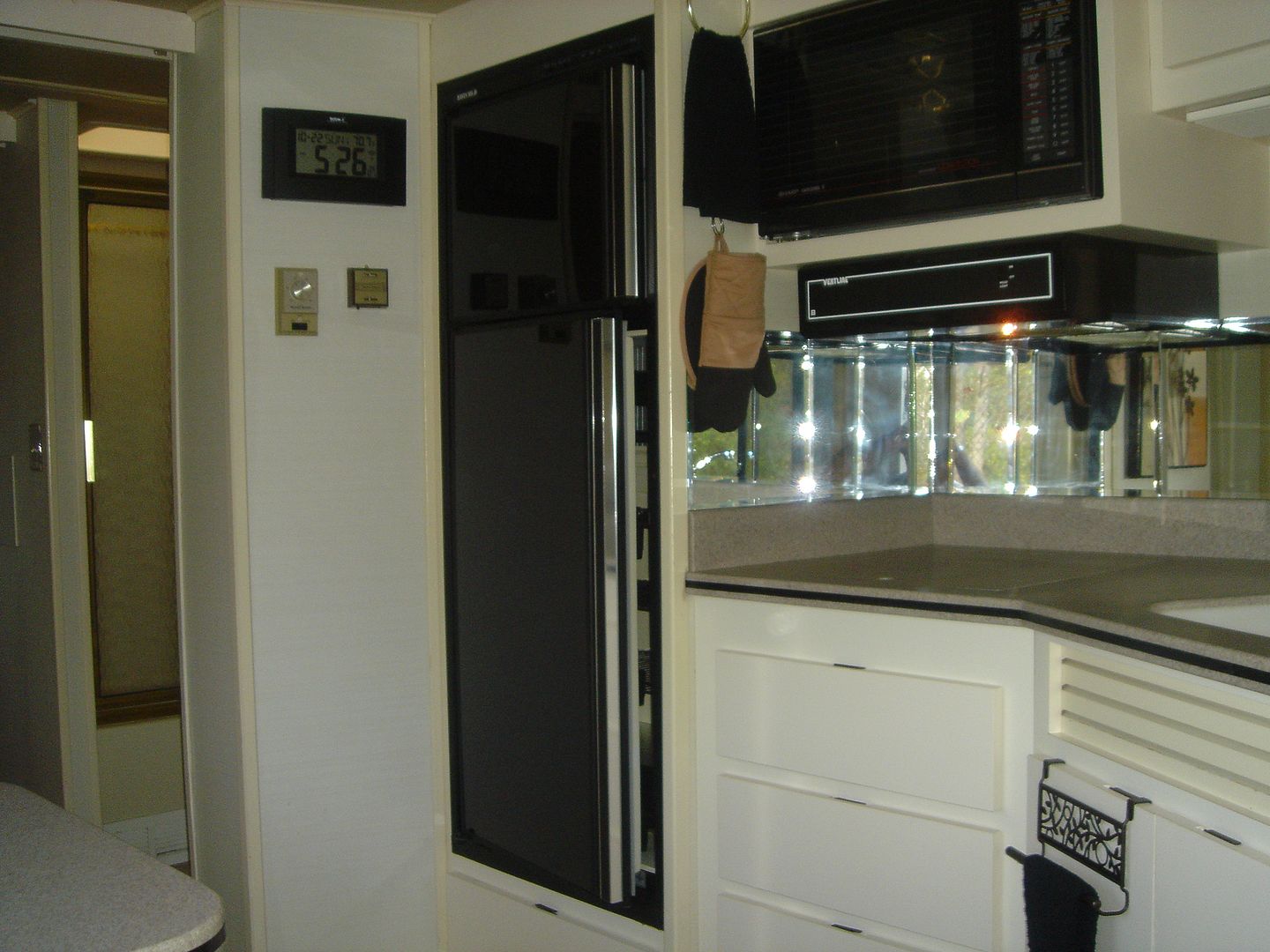 ---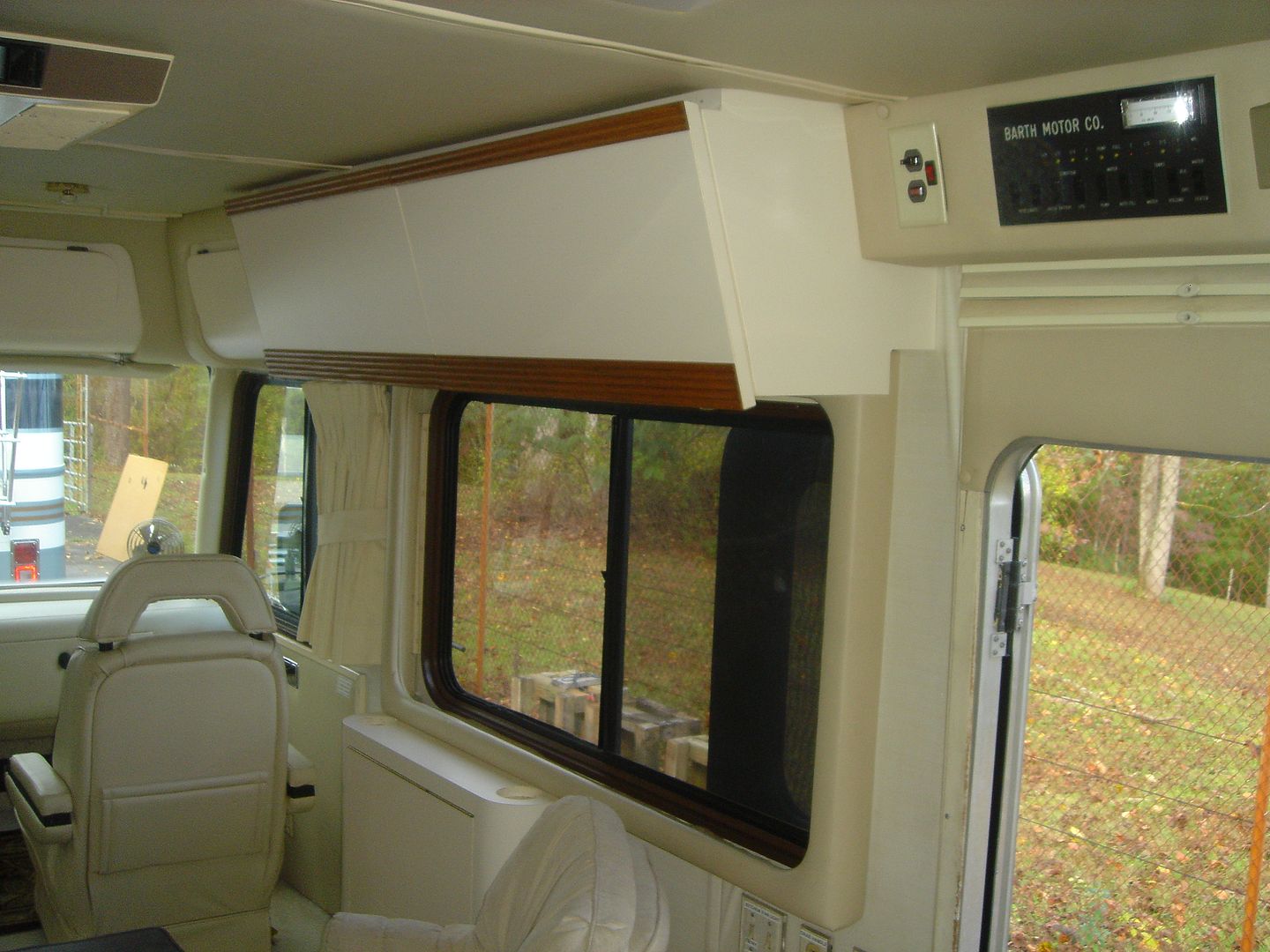 ---
---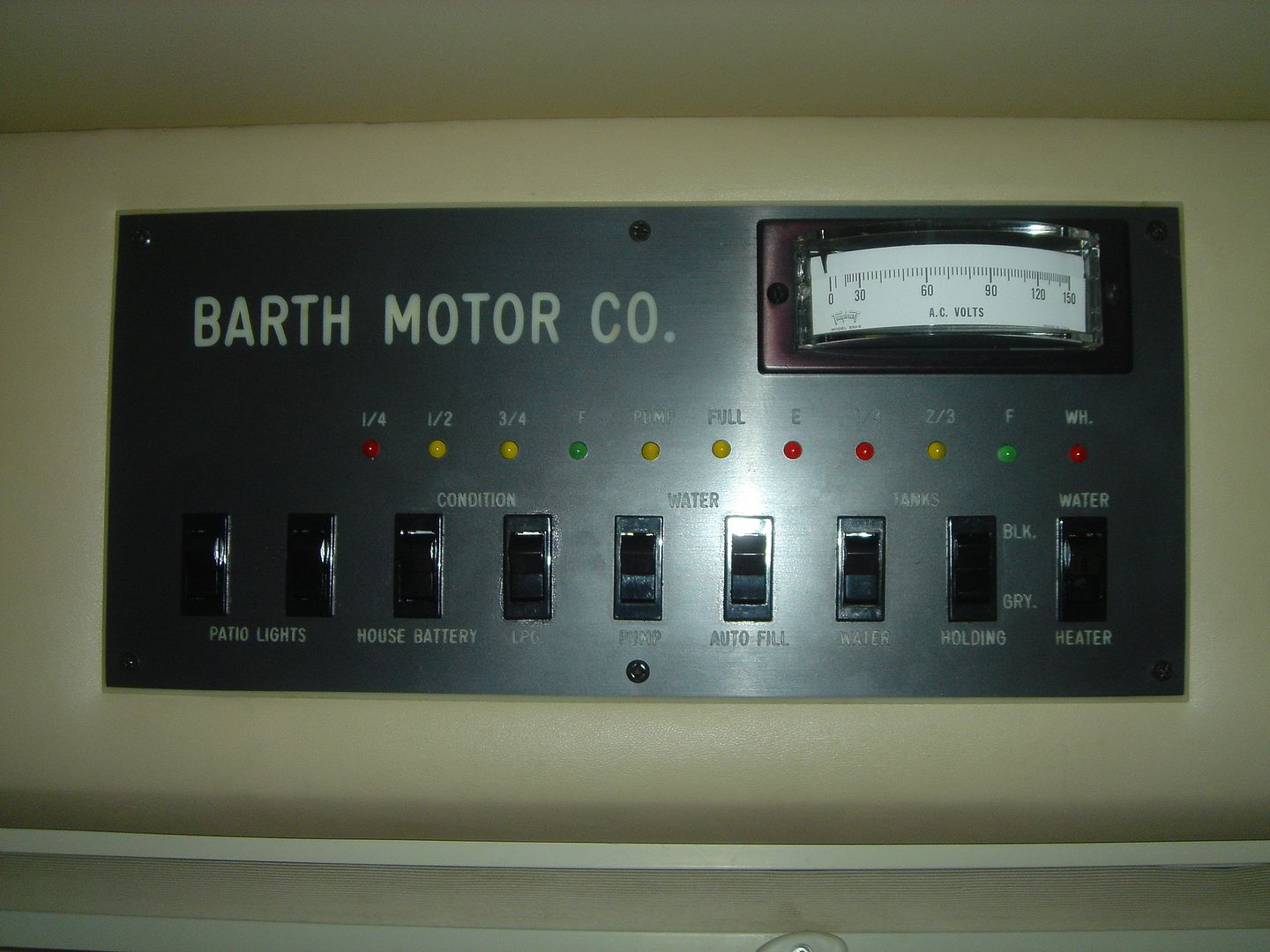 ---
---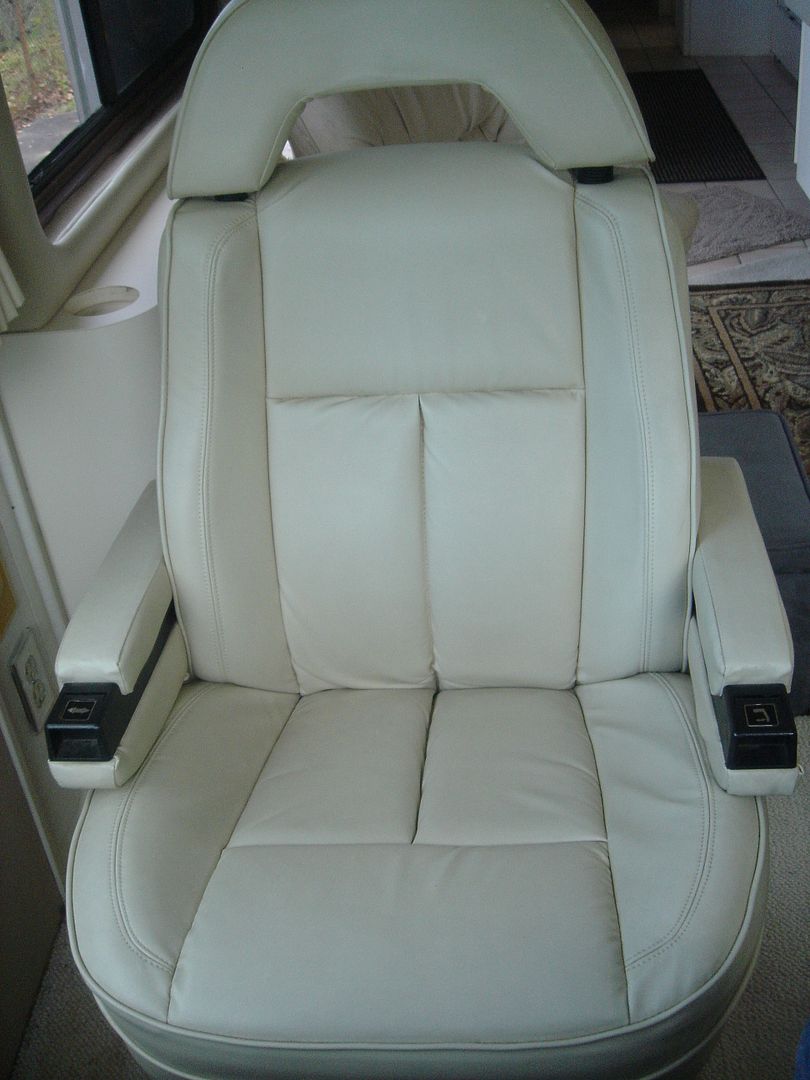 ---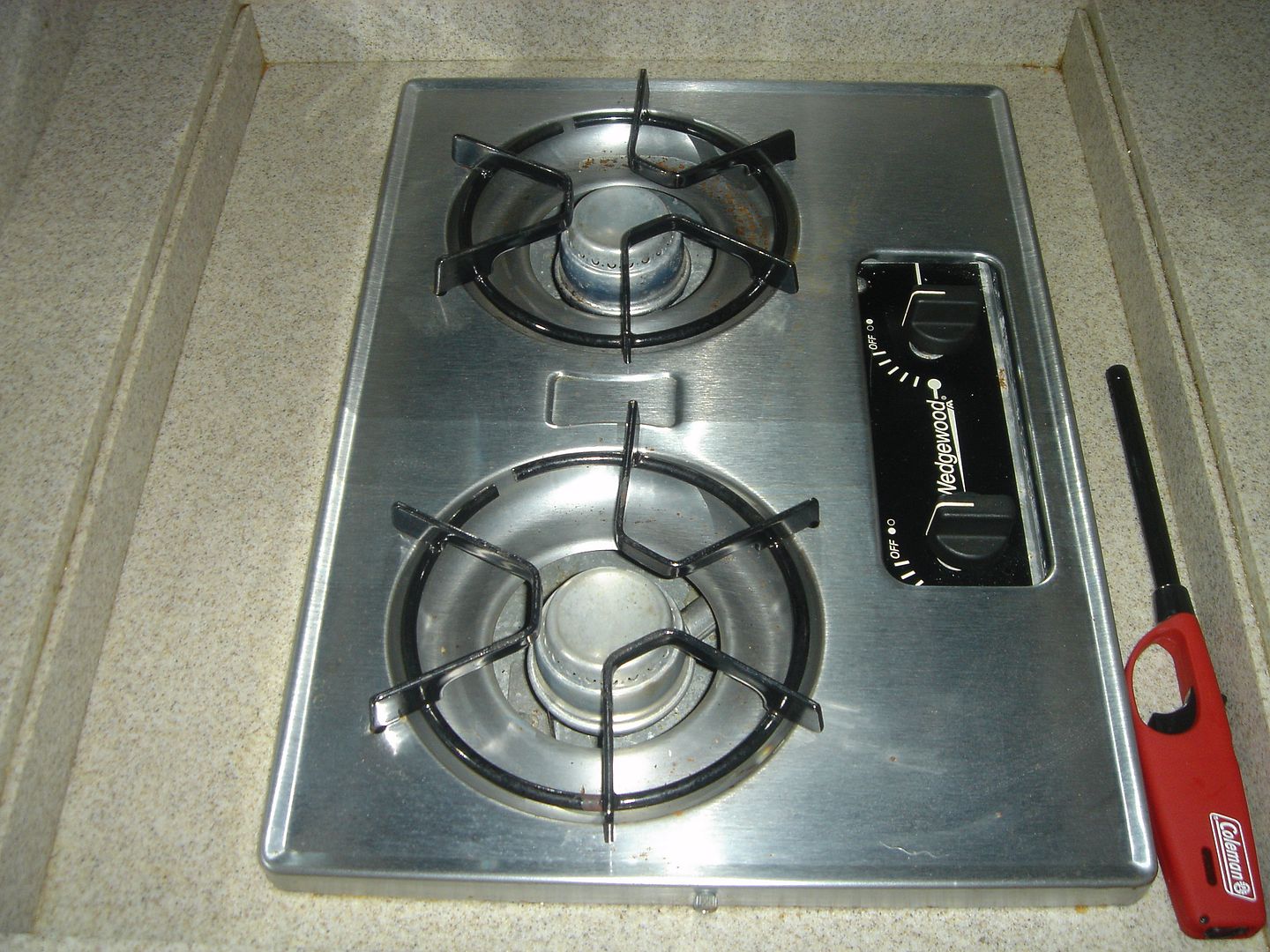 ---
---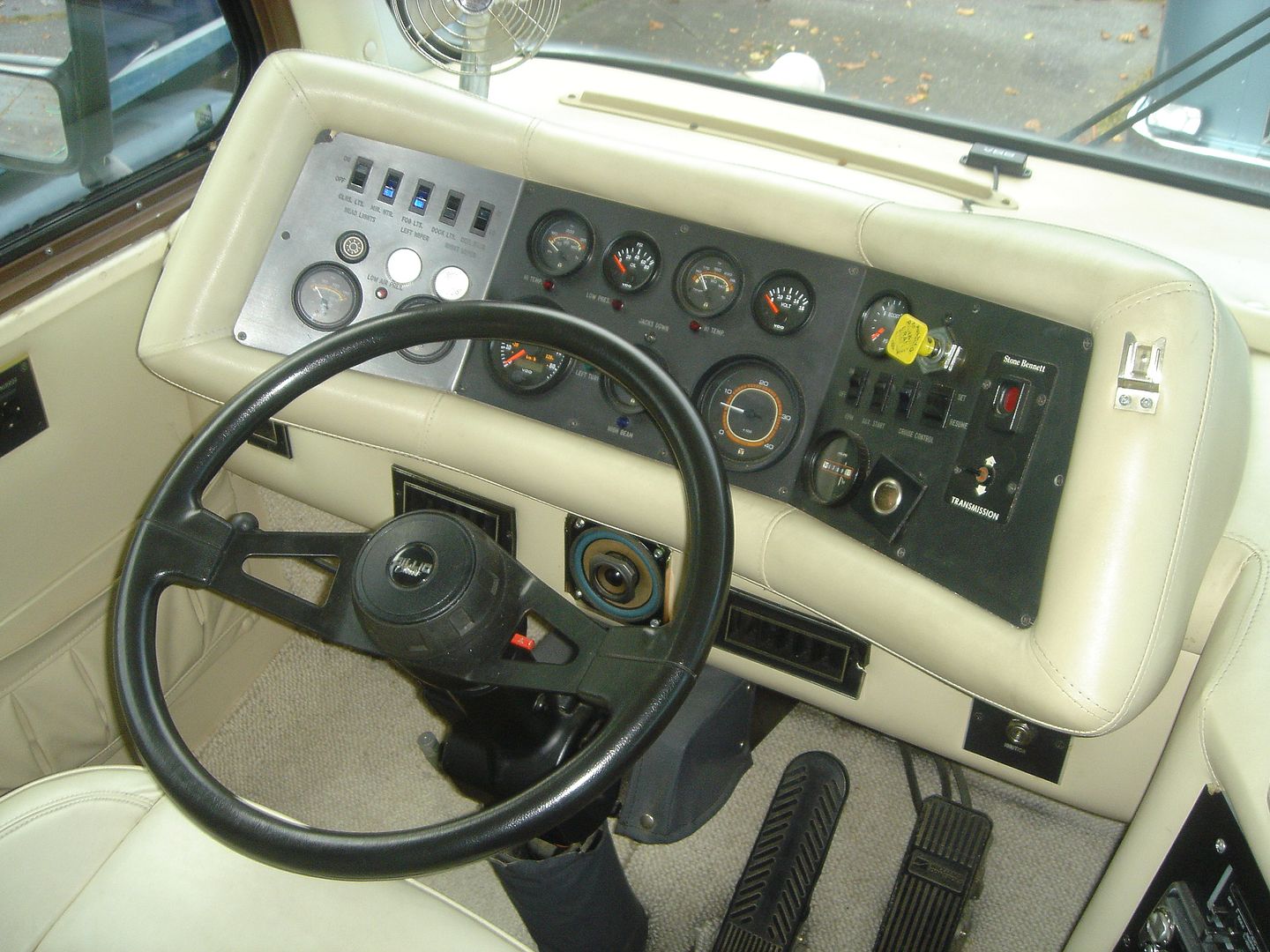 ---
---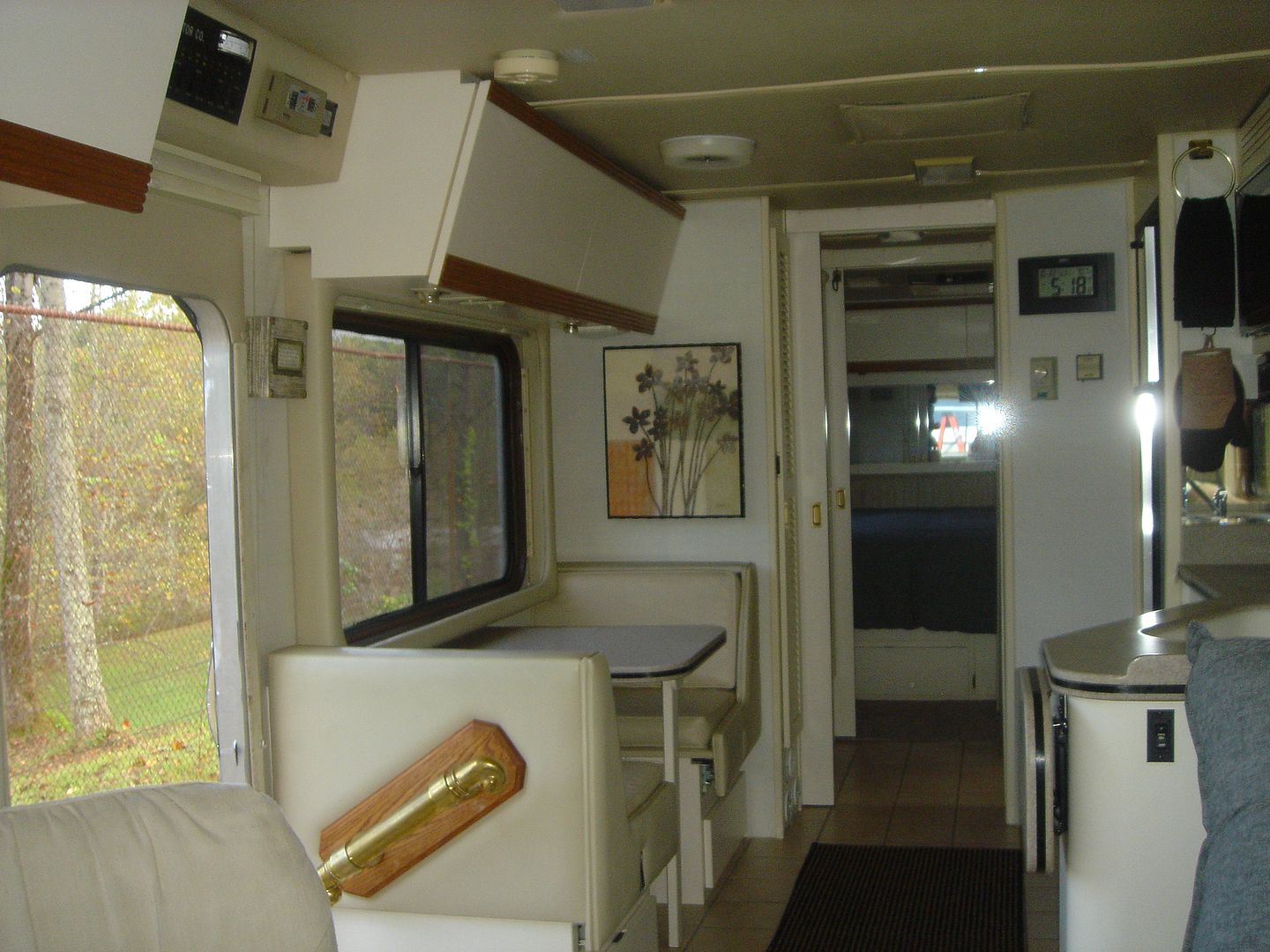 ---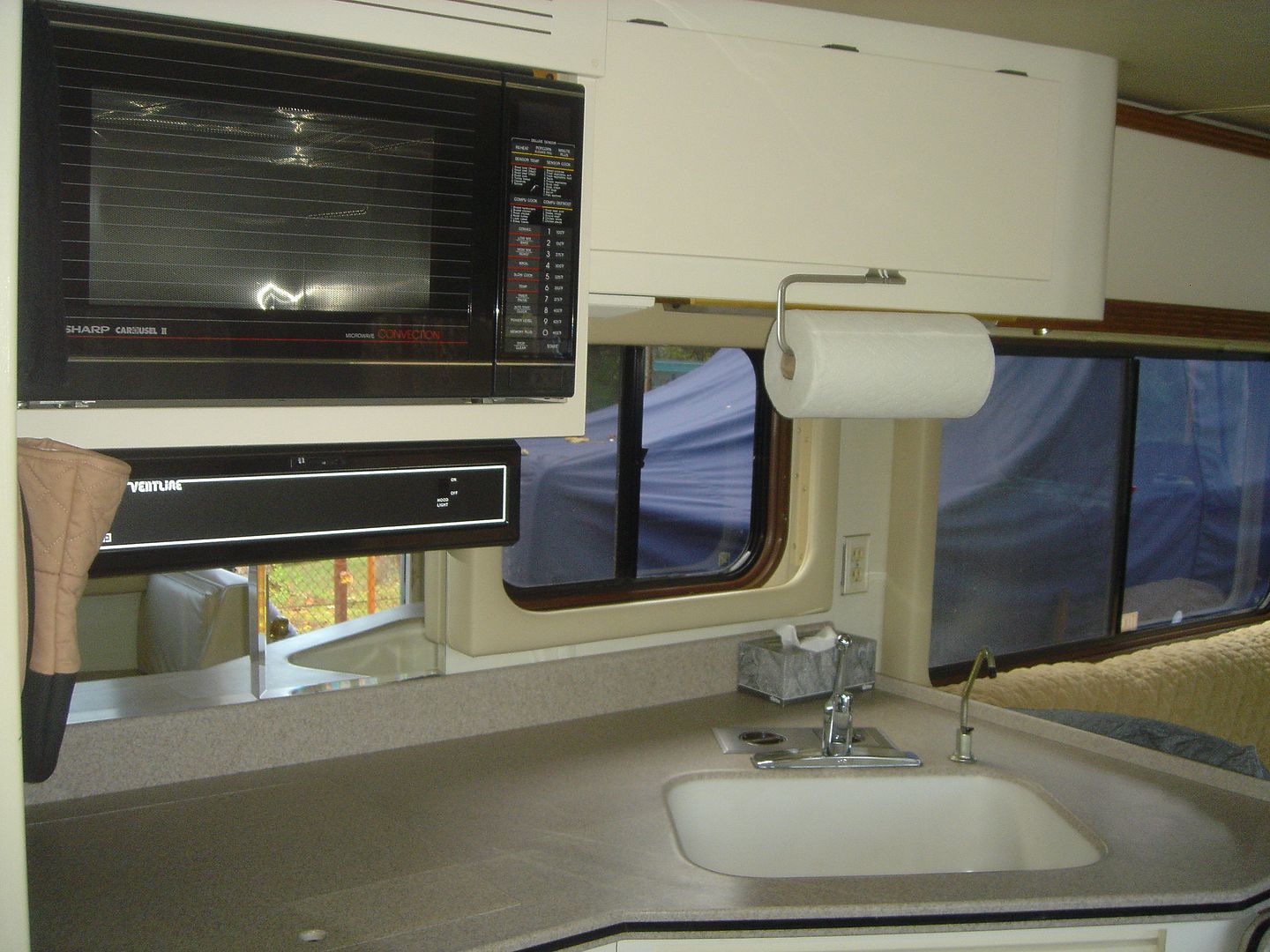 ---
10-25-2017, 06:00 PM
Kevin
When I visited Steve78 earlier this year, I saw his Barth. Very unique to his Barth the booth is expandable. Both the booth and the table in this picture expand to make room for four adults. Has anyone ever had a Barth with an expandable booth?
---
11-07-2017, 07:42 AM
Kevin
Steve I found these SHINEY BRIGHT exterior pictures of your Barth. Please accept this posting of the links, as a token of my appreciation for my stay with you. Good luck with your sale. Some Barth purveyor will get to enjoy this Barth, since you are opting out of the Mary Ray club.
---
---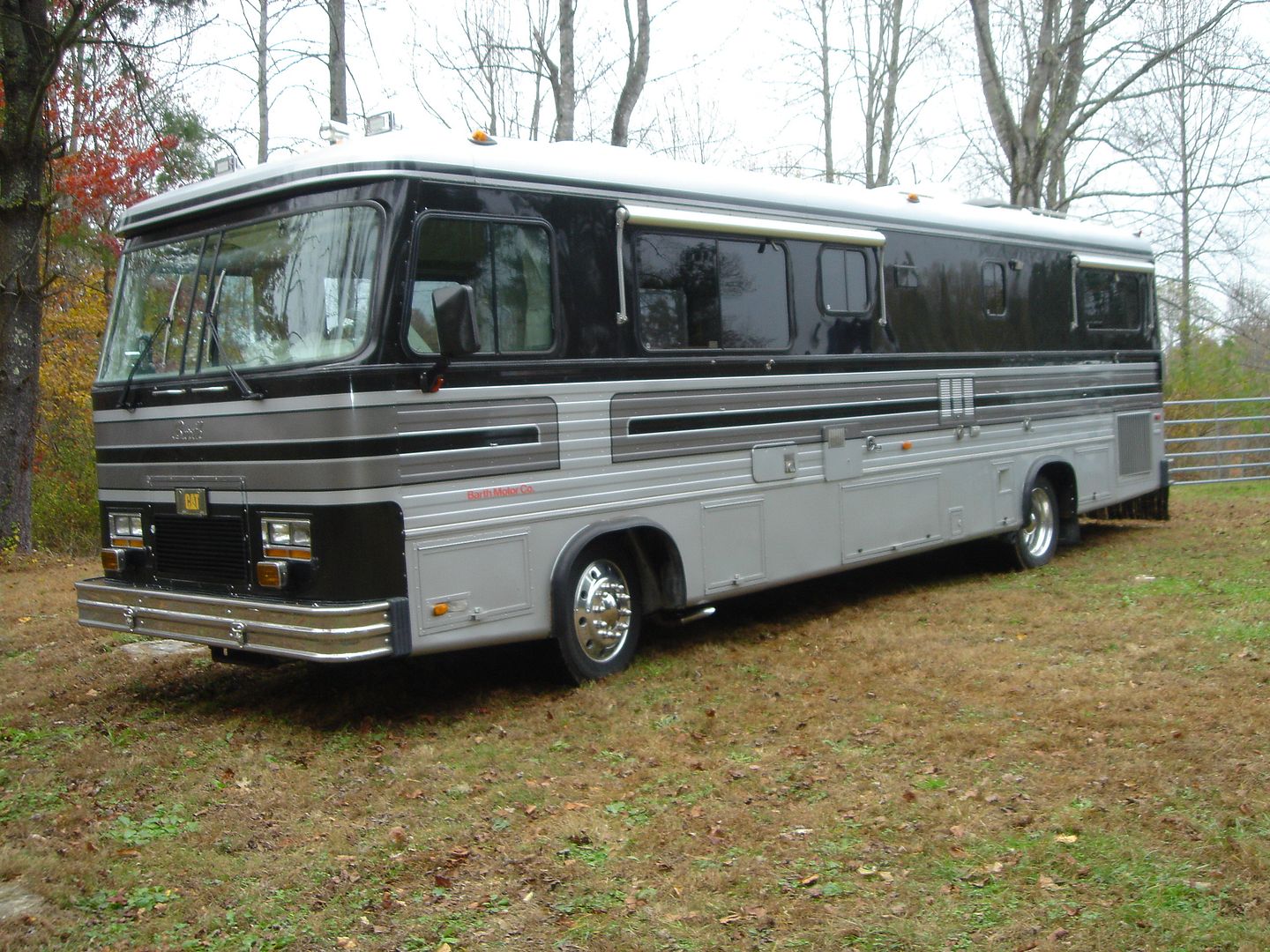 ---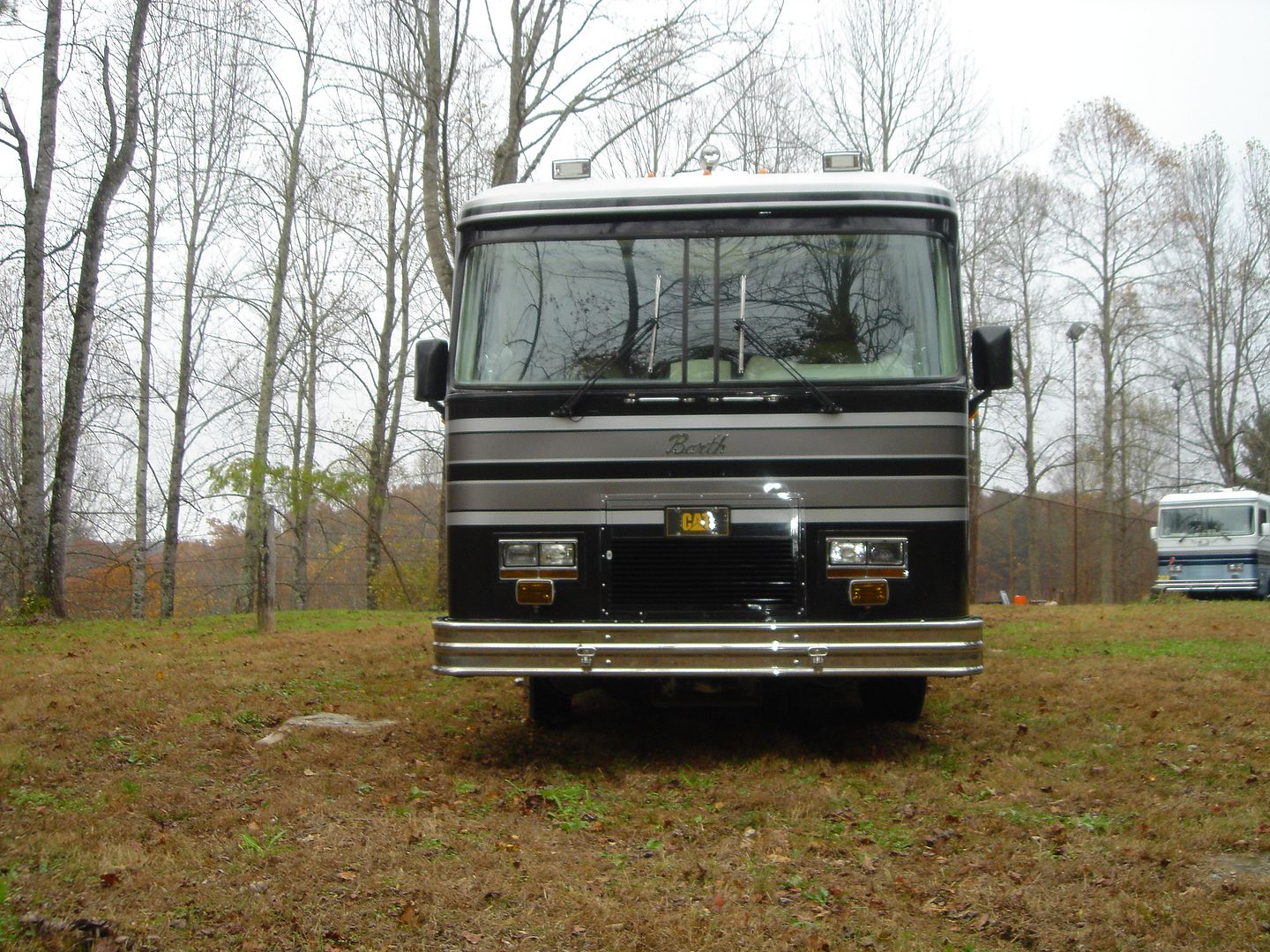 ---
---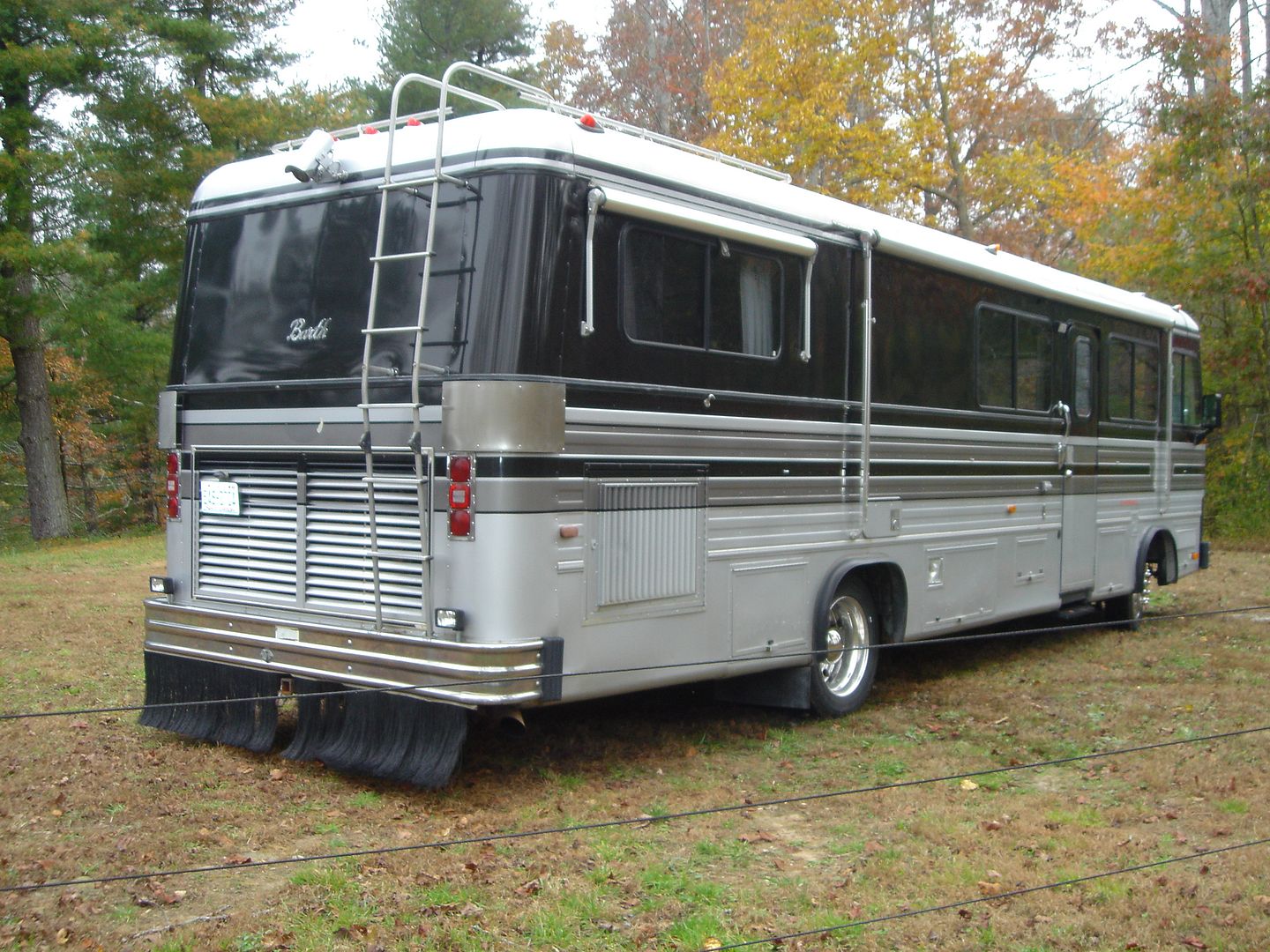 ---
11-07-2017, 08:11 AM
L78steve
Thank you Kevin.
Come visit any time. We enjoyed your company.


1990 34 Regency WB
3208 300HP

1993 34 Regency WB
8.3 Cummins 300HP
11-07-2017, 08:16 AM
Kevin
Did you polish the wheels yourself? Were the wheels on or off of the Barth?
11-07-2017, 10:02 AM
L78steve
Removed the wheels and polished in my garage.
Worked out good, The levelers will raise the bus high enough to remove the wheels without a jack.


1990 34 Regency WB
3208 300HP

1993 34 Regency WB
8.3 Cummins 300HP
11-13-2017, 09:20 PM
Jim & Barb
Steve, does your Barth (1990) have a six speed Allison.
I noticed an electric toggle switch for the transmission on the dash panel. I'm not familiar how they work. Is that the gear display window above the switch.
Am I correct in thinking every click on the toggle moves it up from low gear to high and then thru neutral to reverse.
I'm thinking this is an advanced idea from a 1957 Dodge I once had with push button drive. Wish I had that one back, two door hard top with those sweeping fins.
Jim
11-14-2017, 01:39 AM
ccctimtation
Jim, you must never have had the button not engage. Was selling my 56 and delivering it to the buyer and never thought it would connect to D, sweating out junior year college spending money while pushing the button. Eventually it connected and I don't think the money was well spent but there were some recovered memories.

Tim


I was taught to respect my elders but it is getting harder to find them!