Barthmobile Portal
My Barth made it to Burning Man.
11-18-2011, 03:29 PM
Nemos
My Barth made it to Burning Man.
Howdy Folks,
Sorry I've been rather quite for ages. Life has been busy. But I am very happy to say that my 1977 Barth made it from Kamloops BC Canada to Burning Man in NV and back with only small issues.
Shorty after I bought the RV I noticed that the tranny would drip in the Drive way when it sat for a while. I had to drop the tranny and pull the main pump out of the front of the tranny. There is a large O-Ring in there and once that was replaced it stoped its dripping !
I was also shocked to see that although the RV had an engine oil cooler it did not have an external tranny cooler other then what was in the rad. My plan was to drive the RV with 5 people, tones of gear and tow my Mutaint vehical (Another car) all the way to NV. Up and over the moutains. So I installed a deep sump finned alumnium tranny pan, Large thermo-controlled external oil cooler and a tranny temp gauge. The set up worked well and the tranny never got too hot nore too cold.
Another small issue is that it wouldn't always start. Turn the key and nothing. It would only do this when it was really hot, like we just pulled off the high way, turn off... then back on. Wouldn't start unless i crawled under the RV and jumped the starter. Still haven't looked into this, not too worried about it yet.
Then once I lost fuel suction from a full rear gas tank. Turned out the new fuel line was too long and pinched itself off. Duct tape fixed that one!
The event was a blast this year, it sold out with 50,000 people there. I saw two other Barth's for sure. One was a 1971 22' with a Chevy 400 engine. He said it was stock ?
As I do every year I made a movie out of the trip and I thought I'd give you guys a link to it. Its not all Barth related but the RV sure is in it a fair bit.
Now sit back and enjoy, tell me what you think !
http://vimeo.com/32302417
Nemos
11-18-2011, 05:22 PM
Moonbeam-Express
Totally awesome doesn't even begin to cover it.
Great music, great video, cool cars, unique people, heck I even saw Pole Dancing!!!
Very entertaining, nice job

Formerly: 1997 Barth Monarch
Now: 2000 BlueBird Wanderlodge 43' LXi Millennium Edition DD Series 60 500HP 3 stage Jake, Overbuilt bike lift with R1200GS BMW, followed by 2011 Jeep Wrangler Unlimited,
"I haven't been everywhere, but it's on my list."
11-18-2011, 06:27 PM
bill h
quote:

Originally posted by Nemos:

Another small issue is that it wouldn't always start. Turn the key and nothing. It would only do this when it was really hot, like we just pulled off teh high way, turn off... then back on. Wouldn't start unless i crawled under the RV and jumped the starter.
Starter solenoids are notoriously heat-sensitive on Chevys. They hate after-shutdown heat soak. I have found the Bakelite cap on solenoids already cracked, ready to fall apart if you looked at it wrong. Replace the solenoid with the high heat one, GM 1114458, or 10457024. It includes a shorter return spring, pn 1978281, or 1958679.
The small terminal on the solenoid should have a Belleville spring nut to keep the small connection tight. The start terminal is long and grows when it gets hot, loosening the connection. When it cools down, the stud becomes shorter, and a good connection is restored. The nut is Delco 2030900 and flat washer 131015. Torque to 12 to 17 in lbs.. A Belleville washer is better than a split lock washer because it provides 360 degree pressure rather than in just one spot. If you can't get the GM Belleville nut/washer, use a toothed lock washer. That stud growing is why Chevies are notorious for not starting when hot, but OK when cooler.
A heat shield is a good idea, too. GM sells a heat shield for the solenoid, pn 10068600, but I prefer one that also shields the starter as well. After I have it installed and the wiring routed, I add a little more Thermo Tech shielding around the solenoid with their tape to hold it in place.
Install a direct ground cable from battery to a starter mounting bolt. Or at least from the chassis to a starter mount bolt. I like to run a cable from a starter mount bolt to the same bolt where the frame is grounded to the battery, but all RVs are a little different. But all RVs like a toght clean ground.
Be sure the starter mounting bolts are the shouldered GM bolts, not hardware store bolts, which can allow the starter to misalign and bite you later.
Be sure that the threads and nuts match on the large solenoid terminal. Some solenoids have metric threads, which will accept US nuts, but not a good fit.


.

84 30T PeeThirty-Something, 502 powered
11-18-2011, 07:38 PM
DougZ
Nemos, that has to be one of the most fun things I have watched in a long time. Crazy, but fun.




W4JDZ

11-18-2011, 09:58 PM
petermac
this is amazing great stuff
my barth will be there next year
11-18-2011, 11:29 PM
Bones
Nemos, really enjoyed the vid. I have to get out to one so I can scratch it off the list. Do you have the prior year videos uploaded?


Regal 25 built in 1989
1985 P-30 chassis
454 TH400
11-18-2011, 11:43 PM
Tonka
Incredible! Creative anarchy and one hell of a party in the desert. What a trip. Great video and photos really captured this amazing adventure.
11-19-2011, 12:28 AM
Bill N.Y.
After watching this I've come to the following 2 conclusions.
1) I no longer need to ask what Burning Man is all about.
2) I have one more item added to my bucket list.
---
---
BTW Nemos, would you get me a picture of the data-tag
squared in RED
?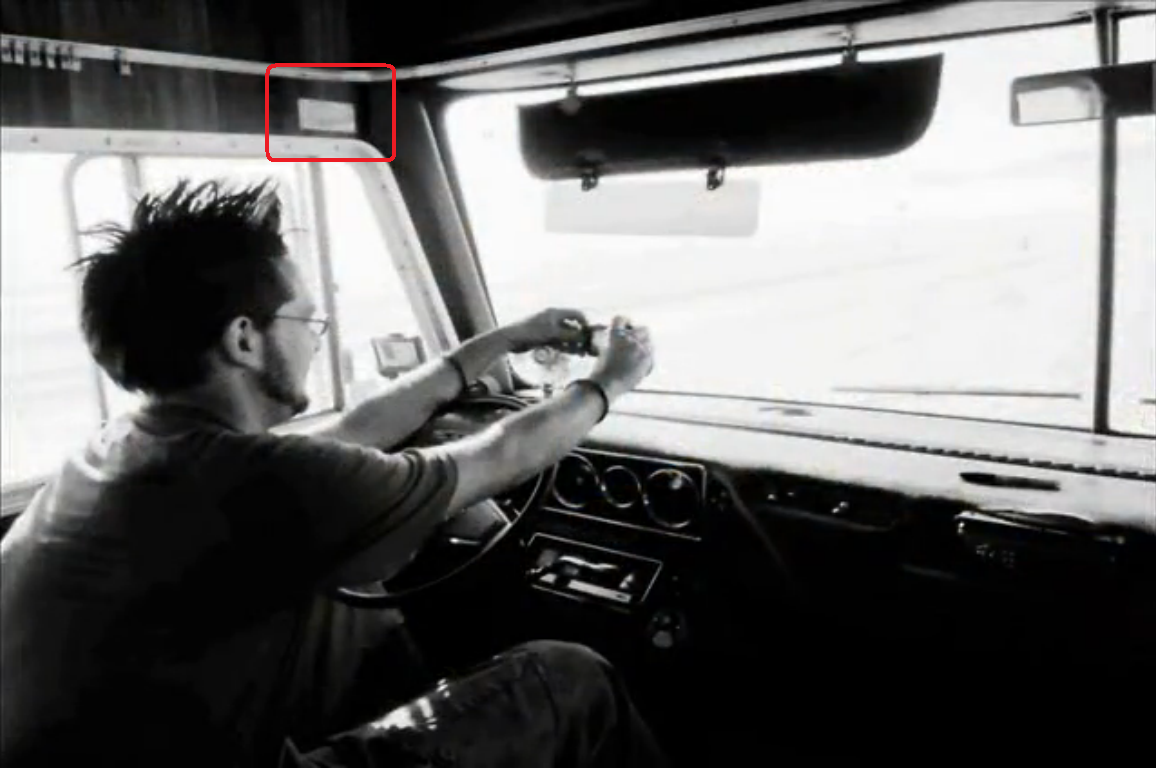 ˙ʎ˙u ןןıq- "ǝןƃuɐ ʇuǝɹǝɟɟıp ɐ ɯoɹɟ pןɹoʍ ǝɥʇ ʇɐ ʞooן ɐ ƃuıʞɐʇ sı ǝɟıן oʇ ʇǝɹɔǝs ǝɥʇ"

---

---

1990 Barth Regis Widebody
8908 0128 40RDS-C1
L-10 Cummins
Allison MT647 Transmission
Spartan Chassis
1991 Medical Lab Conversion
9102 3709 33S-12
Ford 460 MPFI
C6 Transmission
Oshkosh Chassis

---

---

---

Quick Link: Members Only Link To Send Me A Private Message
11-19-2011, 12:32 AM
Nemos
I do have two prior year video's up on You tube. but due to You Tube's silly copy right laws they removed some of the sound track due to the music. Also the Barth was new for me this year.
2010 1976 F250 :
http://www.youtube.com/watch?v=svVpfpS6IjY
2009 1972 VW Westy :
http://www.youtube.com/watch?v=crSL2tuH5YQ
2006 1979 Dodge Omni : No film footage from back in the day.
11-19-2011, 12:40 AM
Nemos
@ Bill
As for the ID Tag. I'll be home in about a week's time. I try to remeber to get a pic of it then.
11-19-2011, 02:12 AM
Patch1st
Nemos...... #1: WHAT A PARTY!!!!!!
#2: Thank you, Thamk you. Thank you
#3: We appreciate all the hard work and efforts you went through just to make and share that video... Thank you, Thank you....
#4: Can you tell me/us more about the BAR CAR? I love it!!!!!
#5: It's also on my bucket list...
11-19-2011, 02:39 AM
Nemos
Sure, here's a few videos of the Bar Car build.
http://www.youtube.com/watch?v=iVB54-BipJ0
http://www.youtube.com/watch?v...6IjY&feature=related
The Bar Car is an " art car " . Once you get to burning man you are not allowed to drive around your personal car... too many people to do that and it kicks up so much dust. So you can build an art car if you wish, fallow their rules and get inspected on site for a day and night permit.
In 2009 I had a little raft I drove around but as it could only carry me I felt rather selfish. So then I built the bar car to give back to the community. Took me about 9 month to build mostly by myself.
It's a little Geo Metro. 3 cyl. 997cc engine. I put about 30 hours on it driving it around the playa both years and it never burns more than $20 in gas! This year we had a record of 32 people on it. But we also bent the rear axle.
Anything else?
Nemos
11-19-2011, 06:22 PM
StinkyDaddy
Great video. I know several folks who go every year. Looks like your guys had a great time.
11-19-2011, 10:34 PM
Sloop John B
Our Westy spent most of its life in Arizona and previous owner said it made it to Burning Man. Mite make it back there agian. All who wander are not lost.


JKB

88 28' Regal 454
Blue/Silver metalflake
11-20-2011, 01:28 AM
RichieC
Dude, that's just too cool.