Barthmobile Portal
My 1973 Barth 19 ft. Compact Motorhome
10-09-2015, 06:15 AM
forster
My 1973 Barth 19 ft. Compact Motorhome
I found her on craigslist in Ohio. Parked under a shed, she had not been driven since 2009. Her 350 Chevy fired right up with a new battery, and the oil looked good. The interior was filthy but original and intact. Ceiling and walls have suffered from a leaky roof A/C gasket. She made the 140 mile trip back home with a few stops along the way to check wheel bearings. Wherever she stopped she drew a crowd. I plan to do a complete restoration on her over a period of time as I travel.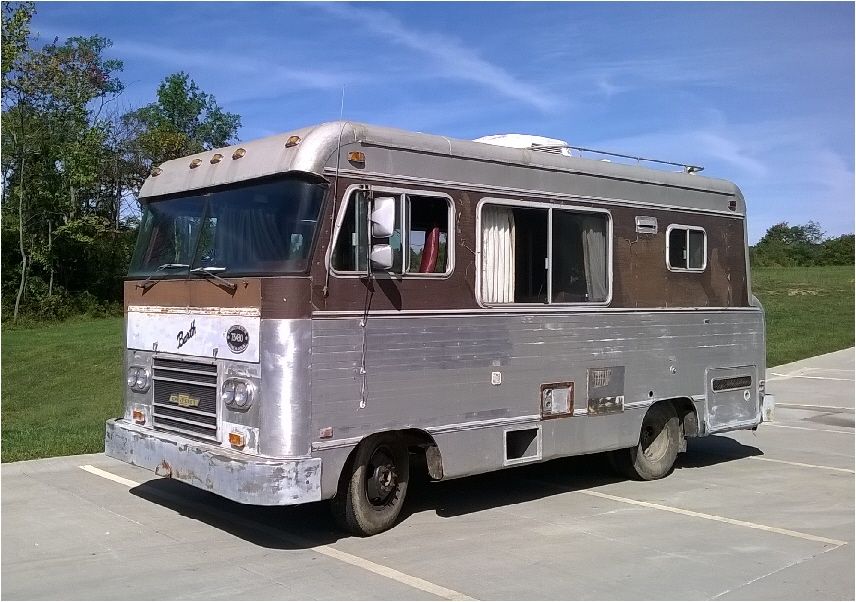 10-09-2015, 07:53 AM
Steve VW
Welcome to the site. There is lots of good info here in the site archives. Use the search feature. Don't hesistate to ask questions!
It looks like you have the early style smaller windshields. Treat them well. We know of only 1 new set in existence, currently in Colorado until I retrieve them. Let me know if you need them.
Good luck with your classic coach!



9708-M0037-37MM-01
"98" Monarch 37
Spartan MM, 6 spd Allison
Cummins 8.3 300 hp
10-09-2015, 01:49 PM
Mary Ray
What a cutie, she is a shorter version of mine. I love Barth's.


Mary

Don't mess with us old folks, we don't get old by being stupid!
1968 Barth trailer, 1975 Barth Motorhome and 1985 Barth Motorhome


10-10-2015, 12:50 PM
Reado
Congratulations on your 19 footer. I have one exactly the same. I will be doing a complete interior restoration. I hope you can keep us posted on your restoration progress.
10-10-2015, 06:27 PM
Tom and Julie
It's perfect as is for Burning Man 2016!


1993 32' Regency Wide Body, 4 speed Allison Trans, Front Entry door, Diamond Plate aluminum roof &
1981 Euro 22' w Chevy 350 engine and TH 400 tranny