While my Barth was in the shop for a master cylinder, I asked them to look at air bag system and find tank and where tag is plumbed, since compressor is not working and the other aftermarket bags have their own fill valves.
They found the tank and told me I had too much in at 60 psi and lowered it on front and drive axle. He told me he disconnected the line for output of compressor and (I guess) he tried to inflate tag. It wasn't clear whether he succeeded, so I left with the impression the tag had no air.
I got it home and looked at the lines going to the tank. I found one that goes in front of firewall toward A pillar so I assume that is going to the roof horn. I found what I think is another air horn mounted next to the tank. I haven't found an electric horn, unless this is electric also. The other air lines I saw went up through firewall, I assume to controls. I haven't traced any lines back to the bags. I now assume that the compressor would feed the dash control with air to send to the tank or release. Pulling the the knob out would activate a relay to run compressor. Another relay would be needed to supply air from the tank to horn. (air and or elec) I need another look to decipher these lines. My intent is to be able to fill the tank and tag bags from a mobile compressor, with or without dash control. Already looking for a fitting to recreate what the shop guy did at the compressor.
View is looking up from ground, under front bumper seen at bottom of pic, crossmember at top of pic.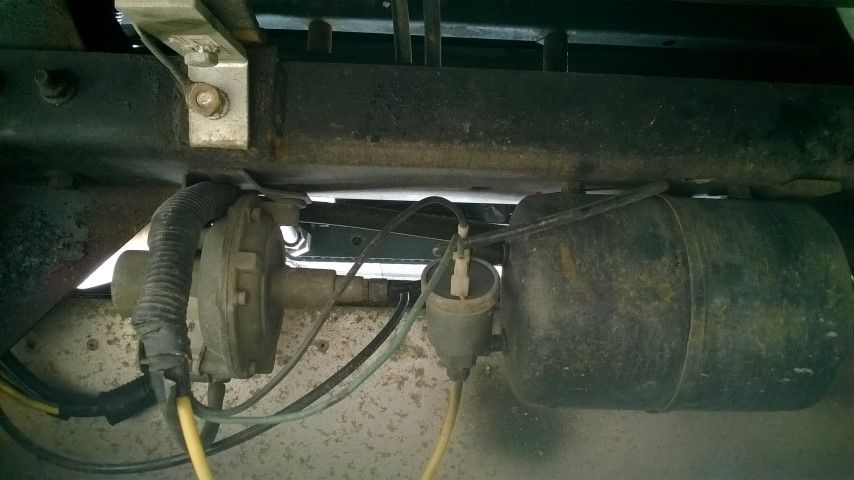 I took it for my first time on interstate, about 40 miles. My conclusion is there is no air. The suspension or ride was ok, but when it went over a rise in pavement or a pothole, it would rattle the frame in the rear. Like Steve said, like a flat tire ... rim shot.
I have always noticed that going slow on a bumpy gravel road, it bounces up and down. Like the seat is on a spring like a bus or truck driver's.