Barthmobile Portal
Replacement Lense: KD518 / LS336
05-21-2010, 02:56 PM
Nick Cagle
Replacement Lense: KD518 / LS336
Sky, don't send the red ones back.
Nick
Ok, got to thinking and might just keep for spares. Nick did you get some red ones? She said at first she just had 4 red ones and when I talked to her later she said they had found another box of red ones. I am going to replace all of mine while I am at it. sky



1990 Barth Regency
32RDGB1 Wide Body
3208 Cat 250 HP
Gillig Chassis
Center aisle
05-21-2010, 04:04 PM
Nick Cagle
I didn't get red, but she said she would call me if they found some. Hopefully I'll get some of what they found.
Nick
EDITED LATER: Just checked and debit card was charged for 12 lights. Must of gotten the red ones.
05-21-2010, 04:39 PM
Nick Cagle
I am also planning on using #10 rivet nuts and screws when I replace the lights. I just don't like the fact that the lights are riveted in place.
Nick
What are #10 rivet nuts? sky


1990 Barth Regency
32RDGB1 Wide Body
3208 Cat 250 HP
Gillig Chassis
Center aisle
05-21-2010, 06:16 PM
Nick Cagle
quote:

Originally posted by sky:
What are #10 rivet nuts? sky
look here
Blind threaded inserts. The hole in the lights are sized for a #10 screw.
Nick
05-24-2010, 08:57 PM
Medic37
...Not to Worry...
First off: Thanks to Dale & Jennifer -and- Bill N.Y. ...been looking for these things for 5 years!
I called and placed an order today to replace the full complement of clearance lights plus spares.
SLC Lighting International bought KD Lamp Company ...so, I was told today that they had found another box of RED and also have plenty of AMBER ...possibly hundreds of units.
Since they bought KD, they are now, then, the manufacturers of these lights. So, if they run-out, they would possibly make more.
Looks-like ANYONE needing these clearance lights for their BARTH, SOB, pick-up, van or go-cart, there will be an endless supply of these in our serviceable life-times.
They also carry just the lenses in both colors and the gaskets.
I, too, spoke with Mayme 440-293-4064 ext: 157 and a nice woman named Jennifer. Very pleasant people to deal-with. You can also place your order on-line.
Just for clarity:
Clearance Light:
518-36-723-P RED
518-31-723-P AMBER
$7.55 each
Lenses:
3366-00 RED
3361-00 AMBER
$1.55 each
Black Rubber Gasket:
37582-00


...these prices are very reasonable! Check-out the rest of their site for all your lighting needs, as you may find their prices much lower than the competitors.



~Mac~

1990 31 Foot Regency
Spartan Chassis
Cummins 6CTA8.3
Alison MT643, 4-speed
8905-0123-31RDS-A2
05-25-2010, 10:58 AM
Eric D.
To Dale and Jennifer Wilson,thank you,thank you and thank you.Oh and you too Bill of NY.
I got my lights in today. I got 7 amber ights and 9 red lights. sky


1990 Barth Regency
32RDGB1 Wide Body
3208 Cat 250 HP
Gillig Chassis
Center aisle
06-11-2010, 11:13 AM
MWrench
BIG THANKS from me as well! I ordered them and received them in about a week, just like the originals!
Was a real PITA to replace them thou, the original wires were sealed with sealant (the hard type) coming thru the roof and is probably why the lamps started to fail, there was no ability to contact the base of the bulb because the sealant prevented the spring loaded contact from moving inside the socket.
Using a heat gun make the roof sealant soft and pliable so that I cut carefully cut around the lamps and pry them off, once off, I trimmed around so that the new rubber seal would fit in. I used non-hardening sealant under the new rubber gasket and also made sure the mounting holes had sealant around them also. I used "Riv-nuts" and 10-24 stainless screws.
The only other issue was that the front "Riv-nut" had to go thru the fiberglass nose piece and the aluminum roofing below that, so I had to counter sink the area around the "riv-nut" because the grip range of the "riv-nut" was not long enough. this is important because the ground contact for the light is thru the front mounting hole/screw.
All five are in and working, now I have to find small bright LED lamps to replace those lights!
I bought extras if anyone needs one and have the old lenses if anyone wants those, let me know.
Thanks again for the tip!


Ed
94 30' Breakaway #3864
30-BS-6B side entry
230 Cummins, Allison 6 speed
Spartan chassis
K9DVC
06-11-2010, 02:14 PM
Jerry Jelsing
I also bought a complete set. Recieved them yesterday. Mine have not been a problem yet, but I know they will be. Plastic only stands so much sunshine.
06-22-2010, 03:33 PM
Nick Cagle
Finally got around to installing most of the clearance lights. Still need to install the three front center lights but need a whole day for those. Removing the old lights and cleaning up 18 years of every type of sealant known to mankind that has been applied one layer on top of the other is going to take a while.
This is the parts required for one light. If you replace them all it takes 5 red lights and 7 amber lights. I used "jack nuts" and stainless steel screws because I didn't like the lights being riveted on. The front screws are pan head and the rear screws are oval head. The Jack nuts and screws are 10-24. The jack nut is .385 in diameter so a 3/8 drill is not quite large enough, but luckily I had a 25/64.
Tools needed, 3/16 drill to drill out the old rivets, 25/64 drill to enlarge the holes for the jack nuts, #2 phillips screwdriver for the drill, a #2 phillips screwdriver for final tightening of the screws, wire cutter/stripper, and a good pair of terminal pliers.
This picture is just for Rusty. If you have enough cordless tools, you don't have to change bits. Just chuck up all three at the same time.
This is what the old lights looked like when I started.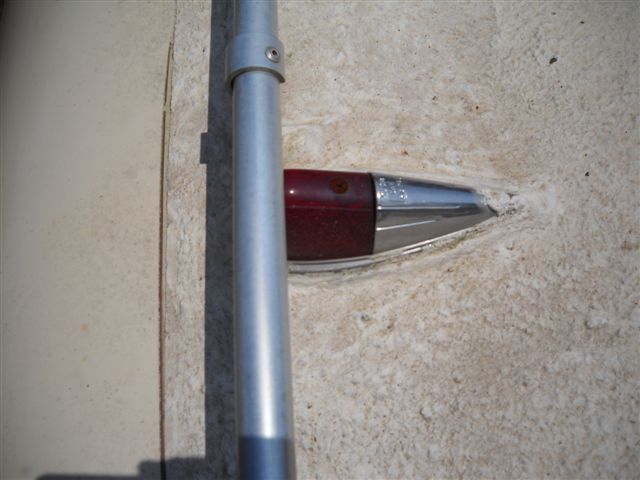 And this is what it looked like about 2 hours later. Did I mention that it is only about 100 degrees today.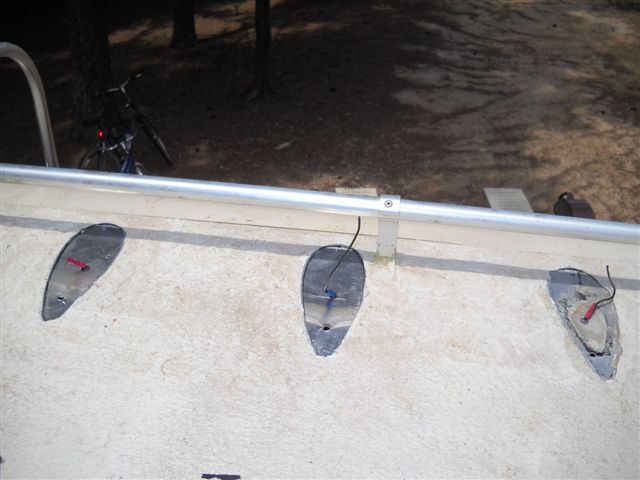 Jack nuts installed in the holes.
I had to make this "installation tool" to install the jack nuts. Just a piece of aluminum flat stock with a hole in one end.
Three nice shiny new lights.
Those last three in the front are going to have to wait far a cold spell

Nick
06-22-2010, 10:09 PM
Rusty
Nice work! I got the horn installed yesterday and sealed today (first day since I got home with no rain). The horn was a similar PITA to remove (eight 3/16" rivets covered with very tough sealant). Ready for the parts to arrive (supposedly tomorrow).
Rusty
---

"StaRV II"
'94 28' Breakaway: MilSpec AMG 6.5L TD 230HP
Nelson and Chester, not-spoiled Golden Retrievers
Sometimes I think we're alone in the universe, and sometimes I think we're not.
In either case the idea is quite staggering.
- Arthur C. Clarke
It was a woman who drove me to drink, and I've been searching thirty years to find her and thank her
- W. C. Fields
01-25-2011, 01:30 PM
Darrell and Jeannie Moore
I just ordered 5 of each color plus the gaskets for the lenses at .90 ea. form Mimi. Thanks for the info.
Darrell


'93/94 33' Breakaway-5.9B 230 HP cummins-allison6spd MD3060
I finally got around to ordering a set today. The price has changed to $5.30 ea.


Tom & Jillene

1988 Regal
28' Chevy 454
8805-3538-28C-B3