My Monarch was sold as a 1998 model but was completed in Aug 1997. It was built on a Spartan chassis built in 4/95. (Go figure!)
When I got it from Tom I noticed a few wiring issues, so I called Spartan to see if I could get a chassis wiring diagram. I did get info on front and rear axles but they had no wiring info. Not much else out there on the Web either.
The stop lights and brake lights worked but the running lights did not. If I jumped a power source to the tail light harness they all came on. Obviously a power supply issue.
I did find a reference here to a 1993 Spartan wiring diagram so I decided to start with that. It shows a front panel with power busses and breakers. Sure enough my coach has that.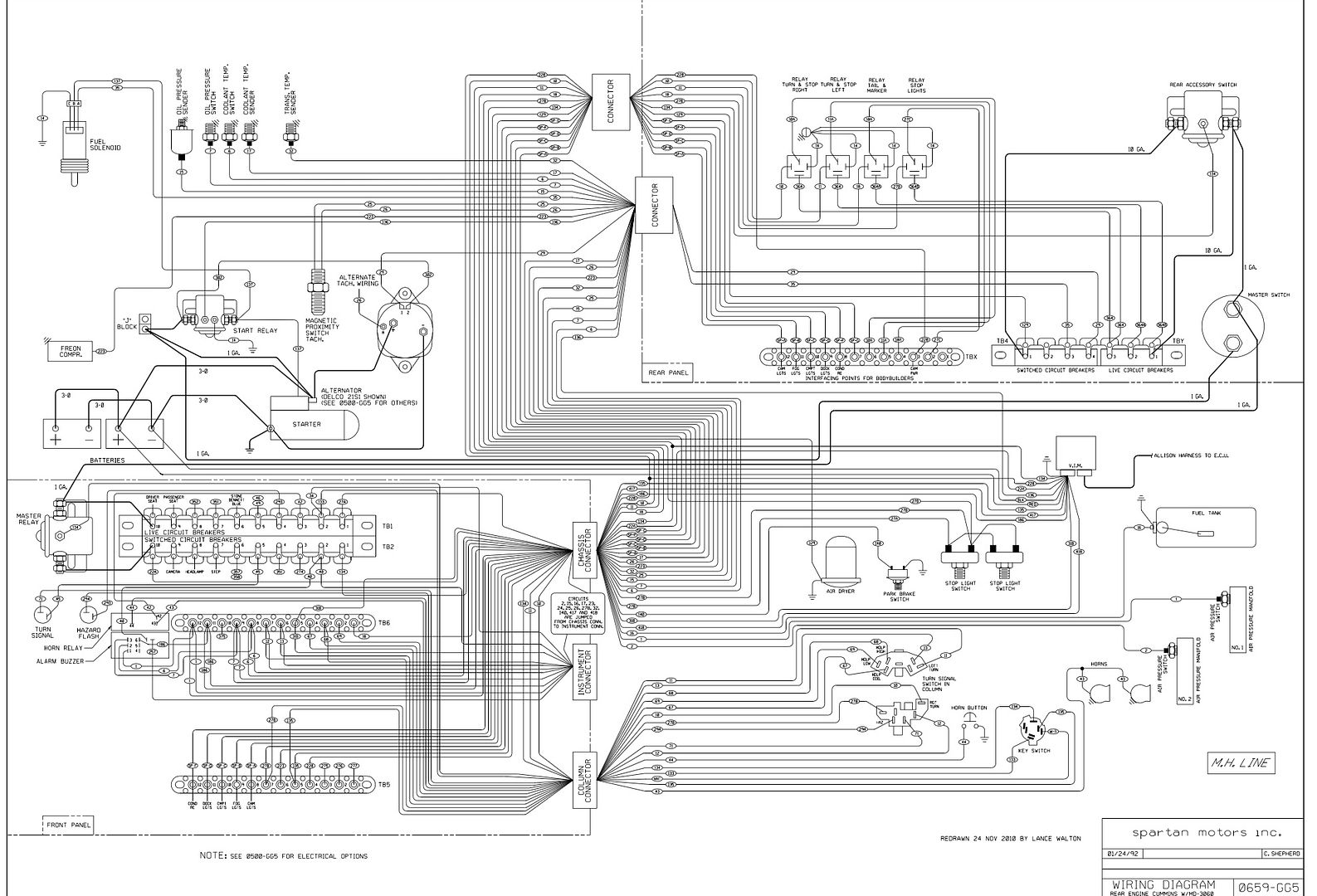 Meanwhile, there is reference to a rear panel which powers the rear lights and engine accessories. After poking around and looking I found a rear panel above and behind the coach batteries, which are in the right rear corner of the coach.
Sure enough, if you rotate the print and look at the panel there is a good match between print and panel.
The wires to the lights all connect to the top of the panel. The connectors are rather corroded so were suspect.
Meanwhile, to the left are the power busses and circuit breakers that power the rear circuits. Also, very corroded.
I checked power at the busses. OK. Checked from breakers to relays. OK. Relays nothing comes out. Bingo. Replaced tail light relay. (It is a very standard style, one relay was already replaced it seems) Lights are now working and new trailer harness connector checks out also.
So, the most valuable tool for electrical system diagnosis is not a fancy computer, or scan tool. It is a 3/8 inch nut driver to tighten all the connections in the panel. Some were 1/4 turn loose.
(Also a spare relay is a good idea, but you can usually borrow one from another circuit for a while.)
I will replace the other relays and the buss circuit breakers soon.



9708-M0037-37MM-01
"98" Monarch 37
Spartan MM, 6 spd Allison
Cummins 8.3 300 hp