I an not sure what type of drain you are referring to in
CO
quote:

Originally posted by ccctimtation:

Not sure but there may be parasitic drain from various safety devices like

CO

and smoke alarm. I have installed a battery disconnect switch to prevent having dead batteries when not in use.
---
Certainly installing a battery disconnect is a good idea. I have not found suitable disconnect heavy duty enough for the two D-8 starting batteries. On the other hand, my coach has sat for months without any trouble starting.
---
My battery drain is on the house battery. Propane, sniffer, antenna booster, dash radio, heating/cooling thermostat controls, and the refrigerator controls panel all run off the house battery.
---
Mike it could be that some of these components are hooked up to the engine batteries. (or) The engine batteries may not disconnect from the house batteries properly. The house batteries should charge when the 3208 is turning the generator. One bad battery will drain all the batteries if the batteries are all tied together. This could be caused by the house battery bank isolator not disconnecting entirely. The isolator may be keeping the house batteries hooked with the engine battery bank.
---
One D-8 battery fully charged will start the Caterpillar 3208 in a pinch. For the longevity of the starter, with trouble free operation, two batteries are used. I can tell the difference in starting with one D-8, verses two fully charged D-8 batteries.
---
The rear run box should be positioned like the picture.
---
---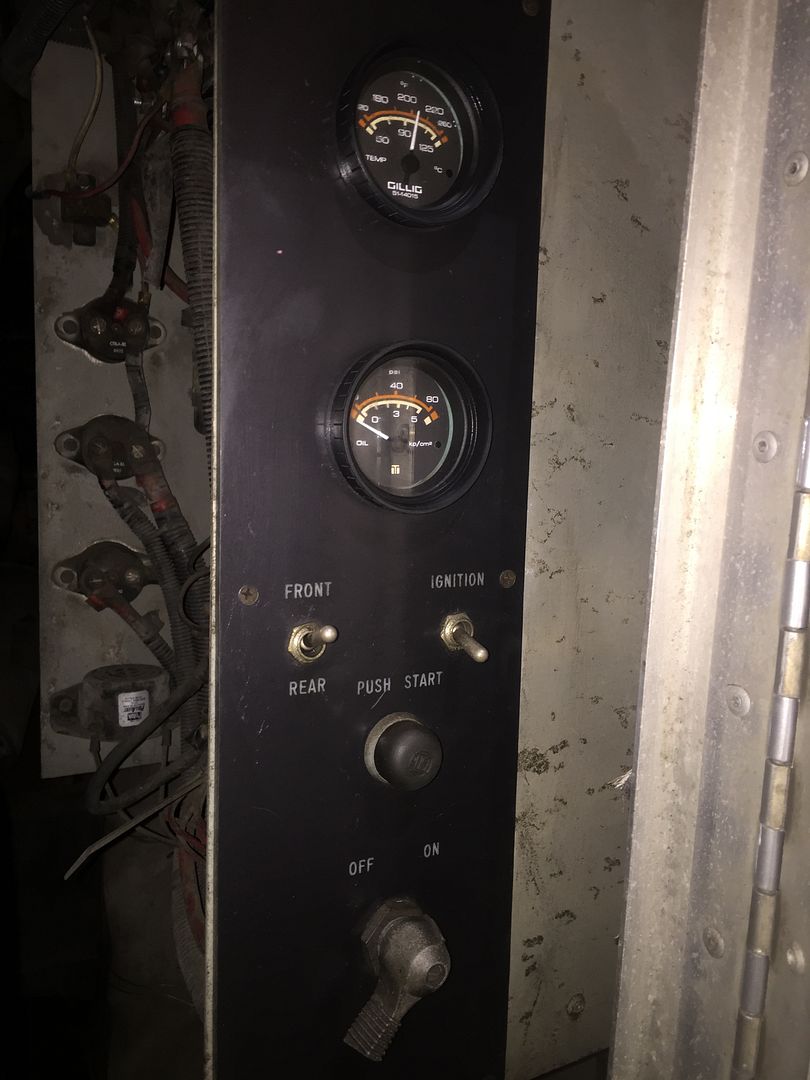 ---
I do not use my rear run box. It does not work to start the Cat engine. Never has and is not important to me. If the positions are incorrect the dash start key will not start the Cat engine either.