Having received little info on my Spartan chassis I have been trying to collect part #s and documents for my coach. Sadly, I have also been unsuccessful locating the Spartan master data plate on my coach.
Unfortunately, Spartan factory support for our old orphans seems to be fading. Email and phone requests for info have often taken up to a week for responses. Apparently Spartan does not have the old info on their computers, it is still on microfiche.
I received some info for the front axle. Spartan refers to it as a DD1 axle. It is an Eaton EFA-12F4 This axle was produced by Eaton from 1981 to 1995, so I am not sure what axle was used after 1995. (I have a '98 Monarch, built 08/97 on a Spartan chassis built in 4/95 go figure...!)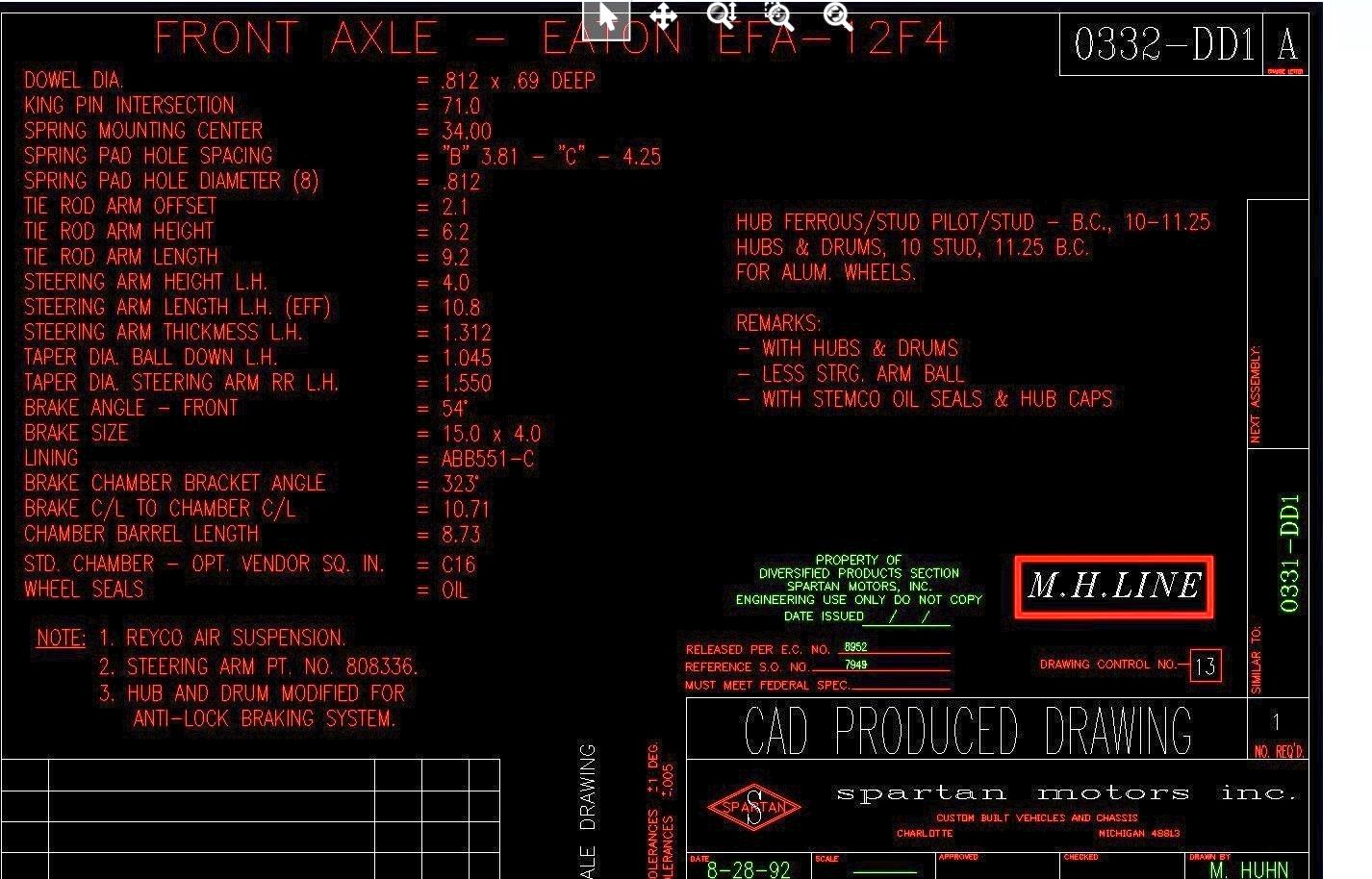 (I also got a diagram for the rear axle but it is obviously incorrect since it shows disc brakes, mine has drums!)

While doing routine inspection, we find that the front brakes are ready to replace. The steering draglink is also showing some play. After some research, we were able get some part #s from Spartan, then find some cheaper alternatives.
This is the part # list from Eaton, these can usually be cross referenced.
Front brakes have 15 x 4 inch drums and shoes:
Drums: Gunite #3158X
Shoes: TRP #RK1308ESTD20M
Hub covers: 1613CHR
Seal: (Spartan #0922-DD1-801056) = Stemco #382-8036 (Kit, includes #13 and #14 above)
Drag link: (Spartan #0111-KK2) = ?
I am trying to source just the link ends to avoid the $430 from Spartan

When we removed the link ends the threads were badly corroded in the the cross tube. Ended up replacing the entire drag link. However, we sourced parts elsewhere for a cost of $249 including shipping.
Dayton parts#
Drag link Tie rod ends: 310-228 and 310-229
Drag link Crosstube: 347-300
Tube clamps: 347-003
With a new alignment, the coach front end is very good now. Good brakes, and steers straight. Should be done for a while now.


9708-M0037-37MM-01
"98" Monarch 37
Spartan MM, 6 spd Allison
Cummins 8.3 300 hp