quote:

Originally posted by Creepy Cawler:
Checked with NAPA and after takeing old one with me I found part#242-9000 was the exact match for the R front. They couldn't come up with the new hose so I'll go elseware for it.
A sticking caliper can be caused by fluid not returning to the master cylinder freely. This happens when the hose becomes swollen internally.
When you depress the brakes, the fluid is under psi causing the hose to expand enough to apply the brakes. When you release the brake pedal, the hose collapses and the trapped fluid is now under psi keeping the caliper slightly applied at the one brake position.
Think of a one way check valve. If this is the case, change out all of your rubber hoses as you're begging for a repeat performance at the other wheel positions.
For future reference, I uploaded both images to make it easier to identify. Core charge on both types is currently $82.50
---
242-9000 $76.49 - the brake pads are Napa UP7108M
---
242-9002 $92.42 - the brake pads are Napa ss7141m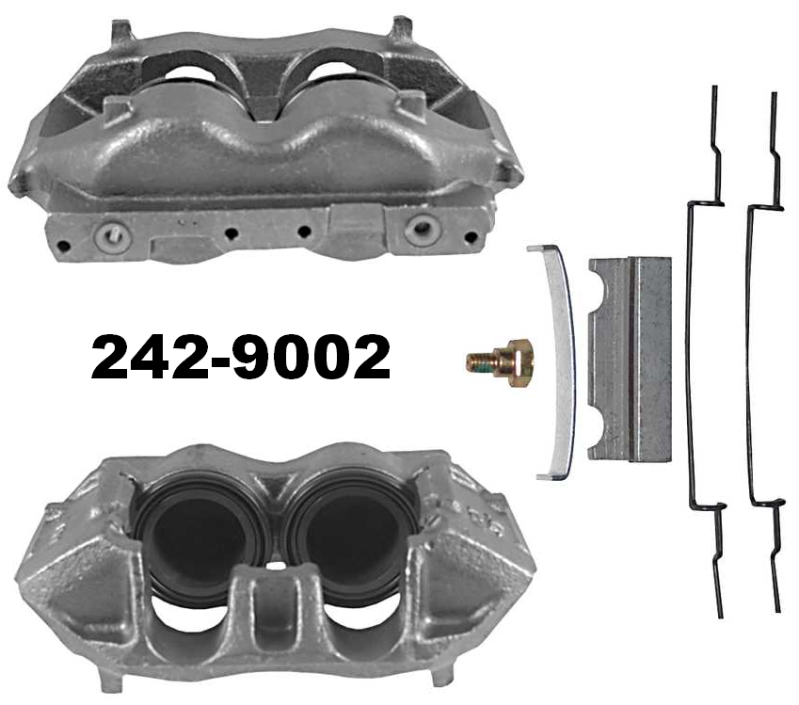 ˙ʎ˙u ןןıq- "ǝןƃuɐ ʇuǝɹǝɟɟıp ɐ ɯoɹɟ pןɹoʍ ǝɥʇ ʇɐ ʞooן ɐ ƃuıʞɐʇ sı ǝɟıן oʇ ʇǝɹɔǝs ǝɥʇ"

---

---

1990 Barth Regis Widebody
8908 0128 40RDS-C1
L-10 Cummins
Allison MT647 Transmission
Spartan Chassis
1991 Medical Lab Conversion
9102 3709 33S-12
Ford 460 MPFI
C6 Transmission
Oshkosh Chassis

---

---

---

Quick Link: Members Only Link To Send Me A Private Message