Barthmobile Portal
For Windshield Experts
10-31-2006, 06:15 PM
garryp
For Windshield Experts
Barth has a cracked left windshield after a 19 degree night. Probably stemming from a 'bullet' I got and had repaired in AK two years ago. I do not have glass coverage on Barth, except the $500 deductible comprehensive.
I need to know the source of those windshields. It is the Breakaway style, wide body with the extra piece that connects the left and right side. I have been told that it is a standard Ford windshield.
Moho shop 'techs' - I use the term loosely - tend to be a Jack of all trades, master of none, in addition to charging $90 to $110 per hour for all that master expertise.
Would I be better off taking it to a normal auto glass shop for replacement? I probably won't have it replaced until just prior to my Odyssey/2007 sojourn.
10-31-2006, 07:33 PM
Rusty
Check with your insurance agent. Many states require the waiving of the deductible for windshields. Since the proximate cause was the prior hit, it would be covered.
Rusty
---

"StaRV II"
'94 28' Breakaway: MilSpec AMG 6.5L TD 230HP
Nelson and Chester, not-spoiled Golden Retrievers
Sometimes I think we're alone in the universe, and sometimes I think we're not.
In either case the idea is quite staggering.
- Arthur C. Clarke
It was a woman who drove me to drink, and I've been searching thirty years to find her and thank her
- W. C. Fields
10-31-2006, 07:34 PM
Bill N.Y.
>>
Update: Click here for 1968 to the late 1973 Windshields.
>>
late 1973 to 1998
For most of our our Barth coaches the DW 730 is the passengers side and the DW 731 is for the drivers side.
It also fits the
GMC Astro 95
and the
Chevrolet Titan 90
Cab Over Tractor Trailer Trucks from 1968 to 1988 & many firetrucks.
Pictured: 1969 GMC Astro 95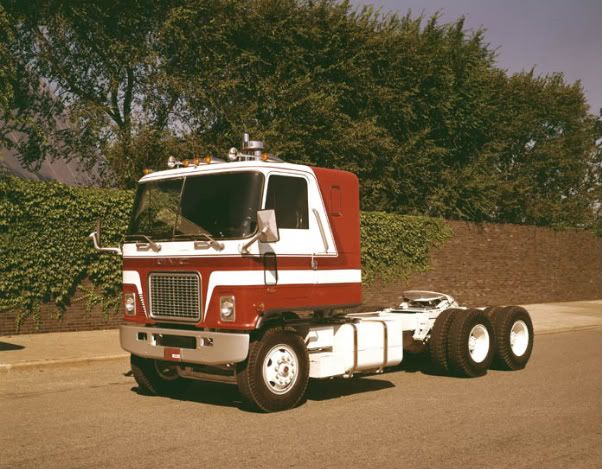 Pictured: 1986 GMC Astro 95
Pictured: 1976 Chevrolet Titan 90
This is a very standard truck window and should be extremely easy to get.
Read
"This Post"
for help in navigating several websites or contacting a local glass shop for pricing tips. You don't want to pay more than you have too.
˙ʎ˙u ןןıq- "ǝןƃuɐ ʇuǝɹǝɟɟıp ɐ ɯoɹɟ pןɹoʍ ǝɥʇ ʇɐ ʞooן ɐ ƃuıʞɐʇ sı ǝɟıן oʇ ʇǝɹɔǝs ǝɥʇ"

---

---

1990 Barth Regis Widebody
8908 0128 40RDS-C1
L-10 Cummins
Allison MT647 Transmission
Spartan Chassis
1991 Medical Lab Conversion
9102 3709 33S-12
Ford 460 MPFI
C6 Transmission
Oshkosh Chassis

---

---

---

Quick Link: Members Only Link To Send Me A Private Message
10-31-2006, 08:17 PM
Dave Bowers
Hi Garry,
Here is my standard blurm on windshields and it has been the case almost every time. When you go to your local glass shop, ask them where they would get the glass from. If they say Duncan Systems go to another one. These windows are not at all rare, but many glass shops defer to Duncan for their rv and other specialty glass and they charge a fortune. I have personally (doing research) been quoted as high as $900 per side from a Duncan user and as low as $285 installed elsewhere. I think most Barths were shipped with Guardian Glass and the numbers are W731 and W730, ones left and ones right.
10-31-2006, 10:20 PM
garryp
I was wondering why I did not opt for glass coverage. I did check today. They said it is not avail for mohos.
Unfortunately AZ only requires glass coverage as an option of the insured:
quote:

A. Any insurer writing private passenger automobile insurance which includes comprehensive coverage for motor vehicle damage shall provide at the option of the insured complete coverage for the repair or replacement of all damaged safety equipment without regard to any deductible.

B. As used in this section, "safety equipment" means the glass used in the windshield, doors and windows and the glass, plastic or other material used in the lights of a motor vehicle.
Since a moho is not a passenger vehicle, it is not offered.
Thanks for the detailed info. Maybe I will get it replaced before I loose the info!
10-31-2006, 11:01 PM
Rusty
Oh, well - the coverage definition and the vehicles covered are entirely different in Florida...in summary, commercial vehicles don't get the coverage(with certain exceptions); privately owned ones do, and RVs are the only vehicles over 10K lbs. allowed on a personal auto policy...and only the windshield is eligible for the waiver of deductible. Other "safety equipment" isn't mentioned...
Rusty
---

"StaRV II"
'94 28' Breakaway: MilSpec AMG 6.5L TD 230HP
Nelson and Chester, not-spoiled Golden Retrievers
Sometimes I think we're alone in the universe, and sometimes I think we're not.
In either case the idea is quite staggering.
- Arthur C. Clarke
It was a woman who drove me to drink, and I've been searching thirty years to find her and thank her
- W. C. Fields
11-01-2006, 02:47 PM
garryp
I found it at:
http://www.dakotalandautoglass.com/
for $157.00 plus shipping from Denver.
I won't order it because I doubt if a glass installer will put in glass I have in hand. But it is good to have the quote, and if they are way off on the cost I can tell them where to order it or where to stick it.
11-01-2006, 03:03 PM
bill h
Gsrry, nice site. Did you determine which of the W731 and W730 was right and which was left?


.

84 30T PeeThirty-Something, 502 powered
11-01-2006, 03:24 PM
garryp
actually I did not. I told them it was the W730 or W731, whichever was the driver side - and they did not id which one it is, but I will email and ask.
11-02-2006, 10:01 AM
garryp
They are calling it the DW731 for driver side
Glass cost is $157
Shipping Denver to Sierra Vista AZ $120
So the bottom line for comparison at my location is $277 plus reasonable profit plus install charge.
11-03-2006, 08:58 AM
formertrekkie
I just had my passenger side windshield replaced (89 regancy) including the full gasket($200) for about $478 from my local autoglass guy. He knew better than order from Duncan. They quoted over $600 for the windshield alone. The windshields are PPG w730 and w731 and are commonly available.
11-03-2006, 10:47 AM
Bill N.Y.
I was bored - no not really, both of my front windows have moderate fogging up around the edges and I thought now would be a good time to check while we're on this thread.
I've been on the phone with several glass places this morning trying to get a quote to have both front glass windows replaced. Man, they're all over the chart on quotes. From a high of $950 to a low of $360 - for both!
The first question asked is always "what kind of vehicle do you have?" In most cases honesty is the best policy... but not with the glass guys. For me to get past the words "we don't work on rv's" you have to fib to them. They don't want to do the extra lookup work.
Typical conversation goes something like this.
> Hello, BS glass repair how can I help you?
- I need the windows for a 1988 GMC Astro 95 or GMC tilt cab: part number DW730 & DW731.
> Oh, you have the part number?
- Yes, I do. The DW 730 is the passengers side and the DW 731 is the drivers side.
> Yes, we have (or can get) those windows.
- I'm calling for a price quote, installed.
At this point your wait time will vary - I've found that by letting them know up front that you're calling around and you have a clue (window info) the price seems to go down.
> The price is xxx.xx installed.
- How long is that quote good for?
> For a week
- Thank you, I'll be getting back in touch with you.
At no time did I tell them that I was the owner of a repair shop.
The D stands for Domestic. If they ask if it's a FW730 they are trying to check your knowledge. The F stands for Foreign and is a different window.
If you decide to go with someone then you still have one more option to consider. The option is green tinted or clear and that's for the entire window - top to bottom.
---
Here is a quote from Safelites website. Copied and pasted for your preview
Safelite Regular Price: $308.10
Turkey Time Trimmings: 43% Off
Your Price: $174.98 (not including taxes)
This quote includes a national warranty that is good for as long as you own or lease your vehicle. The quoted price is good for the schedule options listed below.
Pricing provided is for consumer, non-insurance claim transactions only. Not valid for commercial or fleet customers.
---
That was for one windshield only. Search parameters were zip code 12589 - GMC - 1988 - Tilt cab. I'm sure the prices vary based upon location.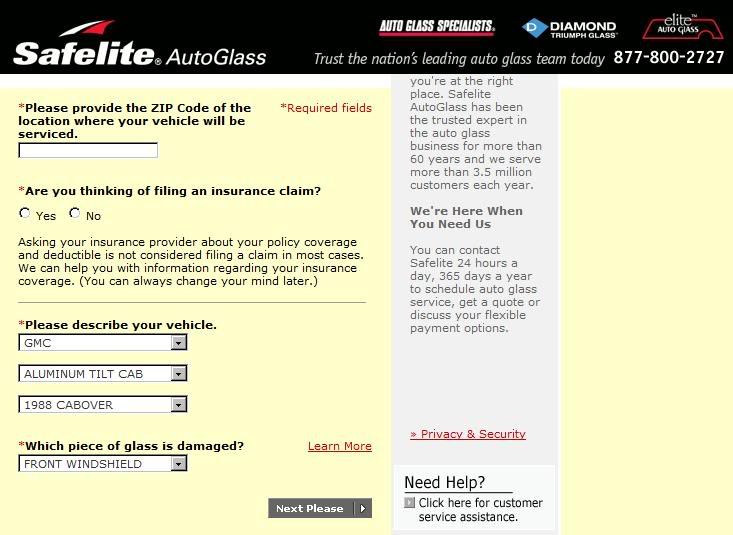 Bill N.Y.
11-06-2006, 06:20 AM
Bill G
Hi everyone,
This thread came along at a good time for me. I usually take the Barth to the storage lot during Halloween. Otherwise, it usually sits in my driveway and is only about 20 feet off the road. I couldn't get to the lot this year because of work and other committments. The wife and I figured if we stayed in the Barth, we would hear any vandals who mignt be lurking about. And if we didn't the dog would. Well I guess that we are all deaf. Initially, I didn't notice any problems, but this weekend we winterized her, cleaned out all the food and other non-winter safe items. Then on Sunday afternoon we set out for a cruise to settle everything in and mix the fuel conditioner I added to run it through the genny and engine.
As we are headed out the Mass Pike toward Lee, my exclaims "look, they broke the window". Sure enough, someone plinked the passenger side window in the upper right hand corner with a pellet gun. It's totally out of the field of vision, so it wasn't readily noticed. We got into a conversation about insurance comp for the window and were unsure if it is covered or not. She is calling today.
So were still driving along peacefully and my wife says "they got your side too". I look down in the lower left corner behind the defroster fan and there it was, another pellet plink. Both spots are cracked on the outside only so leaking will not be a problem. We need to contact the insurance co. to see if we are covered. Hopefully it will be. I checked around the outside later and there are two more plinks in the aluminum below the windsheild. I guess I should have put in on the storage lot.
Can any glass company do the work or are there some that specialize in commercial vehicles?
Bill & Georgene Goodwin
92 (Feb.) Regency 36ft
300hp Cummins
Gillig Chassis (1990 build date)
2014 Honda CRV toad
10Kw Power Tech Gen w/ Kubota diesel engine
Can accomodate Barth visitor with advance notice

11-06-2006, 06:40 AM
Shadow man
At the Bus rally that we went to this summer there was a guy that was fixing windshields. After watching him and talking to a few other people i had dings on the bus and the jeep fixed. $55 for the first one, $15 for each one after that. Most were star shaped but had one bullseye on the jeep just a little smaller than the size of a dime. Turned out really well, have to really look to see where it is now and before it was very noticeable. The company is called Glas-Weld out of Bend Or. but they have people that travel around doing repairs, you just have to find out if one is going to be near you. Web site is
www.glasweld.com
Been really happy with mine so far, it saved me from buying 2 windshields for the bus and 1 for the jeep.
11-06-2006, 03:40 PM
Danny Z
Along these lines, I have a good friend who details high end autos for rich people, and since he was going to Talladega with us last year he offered to do some work on the Euro before we went. One of the steps he took was a wax-type compound to the rather fogged and scratchy looking 25 year old windshields. After power-wheeling them out for a few minutes and a final wipedown with a soft cloth, the shields looked like brand new. They have stayed very clean and wiper friendly for over a year now, so it's not just a temporary fix. Again, he's a professional and I don't know if this product is available or recommended for amateurs.


79 Barth Classic