Moonbeam Express came with a fancy Microphor Vacuflush toilet that turned out to be "crappy" for practical use. This led me on a quest to find a new toilet and what an education I received! I'll hope to share some of my learning and show you my project which turned out better than I had hoped. As always, I want to admit that I am just a regular guy with an active curiosity, so anything I state is not necessarily gospel, but my own beliefs and experiences.
There are a few basic toilet types that are made for completely different environments, this makes for a good place to start.
Type 1: Household toilets - designed to dump straight into a sewer system, and hold a "flush" worth of water in a tank as well as having an integral trap and water in the bowl. RV and boat drawbacks are pretty obvious; water may splash out on bumps and turns and the trap water may evacuate do to movement and breach your vapor lock. Recommendation: never ever try to use a household toilet in a moving vehicle.
Type 2: Direct dump RV toilets – designed to dump straight into the black water tank, have a flapper or gate to close off gasses when not flushing, generally fill bowl with small amount of water for continued vapor seal when not flushing. This type of toilet represents probably 90% of the RV market as it is simple and cheap to make. Usually a foot lever activates the flush cycle.
Pros – very simple to maintain and use
Cons – can be smelly during operation and require a black water tank directly under device. Often there are space issues that require the toilet to be raised and there is a limit on the black water tank size in many cases.
Type 3: Marine style toilet – The major difference in a marine toilet is that is designed to remove the waste to a remote black water tank, many times the tank is above the toilet (head), so it requires a system that can effectively pump the waste away.
There are two basic types of marine style toilets in the market:
a) Vacuum flush toilets – either manual or automated these take the waste and dump it into a hopper, the hopper is pressurized and the waste is evacuated away to the black water tank in a 1.5" pipe generally. My Microphor toilet was one of these and used a complicated valving and vacuum pump to open a flapper with air then sequence a valve through cycles of adding water, closing the flap, creating a vacuum and sucking the waste away. Great in theory, but lacking when it didn't go according to plan. The big problem was if you had a clog, the flapper didn't allow the use of a standard plunger to pressurize the hopper because the flapper was shut at that point.
Pros – great when all goes well and can evacuate to good distances and rises. No electrical components needed at the toilet location.
Cons – Expensive to purchase. A predicament when things don't go well. Additionally, complicated and expensive to repair.
b) Macerating toilets – These toilets also evacuate waste to a distance and use a garden hose waste tube. They can accomplish this because the toilet itself has an electronic macerator that is a lot like your garbage disposal at home. When flushed they fill the bowl with some water then macerate the mess and pump it away to the black water tank.
Pros – No standing water required for a vapor seal. Waste can travel great distances and uphill. Efficient with water and very quiet.
Cons – Expensive to purchase. Require electricity (generally 12V) at toilet. If macerator fails it can't operate.
You may have surmised that one neat thing about marine toilets is they can be mounted almost anywhere in an RV with no worry about cutting holes and gravity issues.
Here is my pictorial that has proven to be an excellent upgrade. We no longer have to listen to the vacuum pump cycling all the time to keep pressure and the macerating toilet has never met its match when it comes to waste loads I've thrown its way. It is quiet, efficient, uses little water and looks good too.
The old Microphor toilet sure does look good, but....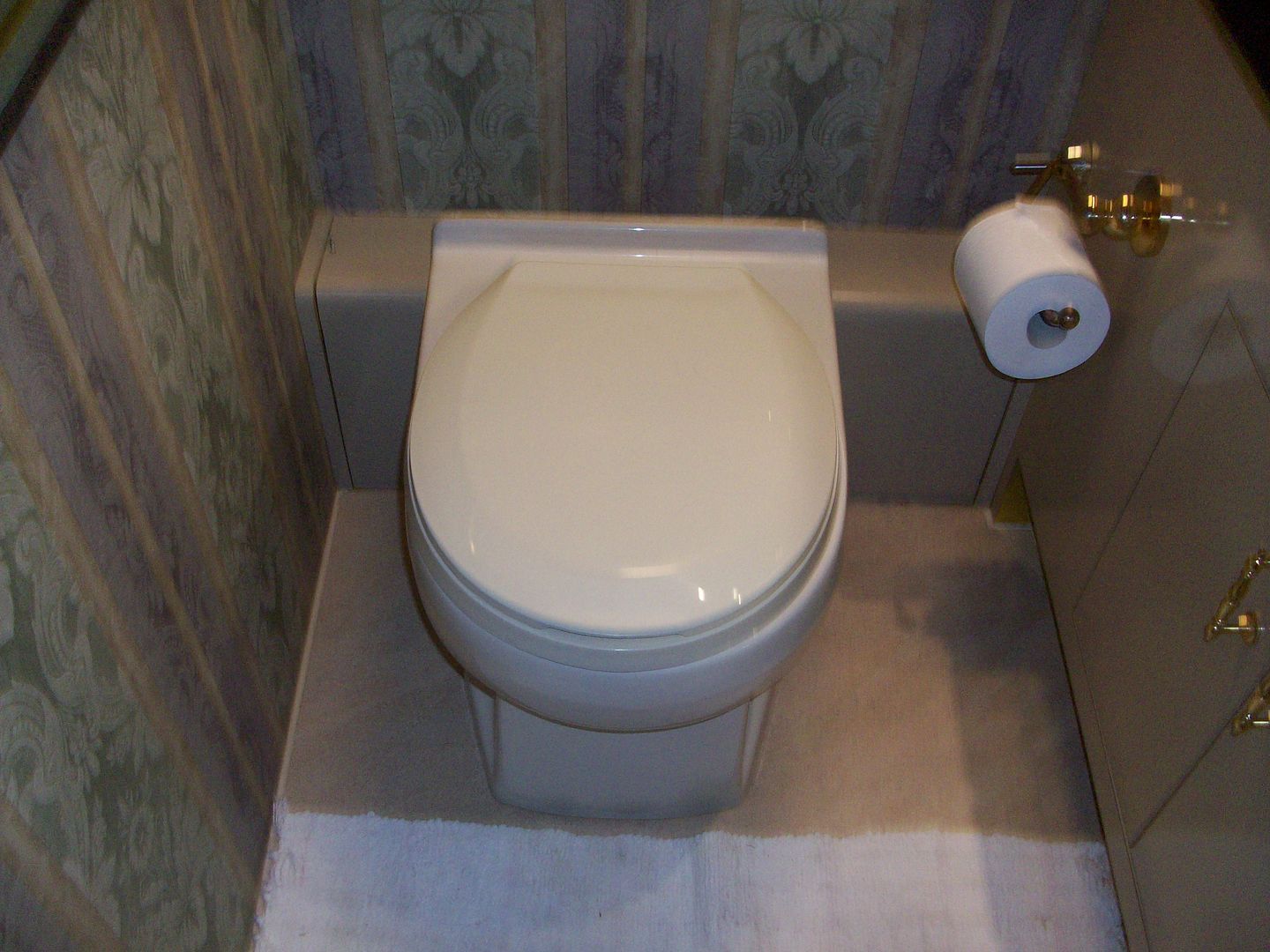 Here it is taken out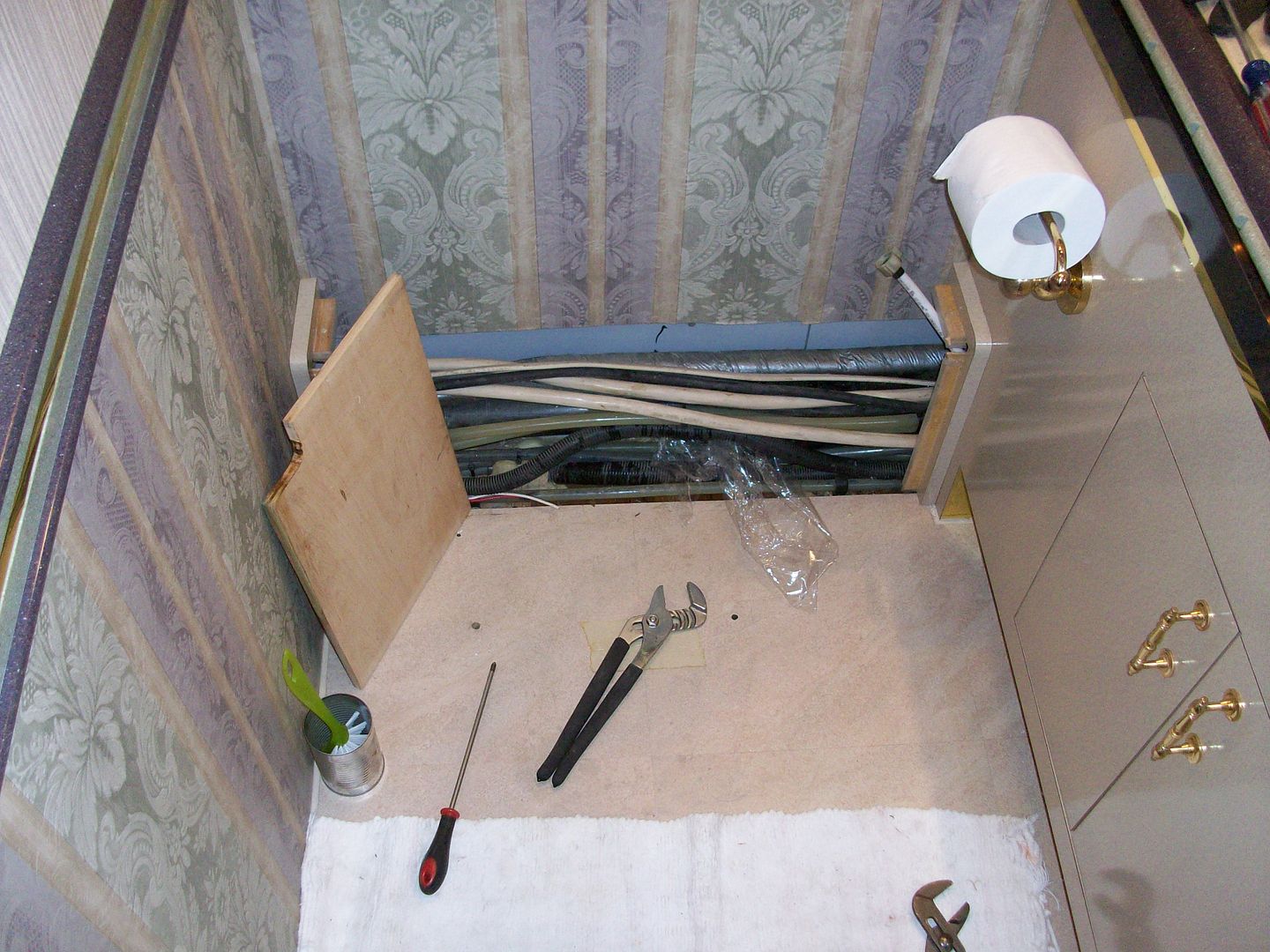 A look at the air/water valve from the Microphor toilet, located under the sink. You wonder at how complex!!
The new porcelain macerating toilet is made by Vetus in Sweden ? Denmark?
View of the macerating unit under the toilet, lots of space as it is dumping out the back.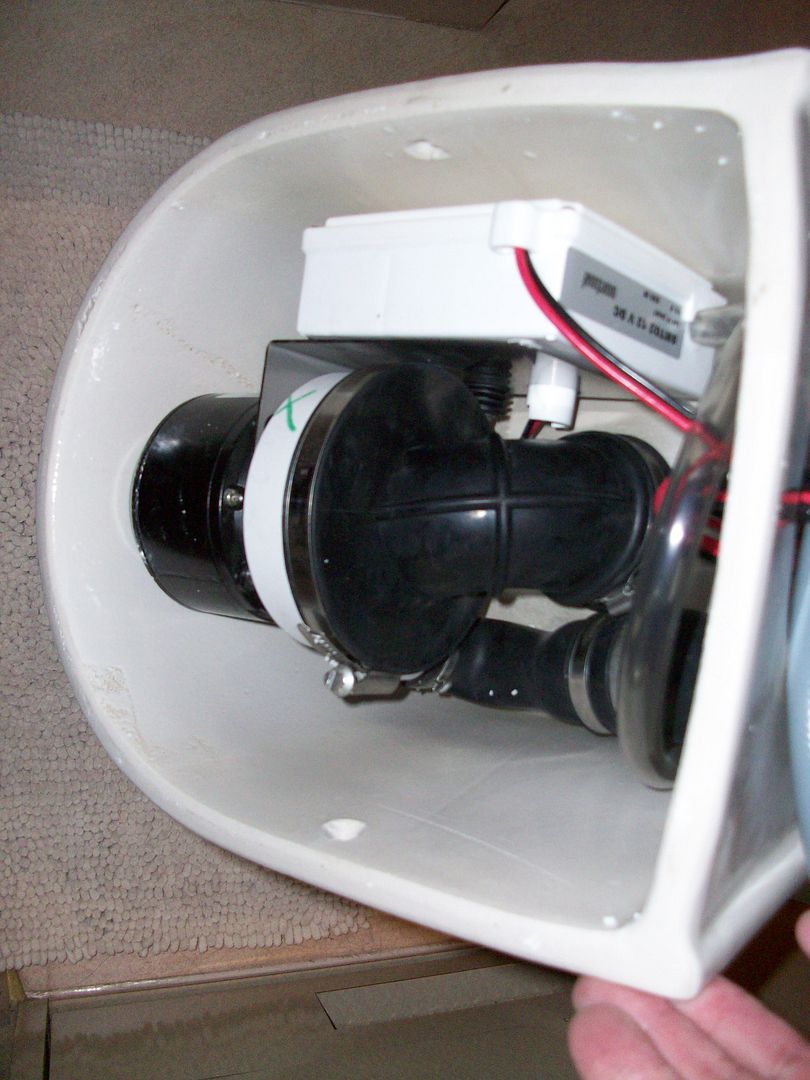 Here's the box I made to make the toilet higher for adult comfort. You can put a marine toilet any any height you want, unlike direct dump toilets. I made the box from materials scoffed from the pallet that the toilet was shipped on.
Here I've finished off the box with tile on top and laminate flooring on the sides. These, of course, were leftover materials from house projects.
Mounting brackets installed here and again, no worries of wax seals and holes in the floor. Note the garden hose size evacuation tube and standard water supply.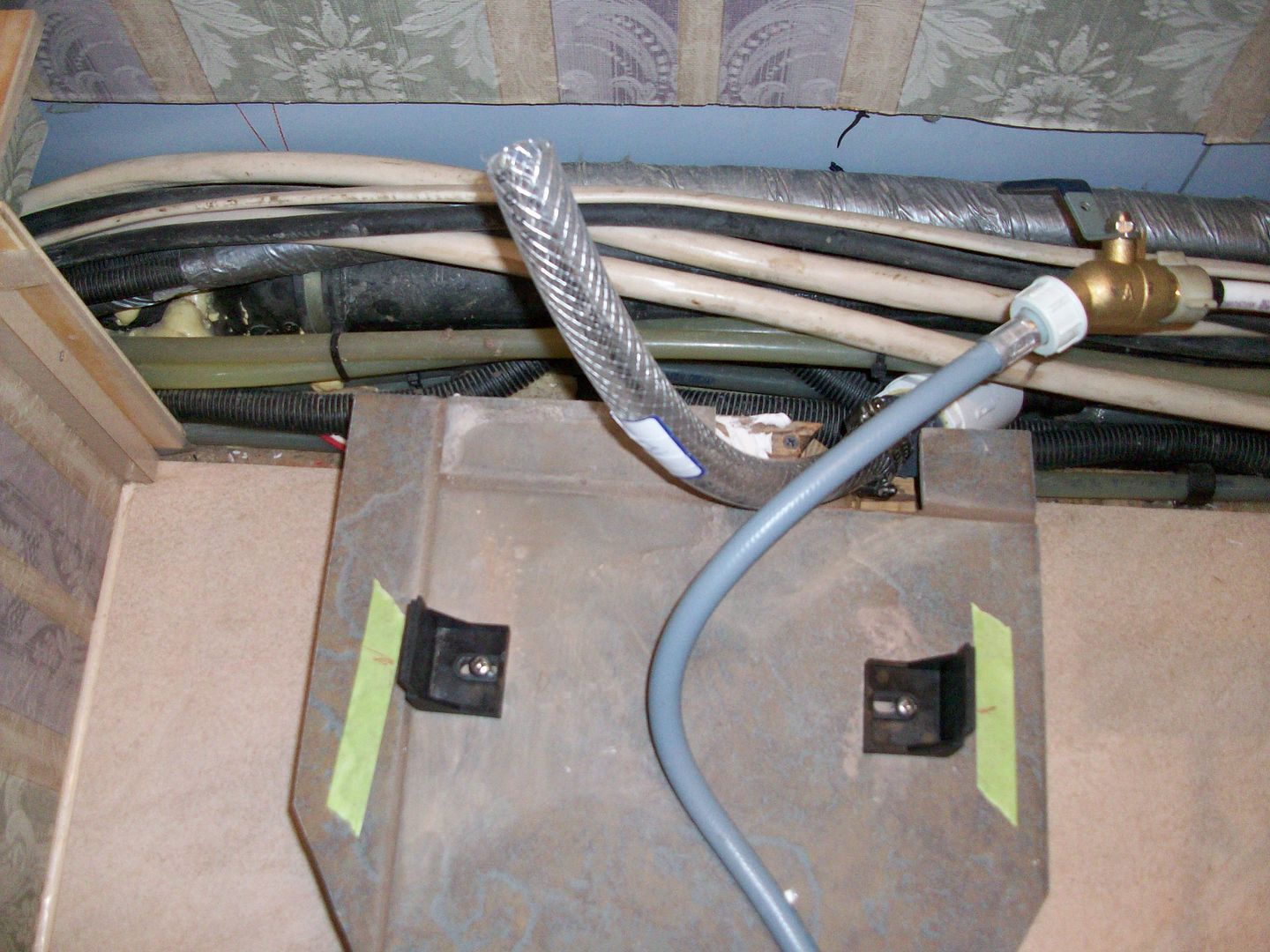 Made sure I bought a 12V toilet as many of these companies sell worldwide and make several different voltage pumps. I got lucky as Bluebird had 12V power already wired there even though the original toilet required none.
New toilet fully mounted.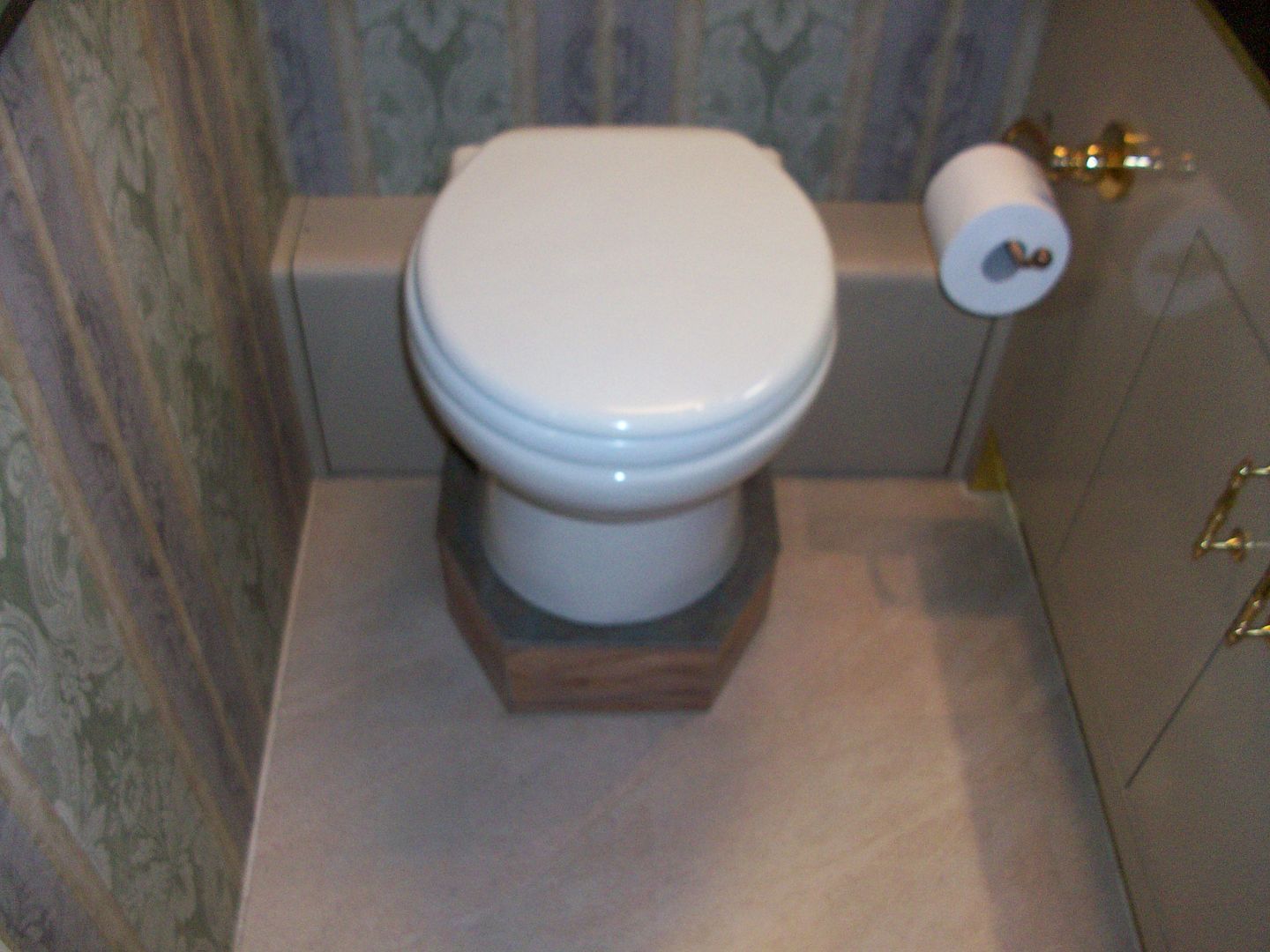 And ready for business...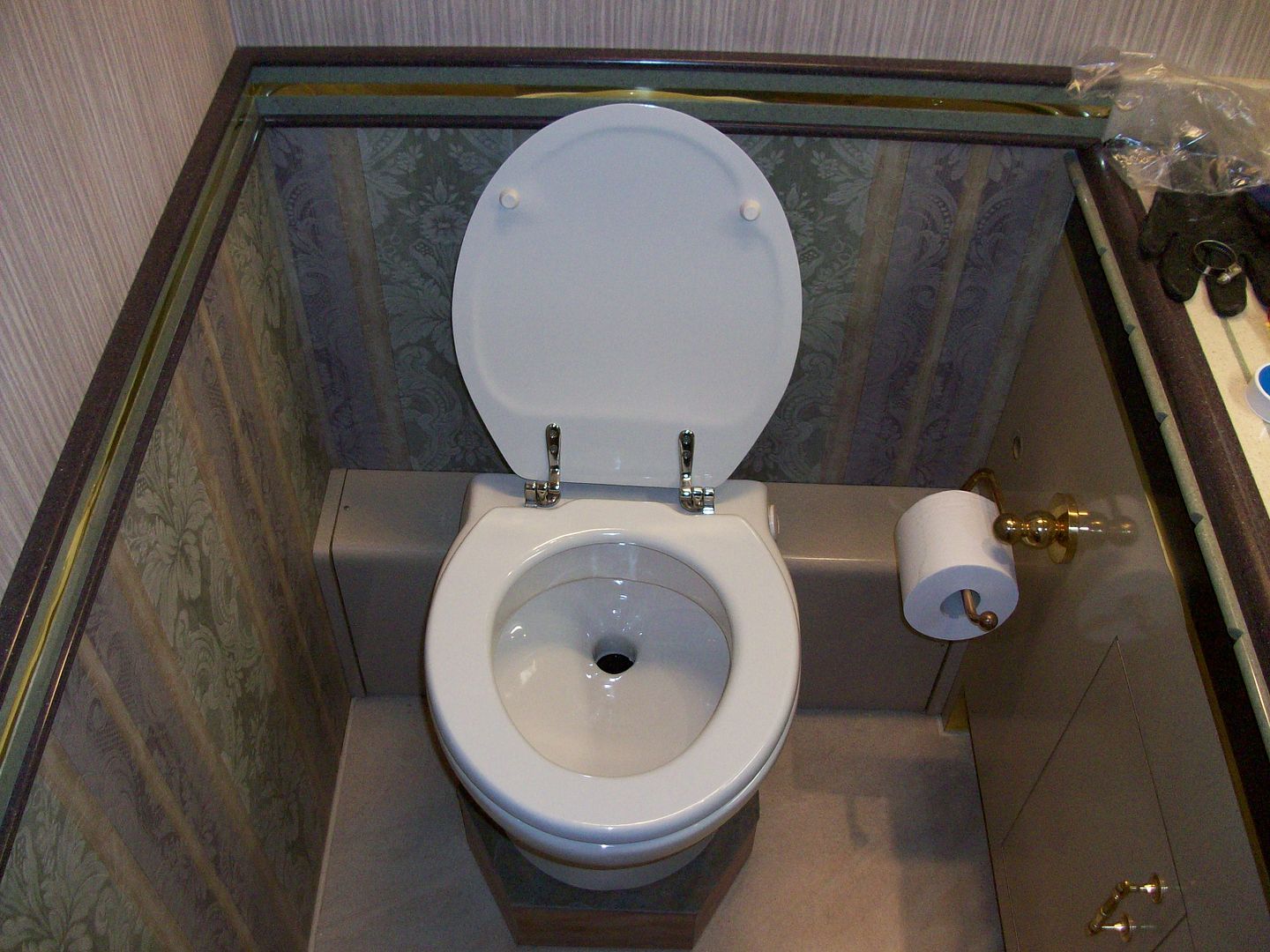 Formerly: 1997 Barth Monarch
Now: 2000 BlueBird Wanderlodge 43' LXi Millennium Edition DD Series 60 500HP 3 stage Jake, Overbuilt bike lift with R1200GS BMW, followed by 2011 Jeep Wrangler Unlimited,
"I haven't been everywhere, but it's on my list."