Barth did not do a good job in mounting the ladder ends to my roof. The ladder is fairly flexible. As a result, the forces of using the ladder have induced flexing and cracking of the original sealant. There is evidence of at least two prior episodes of re-caulking up there, so I am not the culprit.
I decided to tie the ladder and the railing together with cut-down stanchions (from another rail or ladder) and a short section of angle, all found in my parts bin. The railing is heavier tubing.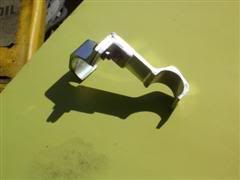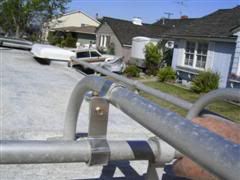 That is all well and good on the inboard side, but the outboard side, owing to the curvature where the ladder and railing meet and almost touch, does not lend itself to such a complex solution. Rather, I just drilled through both of them and used a stainless bolt and washers to tie them together.
So, check your ladders where they mount on the roof and beef it up or apply sealant as needed. It is possible that a good flexible sealant like Eternabond or Liquid Roof/Rubber would seal things well enough, but I prefer to treat the cause rather than the symptom.


.

84 30T PeeThirty-Something, 502 powered