My 86 has a TurboHydramatic 475 transmission. It has a transmission temperature gauge (good thing) but the sender is located in line going out to the transmission cooler. (Not so good) While this gives me an idea of peak torque convertor ATF temps, it does not tell me what the temp is inside the main transmission.
I wanted a gauge in the pan. I decided to install a fitting in the pan to allow me to move the temp sender.
First, get the proper gasket and filter. (My parts buddy says the gasket looks like Texas to him, he needs to get out more.)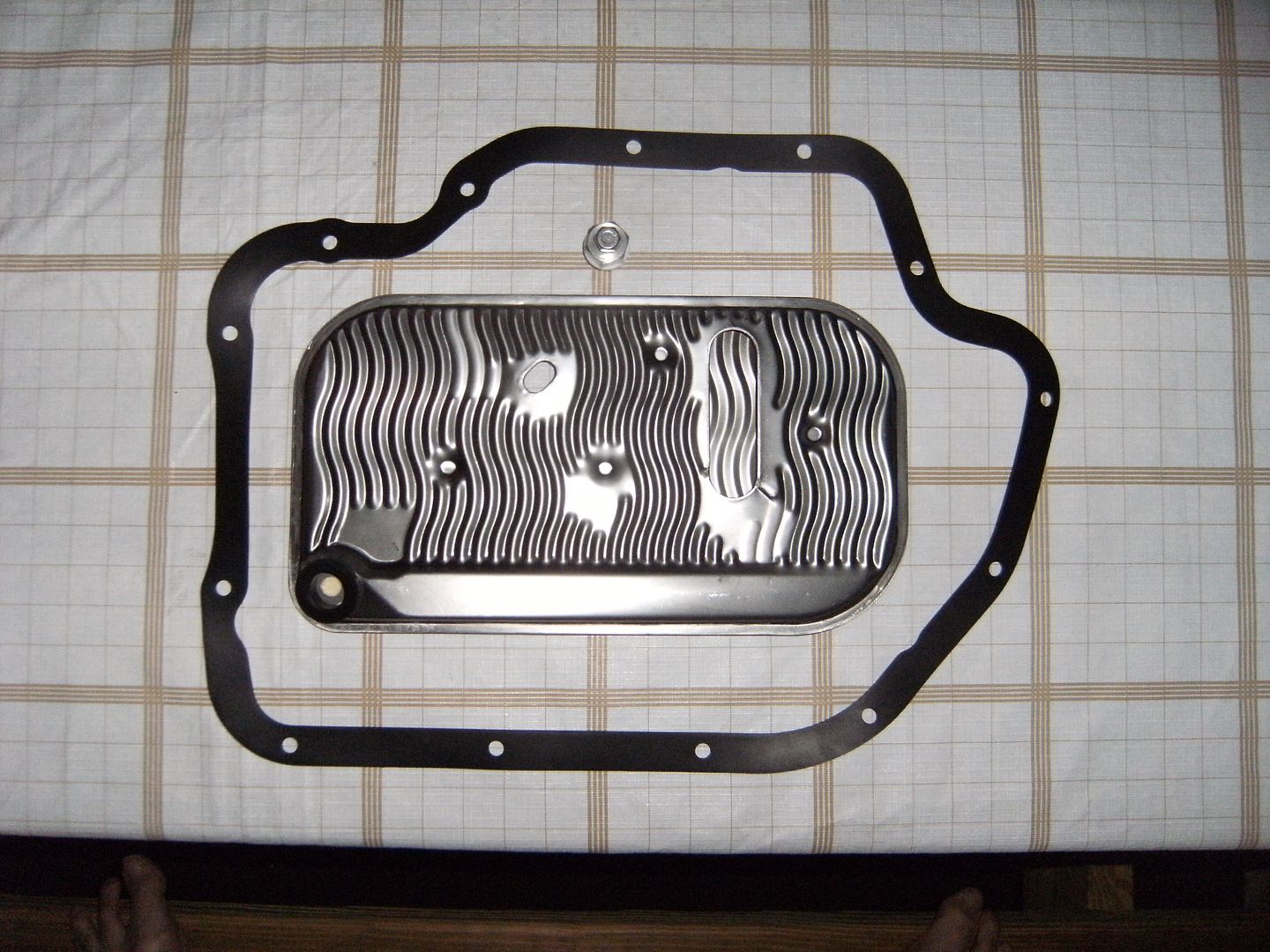 Then drain/remove the pan. Yuck. This is one of the messiest things in all the car/truck work in my life. In this case the cross member prevents the rear of the pan from swinging down, so you tip it forward and it runs out more... Then it drips for hours... This is another really nice thing about this new fitting. It will double as a drain plug. It won't get all the ATF but if I drain the pan and let it drip (internally) then remove the pan I'll never have this mess again.
I had to find a flat spot on the side of the pan away from the filter. The fitting is Hayden part #270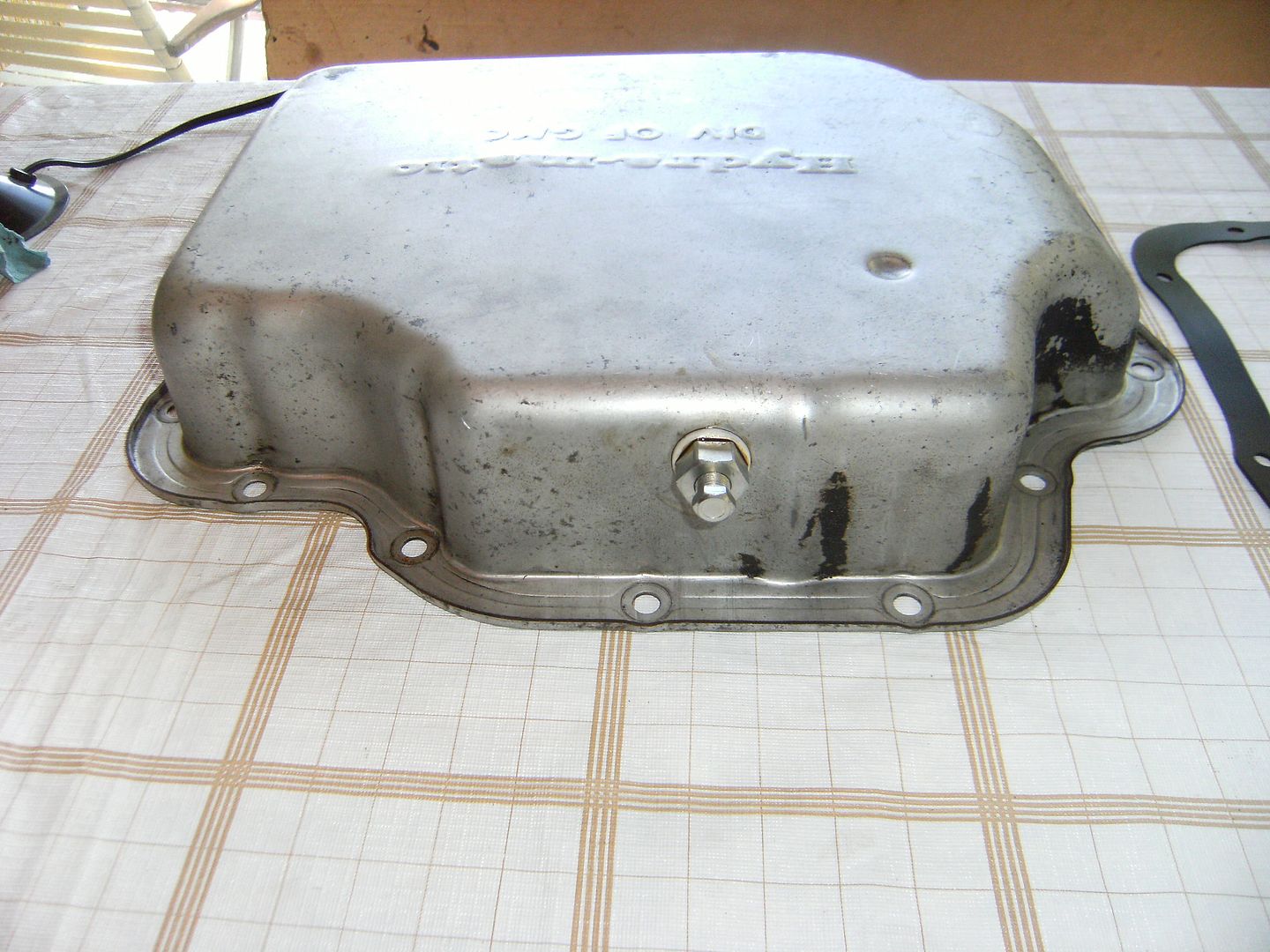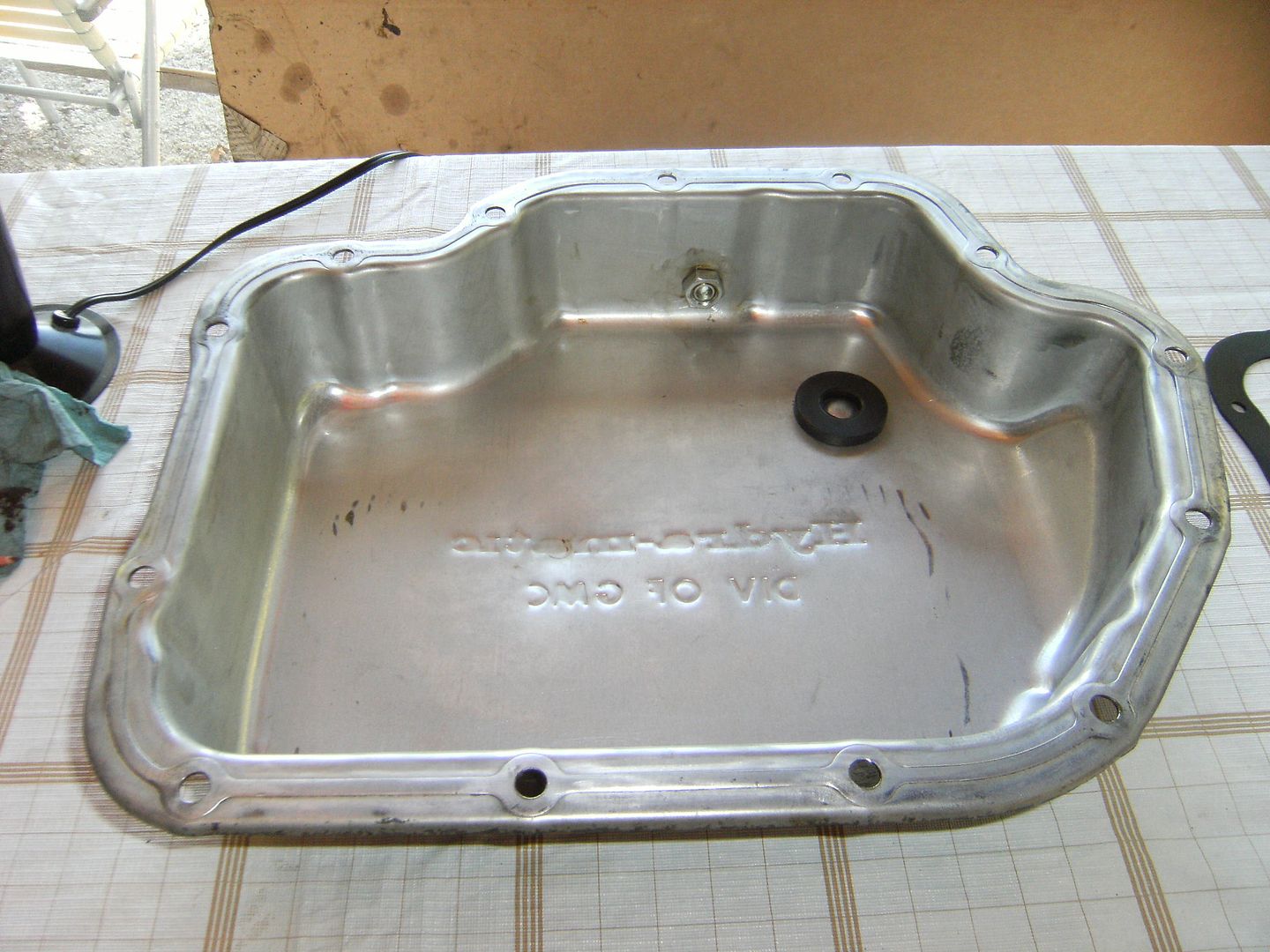 Reinstall new filter, gasket, sender and wire. The wire was already long enough. (Oops, at least my toes are in focus)
Another mod was to the transmission cooler. The original was a six "tube and fin" type mounted low behind the bumper. Nothing really wrong with the cooler but tube and fin types have limited surface area on the tubes and only six of them.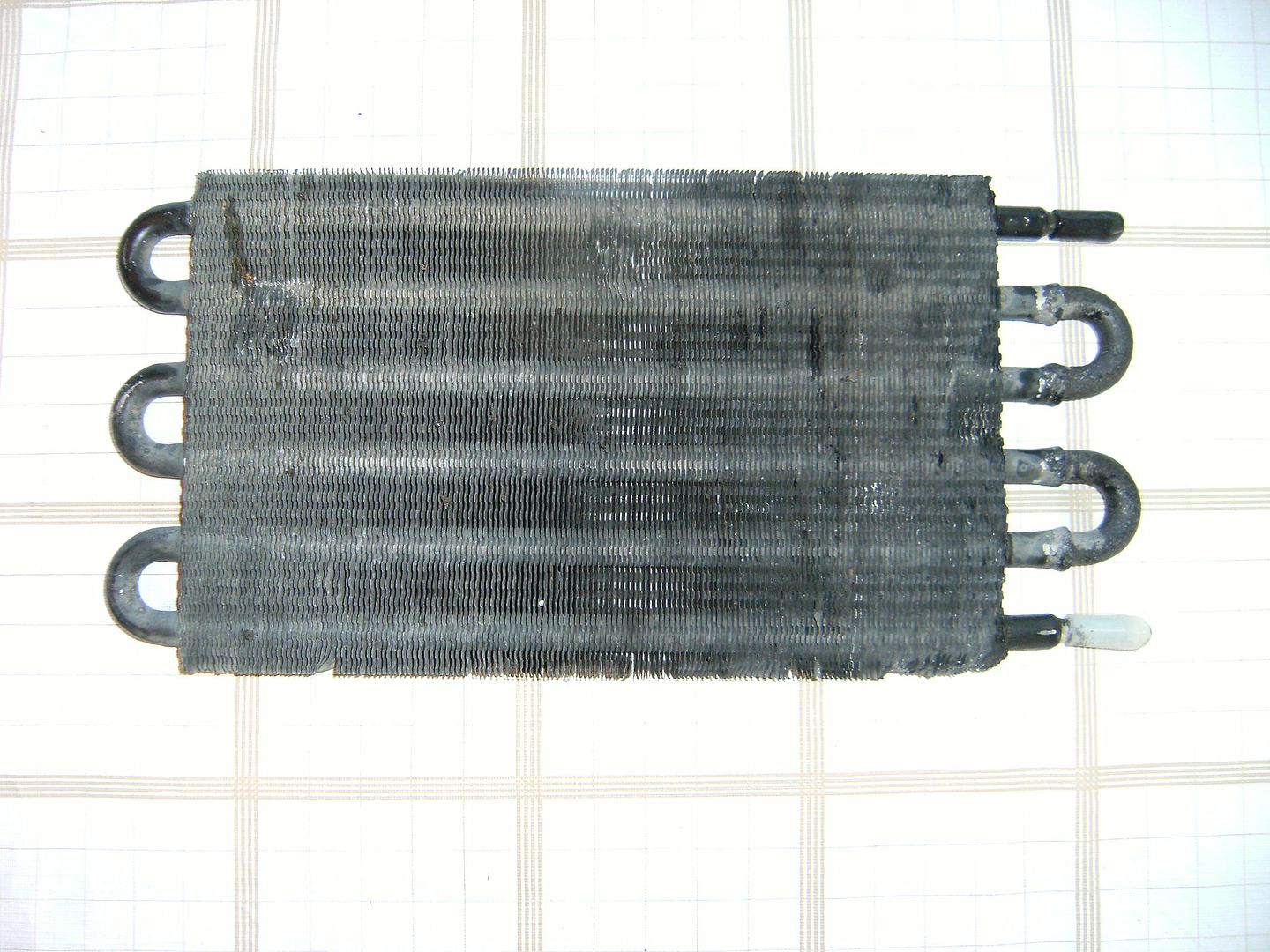 I decided to use a "stacked plate" type from Hayden instead. (30 flat tubes)
They are similar in overall size, but the plate style will throw more heat. (There's those dang toes again...)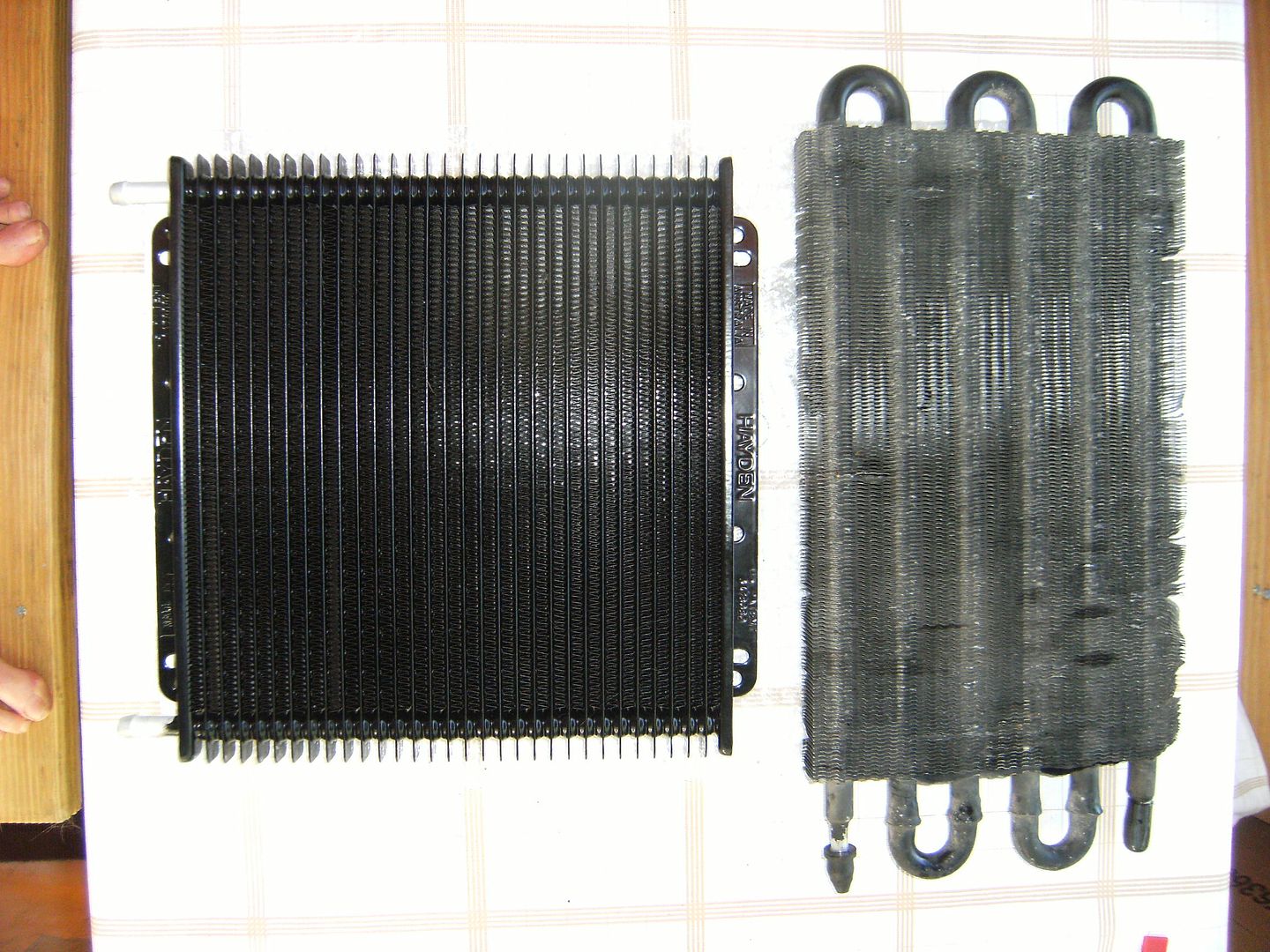 Last year, I removed the factory AC but kept the cooling fans. They have thermostatic and manual driver control. I put the trans cooler behind the left fan (driver side, right side in this pic) in the space where the AC condenser was. When the fan comes on it cools both engine and trans directly. The rest of the time there is direct airflow through the grill. (That orange wire nut is TEMPORARY and it is a ground wire!)
I still have to bolt the new cooler to the transverse fan brackets. (Zip tie for now!)
I won't know the results till I head back home in April. We'll see.
If anyone wants the old cooler it is still OK and usable. Free to good home!
Now, on to the new HEI distributor and timing curve games!


9708-M0037-37MM-01
"98" Monarch 37
Spartan MM, 6 spd Allison
Cummins 8.3 300 hp