This probably is of no interest to many Barth Owners, but for those with air horns supplied by a 12V compressor which charges an accumulator tank then shuts off (as opposed to the "instant-on" compressors of some brands), this may be of some interest.
The prior owner of my Breakaway moved the noisy reciprocating compressor from the front to the small vented compartment on the right rear. That quieted it considerably. Air was routed to the accumulator by way of 1/8" ID polyethylene tubing.
But the horns rarely worked, or sometimes sounded like an elk in considerable distress. I found that a leak was the culprit, and invariably, the leak would be right at the discharge fitting on the compressor. After redoing the connection several times, I finally decided to "fix" it again and see what was causing these leaks to emerge.
What I discovered is that the compressor's displacement is so small, it takes it 15-18 minutes to pump the accumulator to cutoff (135psi). Near the end of a cycle, the compressor head would be so hot, it would soften and weaken the tubing, and it would split.
So being a marine engineer, and pledged to Never Make Simple That Which Can Be Made Complex. I got 5' of 1/4" copper tubing, some compression fittings, 35' of polyethylene tubing, a tee, and a pressure gage (as none had been fitted).
I made a cooling coil from the copper tubing, teed the pressure switch and gage to the cyinder head, and fired it up. Pressure never would go about 20 psi. The compression fittings leaked. So I sweat soldered the beads to the tube, and the leaks stopped.
Here's a photo of the finished installation, where I triumphantly turned a 5 minute project (of redoing the old poly tubing connection each time it failed) into a four-hour one...better yet, while running the new poly tubing, I discovered a pinhole leak in one of the heater hoses...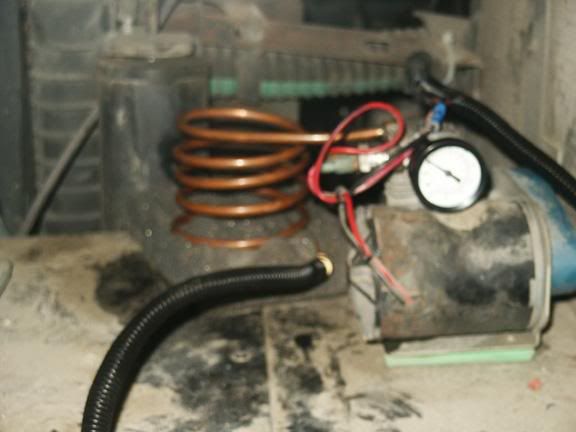 Rusty
---

"StaRV II"
'94 28' Breakaway: MilSpec AMG 6.5L TD 230HP
Nelson and Chester, not-spoiled Golden Retrievers
Sometimes I think we're alone in the universe, and sometimes I think we're not.
In either case the idea is quite staggering.
- Arthur C. Clarke
It was a woman who drove me to drink, and I've been searching thirty years to find her and thank her
- W. C. Fields