Things have been slow lately, Barth calls!

Some of you may recall my return trip from Denver was spooked by fuel system problems.
My fuel pressure, normally about 5 psi, dropped to under 2 on tank 2 and the engine showed signs of fuel starvation. Switched to tank 1 and it was worse. Pulled over to check fuel filters… no problems. Bypassed fuel regulator, still low.

Thinking maybe water in fuel (both tanks were recently filled) I added dry gas to both tanks. Limped along on tank 2 until it was down to 1/4 tank, decided to try tank 1 again. It was only making 1-2 psi but engine ran (barely)
After only about 20 minutes tank 1 is showing 3/4 full! 20 minutes later 1/2 full... Hey, I know this thing uses gas but wow. Didn't think it was leaking (stopped to look underneath) but decided to go back to finish off tank 2. It now shows full!

Ran all the way home on the magic tank 2...

After much fiddling, it was apparent that the fuel selector valve was stuck in mid position, allowing some fuel to engine and some to transfer to the other tank. Further inspection shows the in tank fuel pump in tank 2 has low output and leaks back when shut off.
My original fuel system had in tank electric pumps, inline pressure regulator, mechanical engine pump with return lines, and a 6 port fuel selector valve.
Spare fuel pump:
The pressure regulator: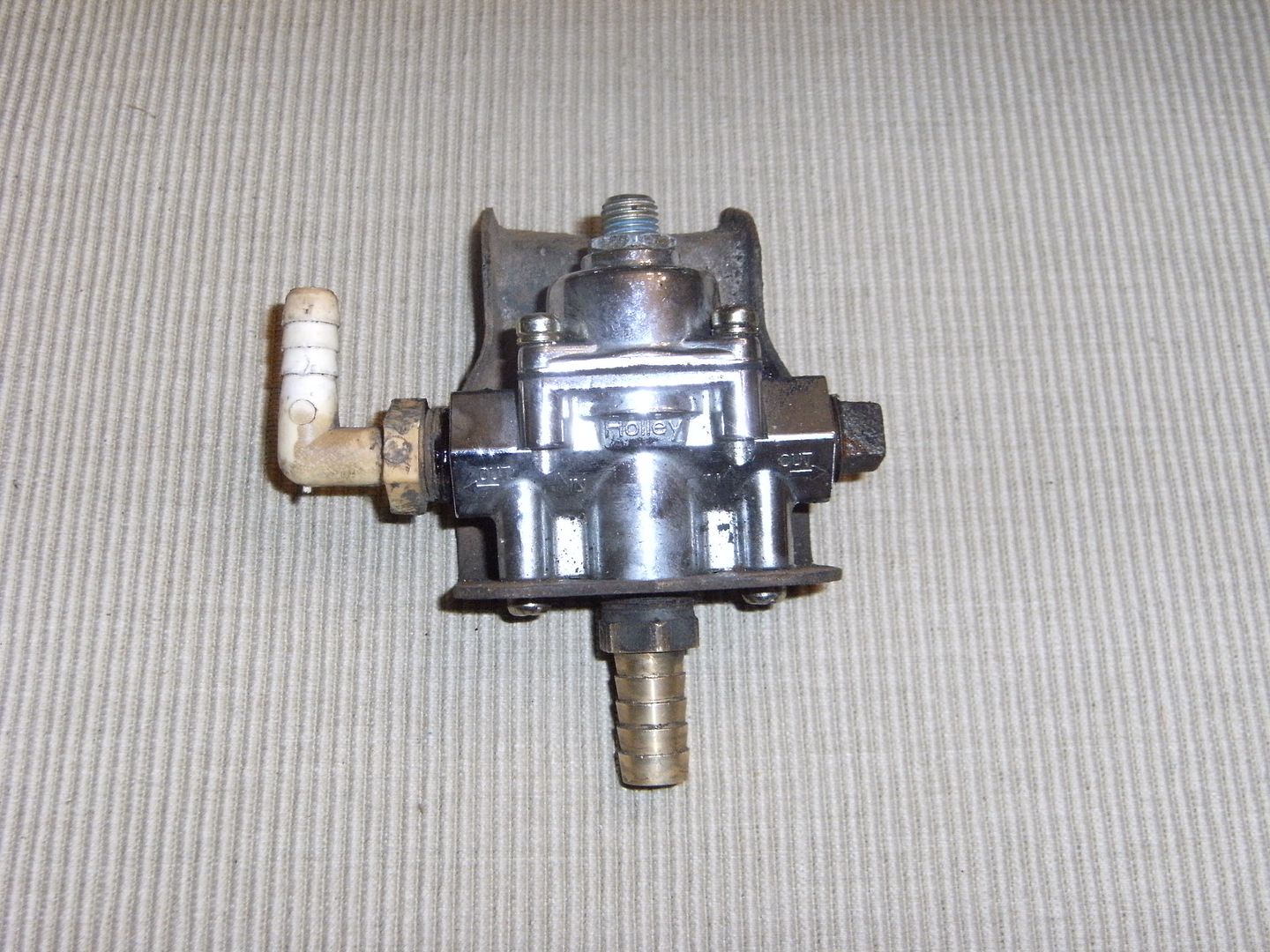 The stuck valve:
I removed the mechanical fuel pump from the engine when I did the crankshaft work. This allowed me to abandon the fuel return lines. (almost... the main tank RETURN line is the SUPPLY line to the generator! I had to reconnect the generator directly to tank 1)
Rather than remove the fuel tank 2 to replace the pump (and still have a 26 year old pump in tank 1) I decided to abandon both the tank pumps in favor of a single inline accessible electric pump. The Carter P4070 is a time tested choice. (made in USA)

It has an internal pressure regulator set for 6 psi. I no longer need the original inline regulator, so I removed it and mounted the pump there.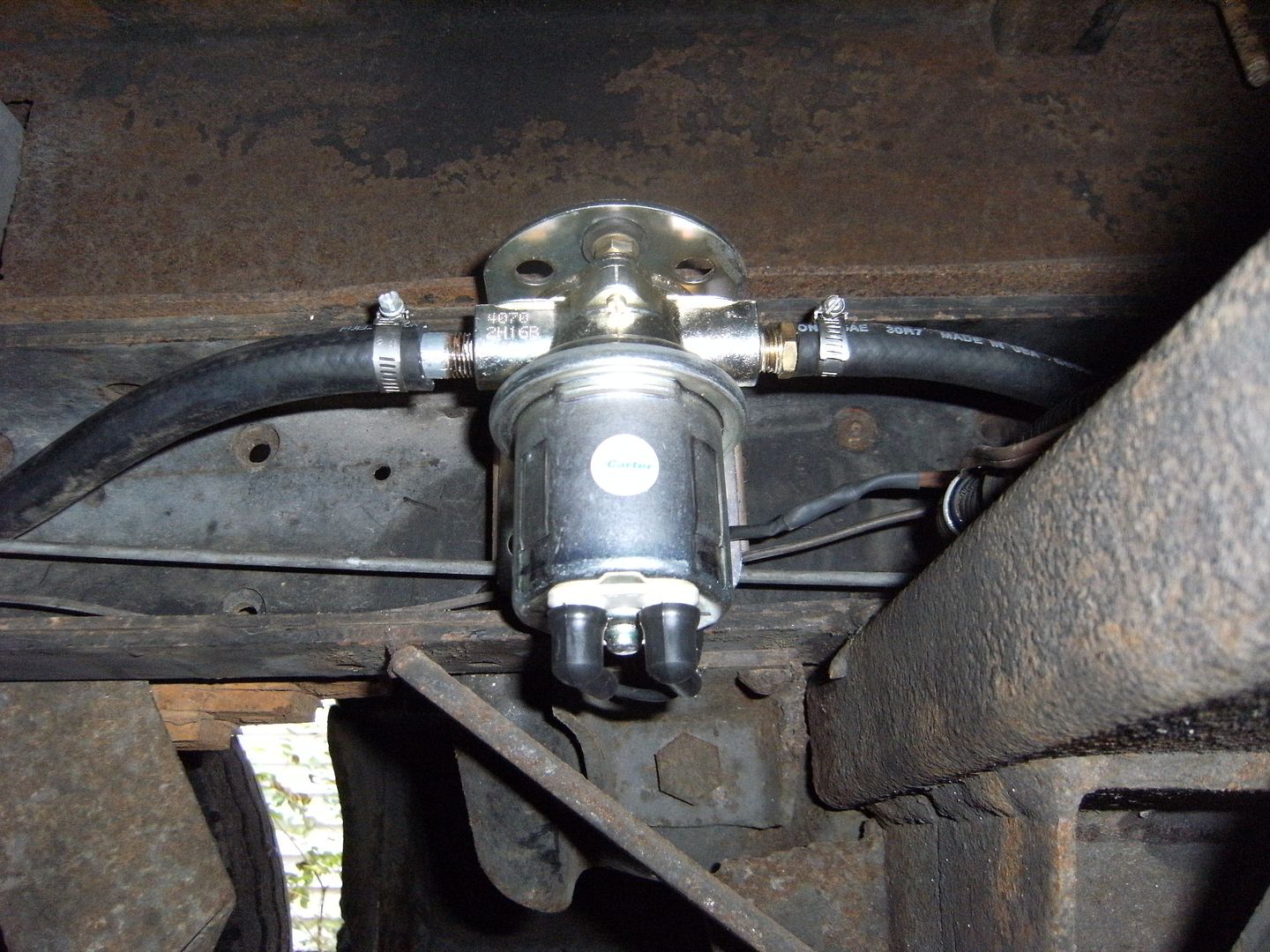 I replaced the fuel selector valve with a 3 port Standard #FV1. Since the lines from the tank are now suction lines, I installed a clear primary filter (Fram PF2) in each tank line, easy to inspect. (The tank pumps still have sock filters, too)
This puts most of my fuel system components in the same area, easy to check/service. Before, the fuel selector switch had to flip flop between pumps. Now the inline pump runs all the time, only the gauge and selector valve change.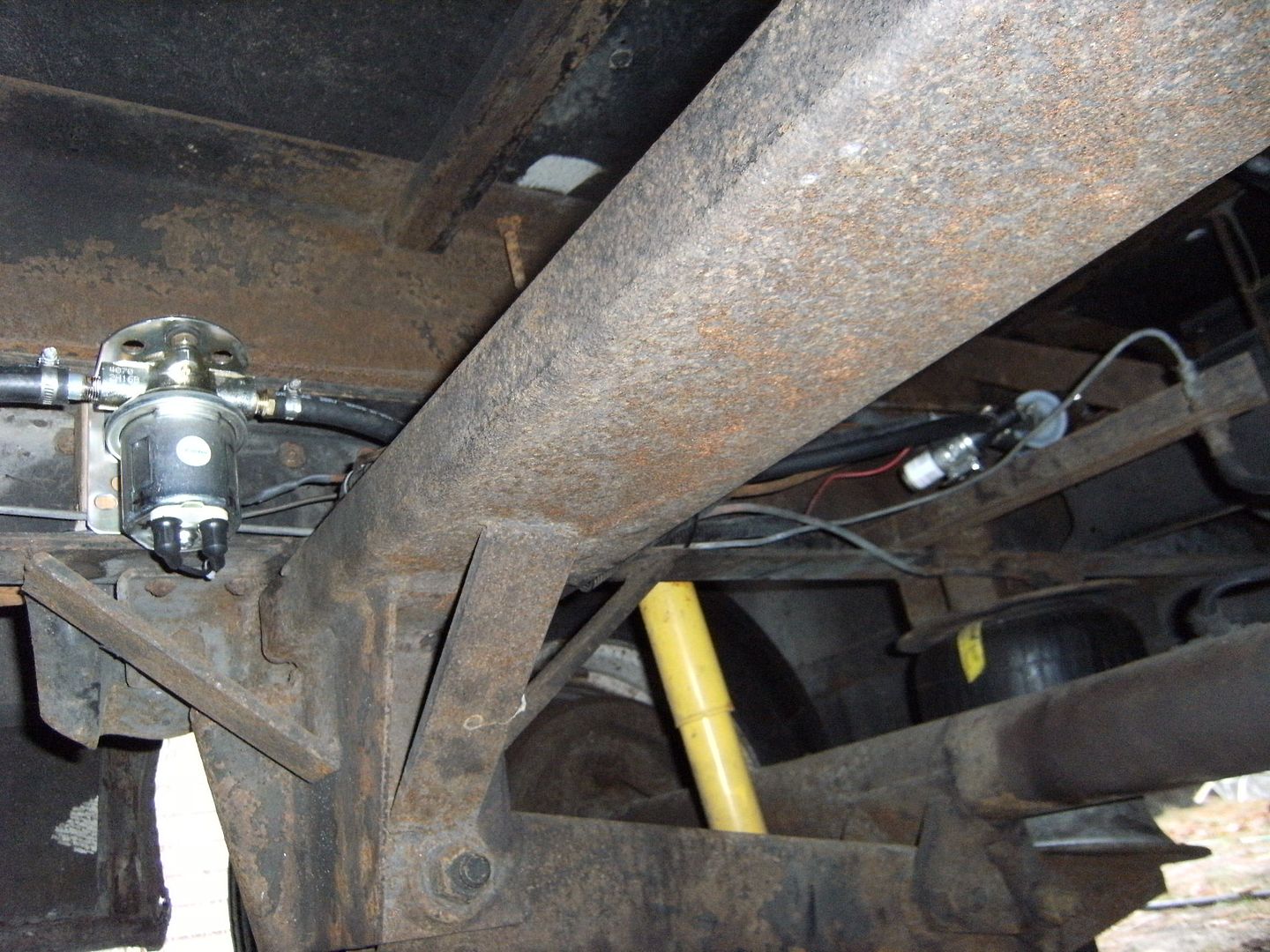 The lines from the tank to the pump are now suction lines, so I may have invited some vapor lock issues... (The exhaust system exits well forward of this area, excessive heat should not be an issue. The pump is barely above the tanks, with little suction required. Hopefully no reason to vapor lock.)
My fuel pressure is now stable at 6 psi, the pump and filters are new and can be changed in minutes, and all the lines have been replaced . Last item will be a carb rebuild by Oscar Heritz this winter.
Hmm, looks like I have a recently installed pressure regulator and a brand new spare in tank pump I don't need.



9708-M0037-37MM-01
"98" Monarch 37
Spartan MM, 6 spd Allison
Cummins 8.3 300 hp