1.Clean roof with dawn soap & clorox & stiff brush. I had a broom handle & a scrub brush attached. Rusty used "Purple Power". The dawn & clorox were on hand so that is what I used. Probably 3 or 4 scrubbings & rinsings. Allow to dry.--I did NOT remove A/C.s. Neither leaks so rather than create a leak I left them/
2)Take a firm wire or hard plastic brush & a 1 1/2" wide putty knife & "remove all mildew, dirt, rust, loose coating or other contaminants which would prevent maximum adhesion of the Anvil roof coating". I used a metal paint removing tool & in some spots I put all I had into scraping down to aluminum. If I could not remove with elbow grease I left it in place. The seal around some of the rivets had deteriorated & was loose but not too loose. I used a lot of elbow grease getting around these rivets because I didn't want it to haunt me in the future. There were some rivets that were worn out & needed to be replaced or just not there. Drill them out & replace. Aluminum w/aluminum mandrels. I have what you need if you want me to send you some. Rivet tool is under $25.
3)Get some TSP Trisodium Phosphate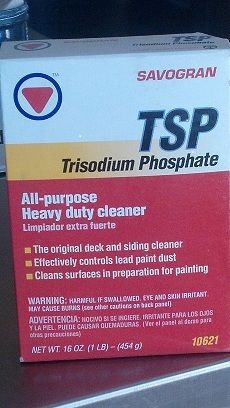 2 tablespoons to a gallon of water. Apply this a couple of times by scrub brush, then rinse. You're supposed to check the roof after it dries & be sure the chalky residue left by the TSP is gone or minimal. I started working on mine & there was still a chalky residue but I couldn't get it to go away. I'll check it in 5 yrs to see if there was any adverse affects

4)Buy some spray on self etching primer "SMS" at auto paint store. NAPA has a product but I used the SMS. Take a rough grade of Scotch Brite pad (NAPA) & scuff up the aluminum that is now exposed & apply primer to any bare aluminum.
a)After I primed the bare aluminum spots(gray self etching primer)I let it dry then went over primed spots with a coat of anvil before rolling whole roof.
5)Buy Grey Seam sealer in quart can (NAPA brand)
http://www.napaonline.com/Cata...eProductImageWrapper
http://media.napaonline.com/is...ePartsCompany/250368
It is for sealing seams on semi tractor truck trailers. Note: The first can was easier to apply than the second one because it was thinner. This was a little frustrating.
6)I taped off the perimeter of the roof for neat lines. 2" left of seam & 2" right of seam.* The seam itself had the most sealer & I tapered off to the edges for a convex application. I was being much neater than original application because I was going to paint just up against the roof so I taped my lines. I would recommend anyway.
a) If there was any roofing material or sealant I could not manually remove with some SERIOUS elbow grease I decided not to remove it. It had survived 25 yrs it would make it another 25yrs. Apply thick. 1/4". The more the merrier. If you tape it give it about an hour to cure & remove the tape. REMOVE TAPE BEFORE DRYING COMPLETELY Slope away from the vents so water will flow off.
7)I took some self leveling product; Dicor self leveling sealant,
"painted" thin coat with a brush over the DRY gray seam sealer vent openings,
roof rack anchors, and old covered air horn hole. I did this after the 1st coat of Anvil. This was probably over kill. I did this so I could get down into the cracks & seals that the firmer gray sealer may have missed. I did not go over the perimeter seams with this product. Let dicor dry thouroughly before 2nd coat of Anvil. Day or so.
My son in law had recently painted the top circumference of rv ergo taped plastic all around to protect before using anvil.
8)Call Sherwin Williams & ask them to special order a gallon of bright white Anvil multi-purpose Elastomeric Roof Coating. It is about $35. Paint your vent seams & roof edges with a paint brush & roll on the rest. It goes on like a dream. I put on two coats & still have some left over. Depending on the temp & humidity will determine the drying rate. Ideal conditions temp above 70* & 50% or less humidity. If conditions are favorable coat once wait 2 hrs & recoat. If you have a hot sunny day or two or three, park in sun & allow to really dry. Our weather was extremely humid & it took a month for it to dry. Wear white soled shoes, the black soled tennis shoes leave foot prints.
9)Anvil Paints & Coatings, Inc. 1255 Starkey Road Largo, FL Anvil makes a seam sealer but I didn't know that until I had already done all of my sealing. Don't know anything about their product. Some of my applications were not recommended by dicor company. Applying elastomeric to dicor not recommended. We'll see.
10)Barth originally used Anvil on it's roof application. Someone added sand to it. I checked into this & Anvil did not recommend it. I painted over the original application without sand because most of the sand remained on my roof. If you have a smooth aluminum roof I would suggest some sand but make sure it is "clean" sand & check for chemical reactions in product you use.
before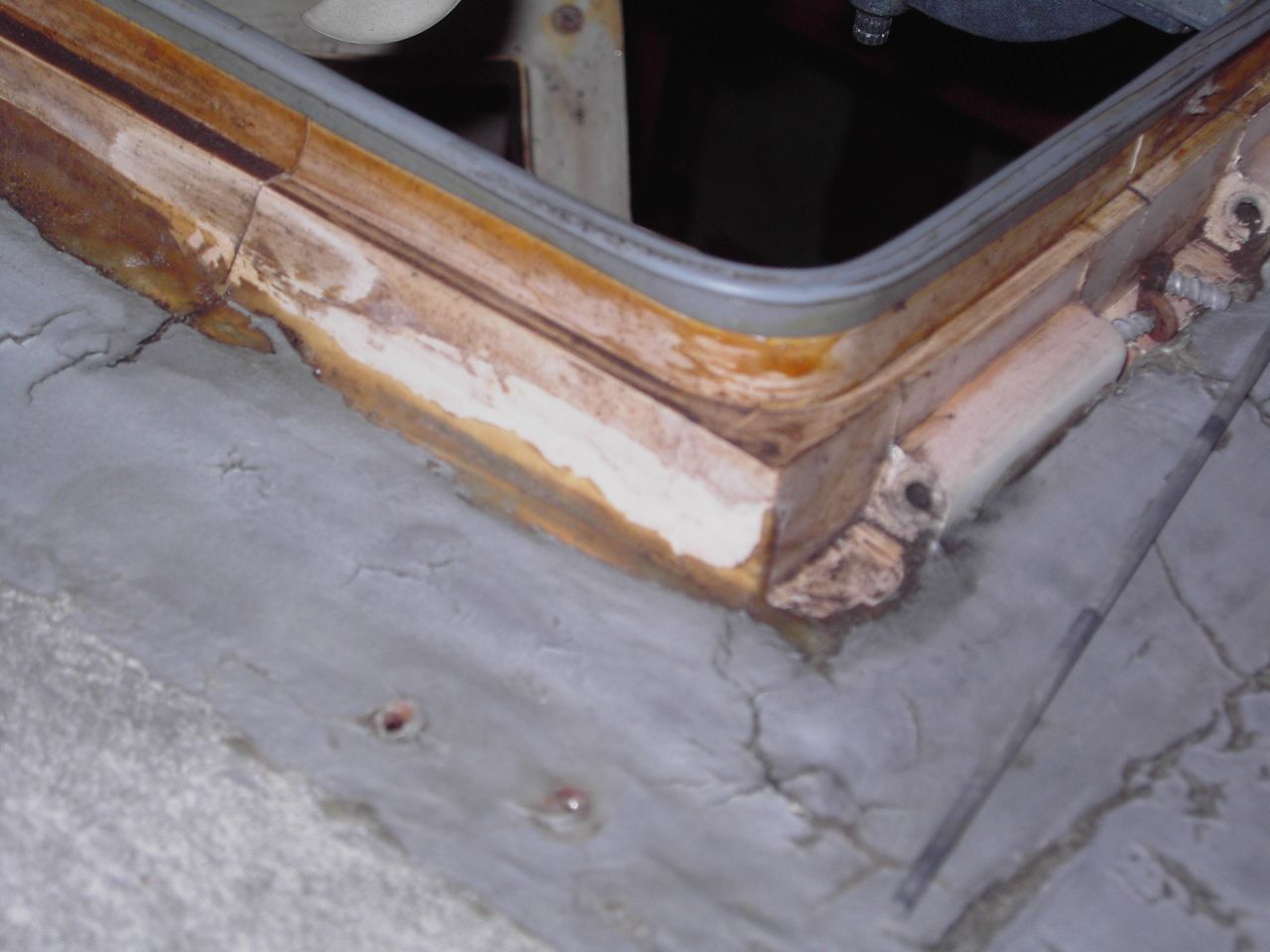 before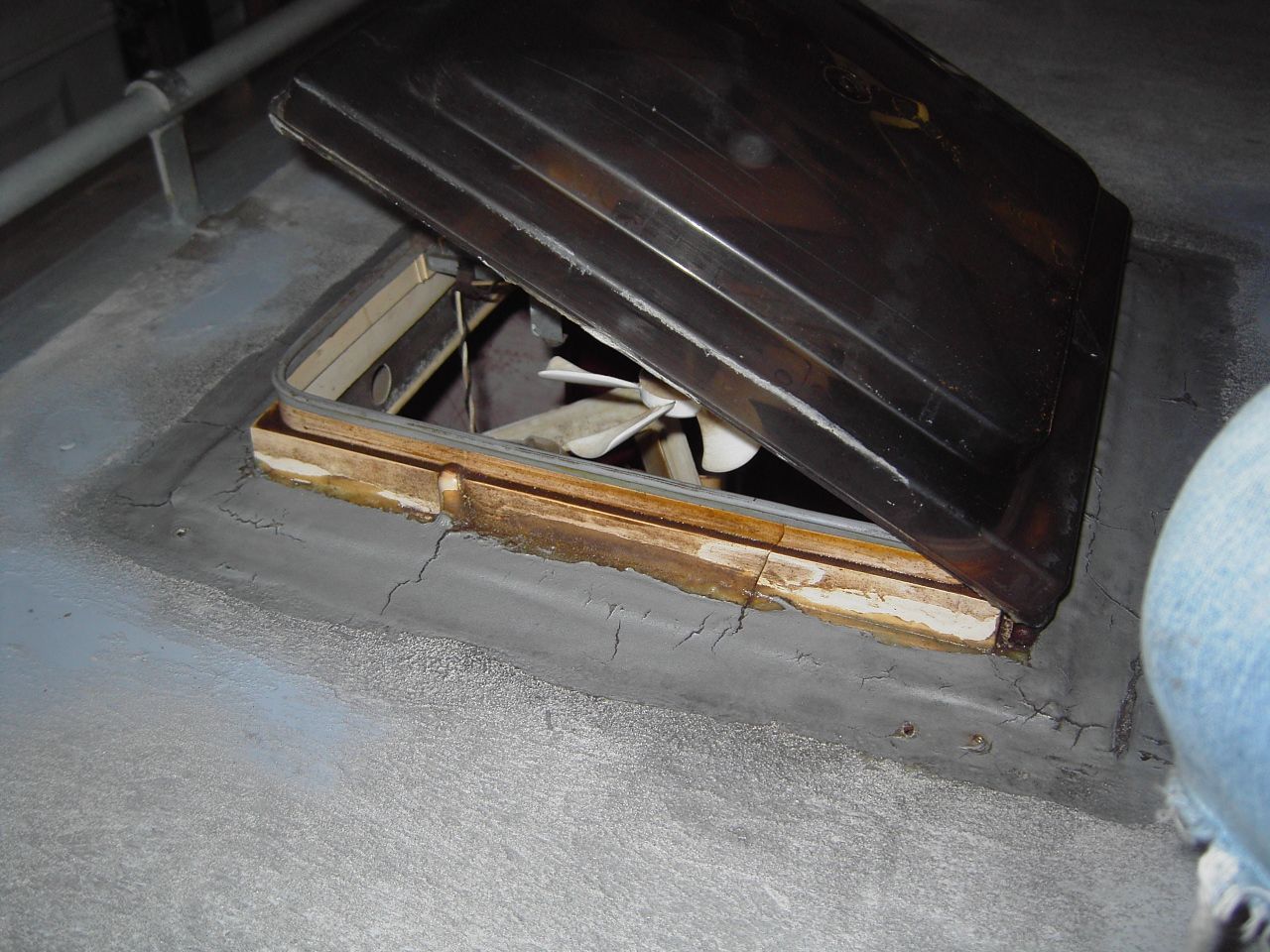 after
after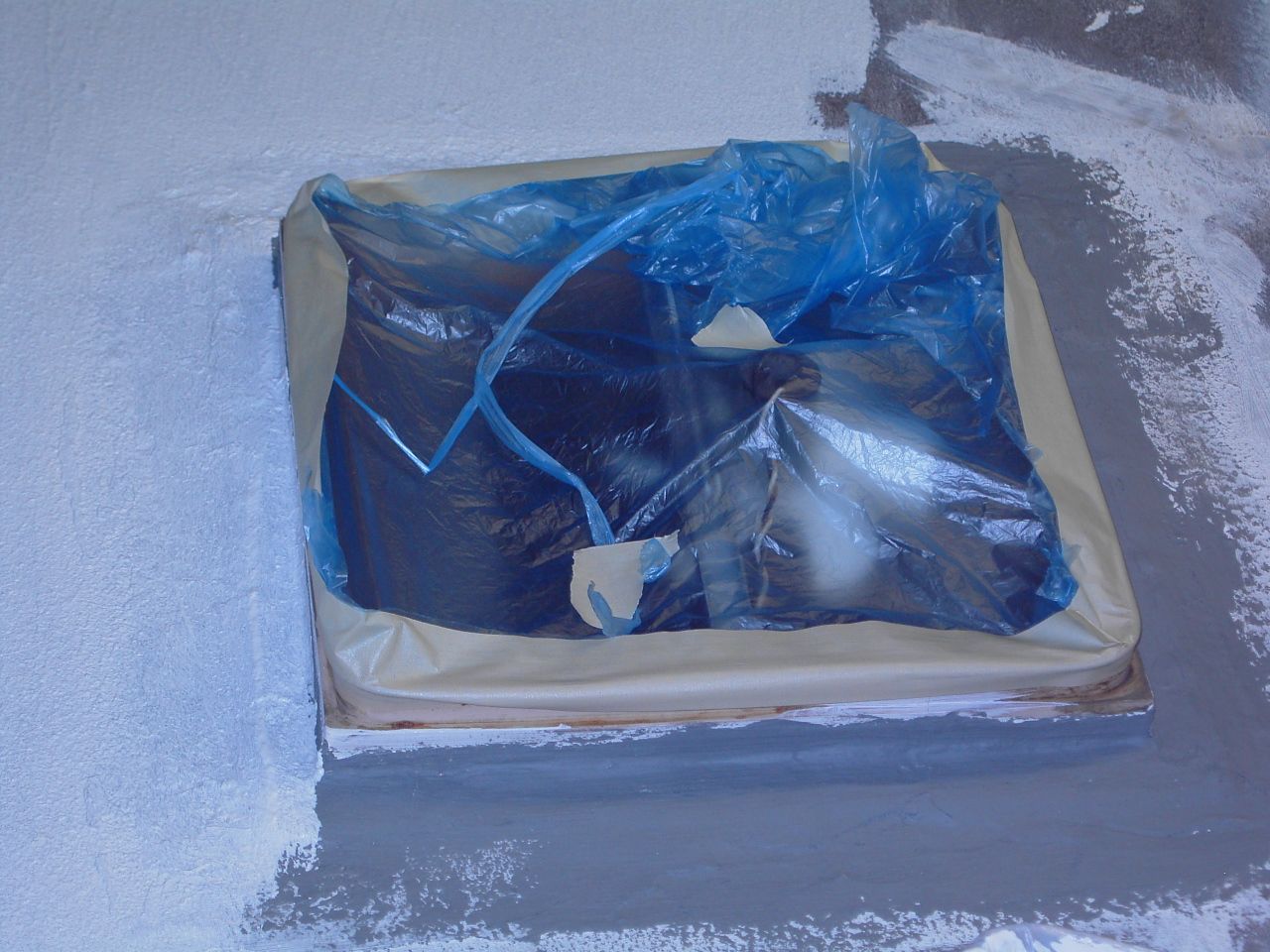 before
after thin coat dicor-let dry, coated that with gray seam sealer-let dry, applied 1st coat anvil-let dry, put final coat dicor-let dry, applied final coat of anvil
Before paint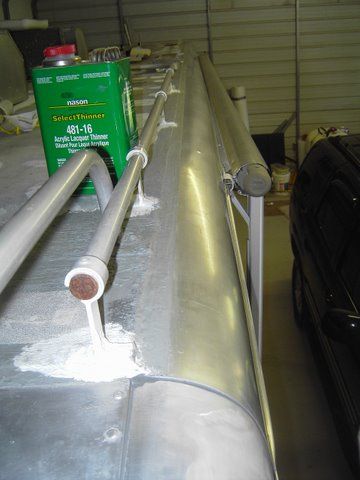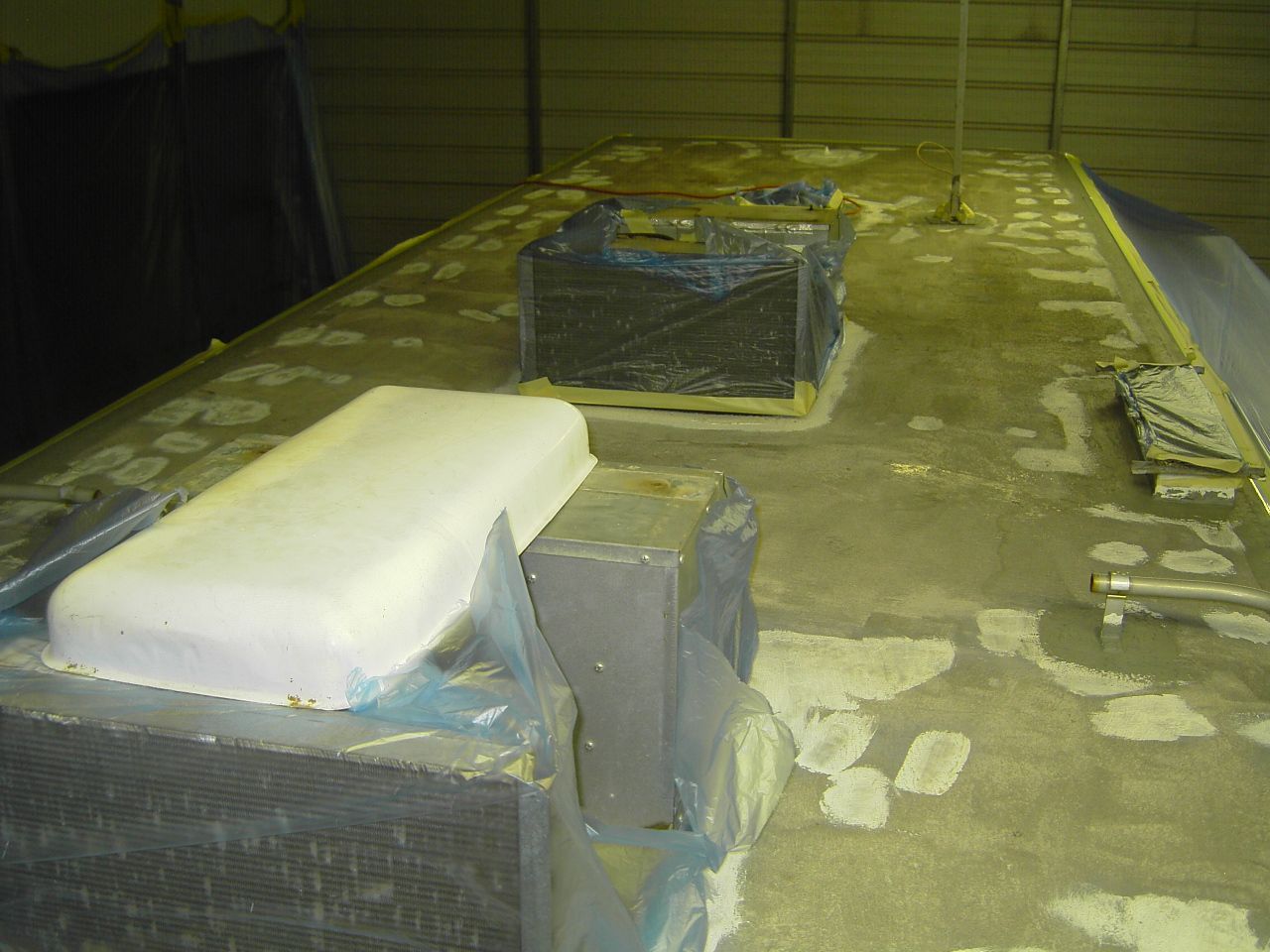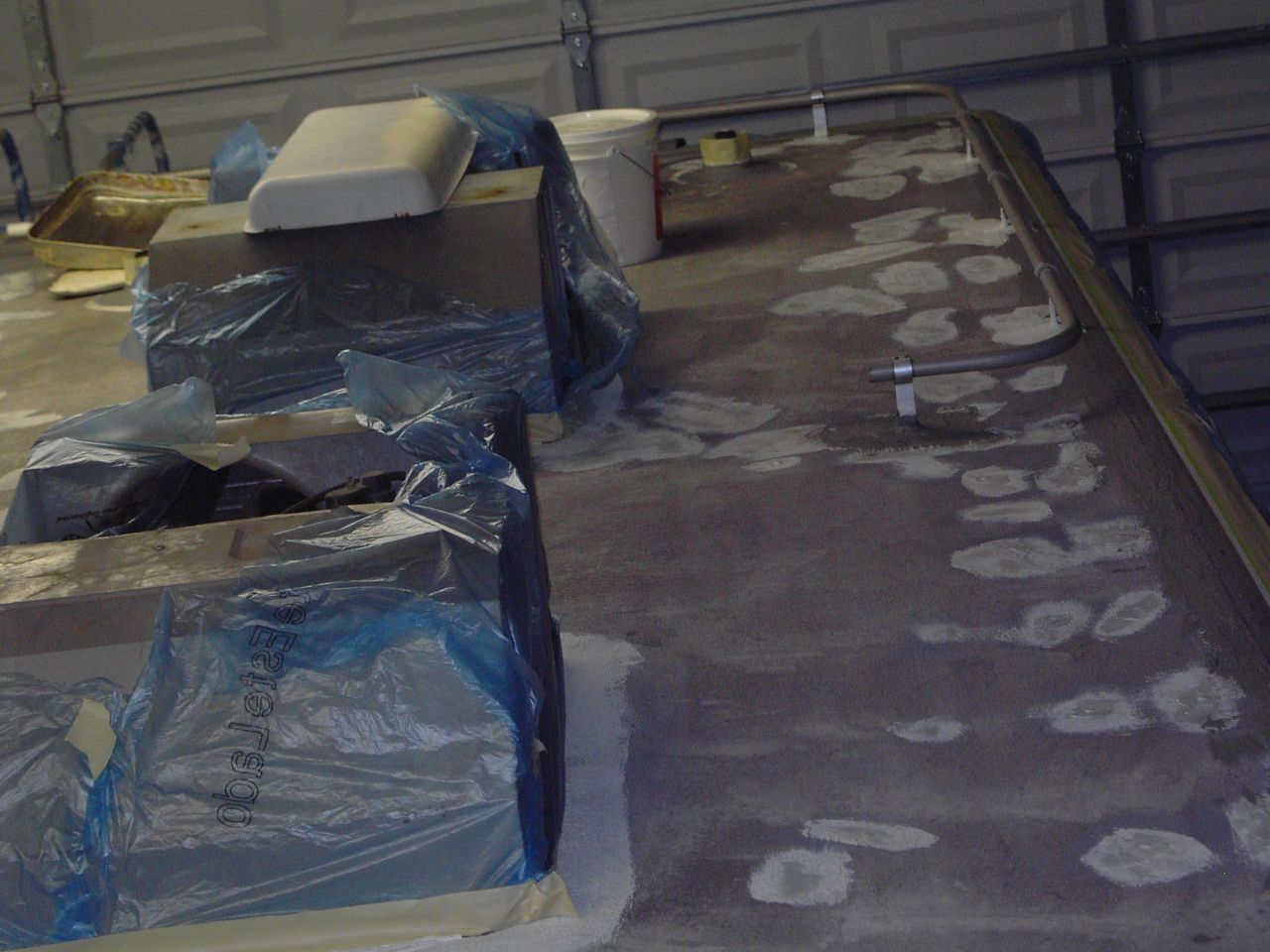 Before old paint completely removed for paint & roof work
before - Before paint, or any other work done. Picture taken from roof looking toward front @ seam going down passenger side of front brow.
Passenger seam @ brow before any work done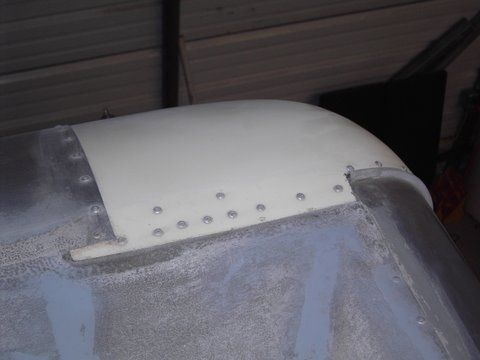 AFTER - This shot is looking from passenger side to drivers side across roof seam @ top of brow. Same seam as above but different angle & finished product.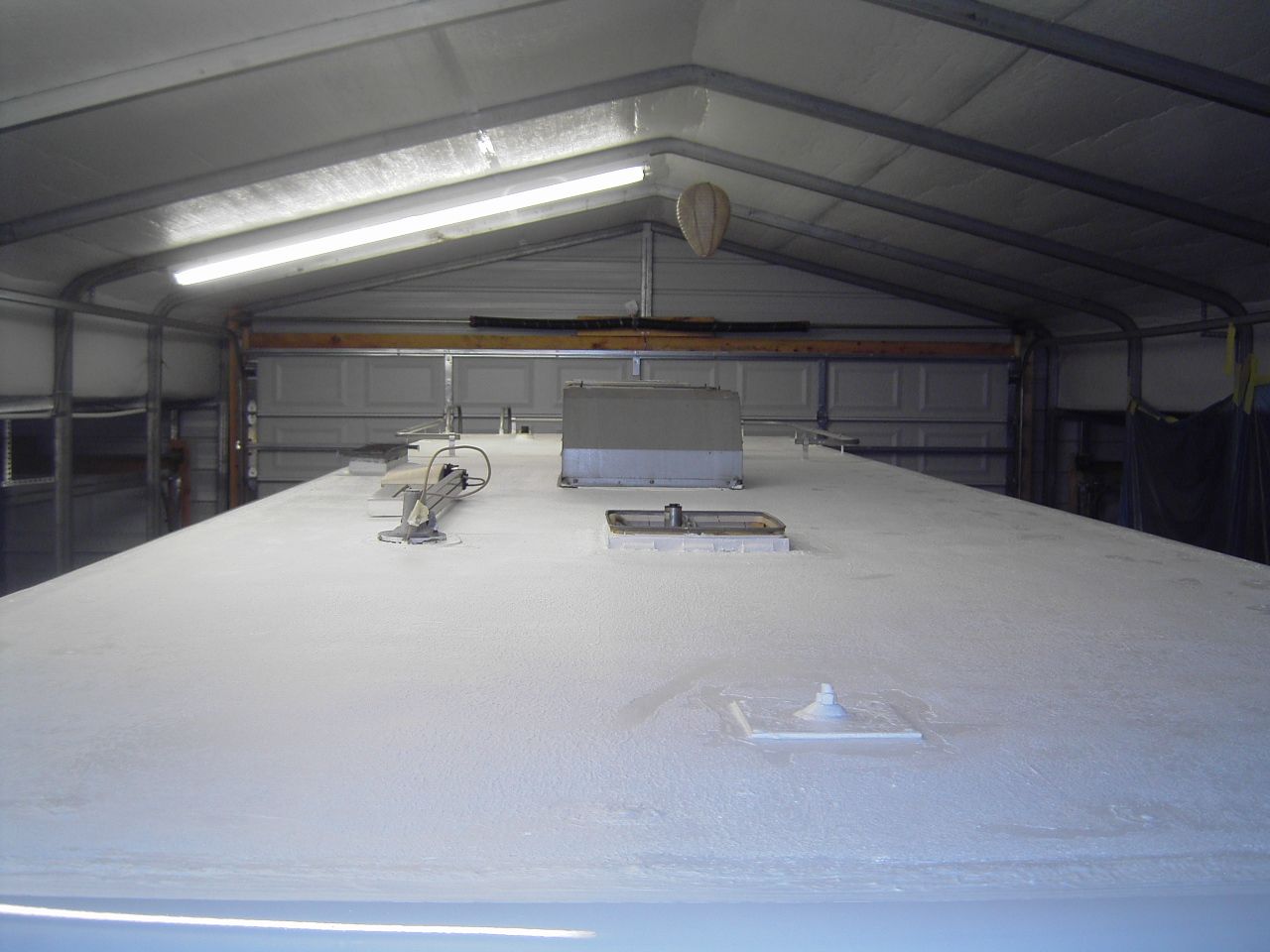 1985 Regal
29' Chevy 454 P32
8411 3172 29FP3B
Gear Vendor 6 Speed Tranny