Barthmobile Portal
Breakaway Backsplash
07-18-2018, 10:55 PM
Scubique
Breakaway Backsplash
Hi all,
The original oddly placed mirror above the kitchen counters was in fairly bad shape on the 93 Breakaway that we recently purchased so I decided to pull it and install a subway tile back splash instead. It is not yet complete as the picture below will show. Thoughts?
I had to take down the shades around the small window in the kitchen and the change in available light was pretty shocking with it down. I may decide on a different solution than putting it back up. I am wide open to suggestions.
07-19-2018, 07:27 PM
Scubique
Hi all,
Original post has locked me out so here is an image of the backsplash as it stands right now. I will send a final picture when it is complete.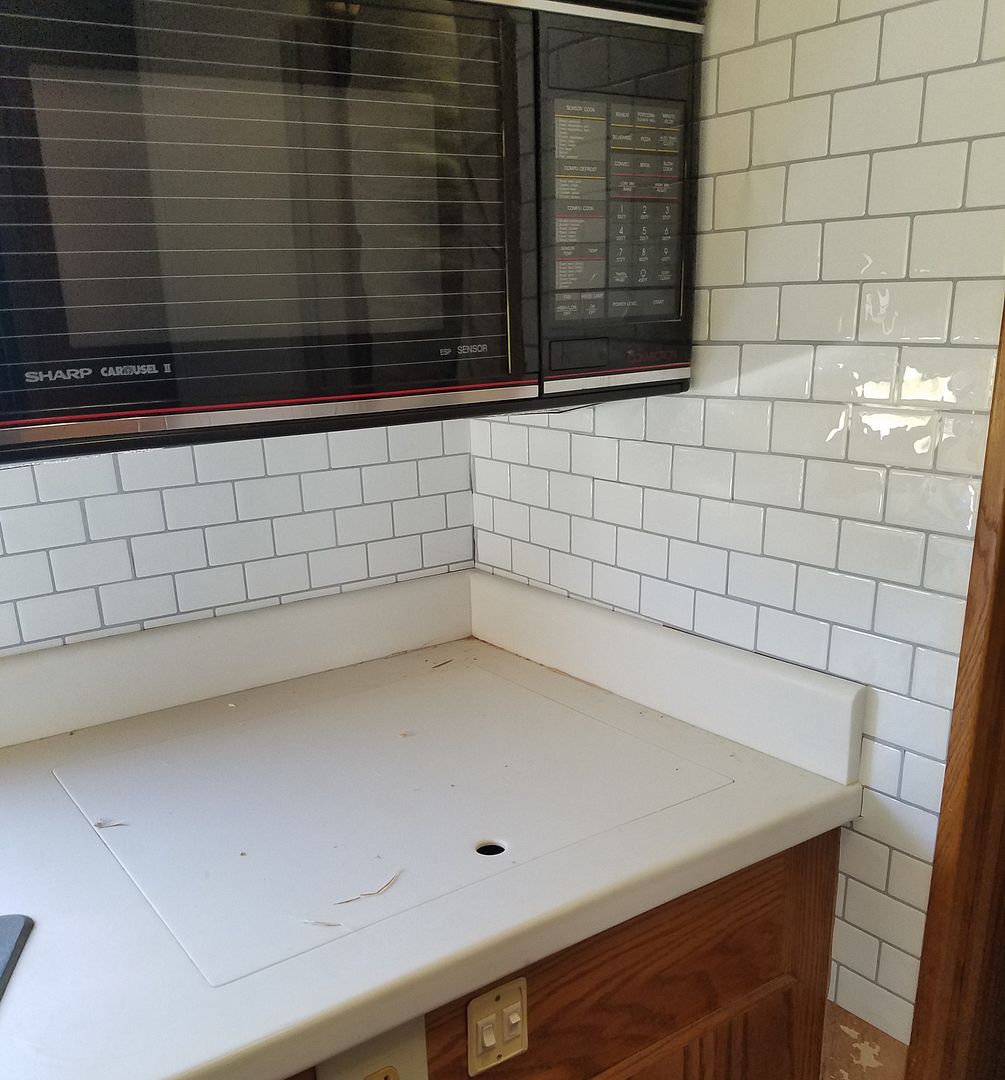 07-31-2018, 07:19 PM
billyt53
Well that brightens things up! Good Job...
Billy & Helen Thibodeaux
Owners of Billy Thibodeaux's Premiere RV, Inc. Scott, LA 70583 I-10 Exit 97
The Farm is near Duson, LA I-10 Exit 92 then N 1 mile on right
Three Full 50 Amp RV Hookups !
www.billyt.com
Data Tag: 9404-3908-36XI-2C
1994 Sovereign 36' Widebody on Spartan IC (Mountain Master Lite) Chassis.
Powered by 8.3CTA 300 Cummins, 12 BTDC Timing, BD Diesel #5 Fuel Plate, Borg Warner SV366 Turbo, K&N Motorhome Air Filter, 4" Resonator i.l.o. muffler, BD Exhaust Brake, Fleetgard "Enviroclean" CCV System (No more oil on the Toad)
Mobileye Forward Collision Avoidance/Lane Departure Warning System
Winegard T4 In-Motion Satellite-Dish Network
Apple TV, Amazon Fire TV, Winegard Connect WiFi Range Extender
Bose Lifestyle V25 Home Theater
LG 32" 16x9 HD LED Living Room
Nexus 21 TV Lift
Samsung 32" HD SmarTV built into Bedroom Wall
Onan 8,000 Quiet Diesel Genset, 500 Ahr Lifeline AGM Battery Bank, 320 Watt Solar Array, Magnum MS2812 Pure Sine Wave Inverter
Toad: 2018 Chevy Colorado ZR2 Diesel with M&G Car Brake
08-01-2018, 06:08 AM
Danny Z
Looking good! When I did the metallic tile backsplash I removed the curtain rod holders, and Suzie applied a static cling crushed ice to the 2 small panes. It lets in plenty of light but obscures the glass so you can't see in. [or out].
You can see it in the last pic in my kitchen remodel post in Pix of my Barth.


79 Barth Classic
08-01-2018, 09:23 PM
Rusty
Please contact Kevin to use Photobucket for the image. Spca here is limited.
BTW, your current image is so large it's unusable.
I'll leave it up a couple more days so you;ll have time to use PB.
Rusty
---

"StaRV II"
'94 28' Breakaway: MilSpec AMG 6.5L TD 230HP
Nelson and Chester, not-spoiled Golden Retrievers
Sometimes I think we're alone in the universe, and sometimes I think we're not.
In either case the idea is quite staggering.
- Arthur C. Clarke
It was a woman who drove me to drink, and I've been searching thirty years to find her and thank her
- W. C. Fields
08-01-2018, 11:01 PM
Kevin
Scot, please refer to the photo
Posting Procedure
in pictures of my Barth. If the link here is not working it is also listed in the community announcements page. Your folder is 3810. I reported this number to you in a text. It is the sequential build number of the Barth you now own.