Barthmobile Portal
Is this a Barth?
10-10-2016, 02:34 PM
David M
Is this a Barth?
:
10-10-2016, 02:39 PM
David M
well that didn't work

not good at posting pics.
Chassis is a 1973 Dodge M500 159" WB 440-3/727. There is NO nameplate or tags other than the chassis S/N stamped in the frame.. Square headlights and windows indicate newer than 1973. original owner died so no help there.
Edit Bill N.Y. ~ Insert Images
10-10-2016, 03:41 PM
Bill N.Y.
My first guess is probably not... Could you get a us a few other pictures of this coach? Interior and exterior.
There are a few similarities.
Here's a picture of a 1975 Barth Dodge Chassis with a Dodge Van front grill.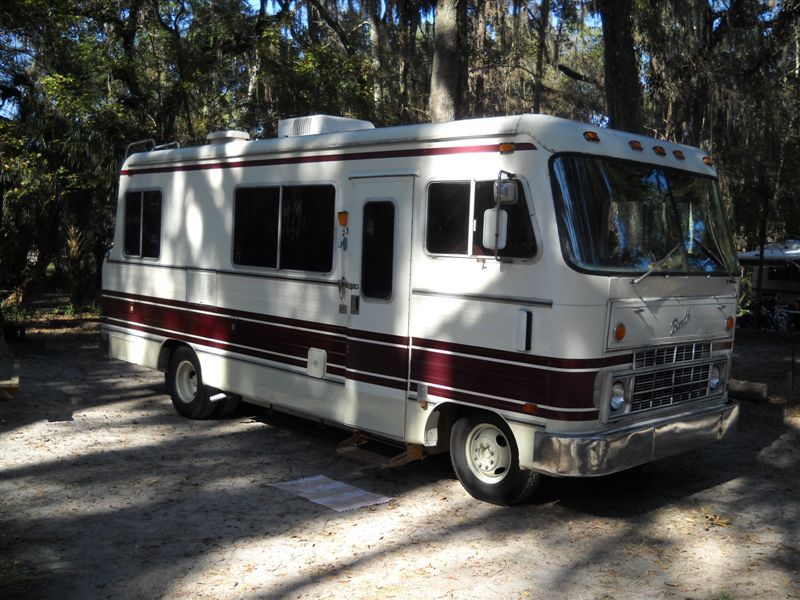 ˙ʎ˙u ןןıq- "ǝןƃuɐ ʇuǝɹǝɟɟıp ɐ ɯoɹɟ pןɹoʍ ǝɥʇ ʇɐ ʞooן ɐ ƃuıʞɐʇ sı ǝɟıן oʇ ʇǝɹɔǝs ǝɥʇ"

---

---

1990 Barth Regis Widebody
8908 0128 40RDS-C1
L-10 Cummins
Allison MT647 Transmission
Spartan Chassis
1991 Medical Lab Conversion
9102 3709 33S-12
Ford 460 MPFI
C6 Transmission
Oshkosh Chassis

---

---

---

Quick Link: Members Only Link To Send Me A Private Message
10-10-2016, 04:12 PM
David M
I don't think it is a Barth either. I have seen lots of pictures of Barths and remember them from the 70's. I have never seen one with 2 front doors or with dual headlights like this one. The chassis was built as a Canadian model. I have the Dodge build sheet. No one can ID it and lots of people have said Barth so I had to ask. The interior is completely empty. It has never been finished nor has it ever been registered. Who ever built it wasn't a rookie as it appears to be done by someone who has either done this before or at least knew what they were doing. My guess is it was built in Western Canada. Note that the rims are 5 stud. The tires are 8 19.5.
David
10-10-2016, 05:07 PM
ccctimtation
I thought most gassers of that size and era had the bussel rear.?


Money can't buy poverty

10-11-2016, 11:24 AM
Marvin+Doris
Years ago we had a 1972 Dodge Challenger MH, similar looking but no front door. Try to find a photo and upload into computer later today.



2002 Toyhauler w/7.3 diesel
Former owner 1989 Barth Regal 25'



10-11-2016, 11:25 AM
David M
Here is a picture of the back
[/url]
10-14-2016, 04:20 PM
Marvin+Doris



2002 Toyhauler w/7.3 diesel
Former owner 1989 Barth Regal 25'



10-14-2016, 04:23 PM
Marvin+Doris
quote:

Originally posted by Marvin+Doris:
Not many pictures exist of our 1972 Dodge Challenger. I remember the windshields being the same as the old Barths (from a GMC big truck)
but it is more different from the above Barth look a like



2002 Toyhauler w/7.3 diesel
Former owner 1989 Barth Regal 25'